Wooden watches have a few things going for them: they are light-weight most of them are half the weight of a watch with a metal band, they are hypo-allergenic so a good choice for those with metal allergies and these timber timepieces can also look better with age due to the patina of the wood being conditioned by the oils of the skin.
Pictured above is wooden watch by Ukrainian watchmaker Valerii Danevych who even goes as far as making the movements out of wood! For more about him and his watches read this post I wrote.
The Carpenter Collection
Analog Watch Company are a small brand from Philadelphia setup with the help of Kickstarter and founded by Industrial designer Lorenzo Buffa.
The Carpenter Collection are a line of wooden watches that vary in materials, using different types of wood including bamboo and maple and having flexible wooden straps made from off-cut lumber.
They have a highly minimalist design and an attractive contrasting look between the metal watch hands and the wooden dial and case.The dial is available with or without hour markings.
The Analog Watch Company plant a tree for each watch they sell from their Carpenter Collection and the eco-conscious design that is over 80% biodegradable.
They feature a Japanese quartz movement and retail for $149.99.
Grovemade wooden watches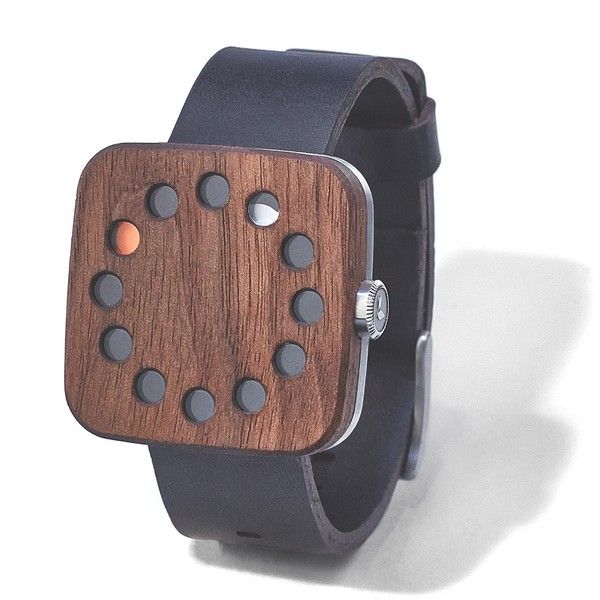 The Grovemade Wood Watch was designed in collaboration with Stefan Andrén and is made from premium American hardwoods.
Grovemade says its wood watches will encourage users to look at their smartphones less and offers another way to experience time.
Crafted in either Oregon Claro Walnut or Eastern Hardrock Maple, t
These wood watches have faces that have 12 windows signifying the standard hour points, and use color block "hands" that reveal themselves to denote the current hour and minute. They feature Japanese movements and domestic vegetable-tanned leather straps and come in either Oregon Claro Walnut or Eastern Hardrock Maple in either round or square face shapes.
The one pictured is the Square Walnut model retailing for $239
Slim Timber

This wooden watch is apparently the first-ever Skate Watch, called the Slab.
The Skate Watch is made from seven-ply, re-purposed skateboard wood.
They decided on this type of wood due to its durability. According to Slim Timber the flexibility and strength of seven-ply maple makes skateboard wood the perfect material to re-purpose and also gives the ability for endless color variations moving forward while also creating a unique look.
There is a choice of Maple (stabilized in the USA) or seven-ply maple skateboard wood. The Slab uses either 100% stabilized or pressure-treated, repurposed skateboard wood for durability. Slim Timber discovered the process of wood stabilization while looking at knives since many fine knives have a stabilized wood handle to make them water resistant and extremely durable. So they began testing this process and found that they were able to make watches out of stabilized wood.
The process involves putting the wood in a vacuum while at the same time submerging it in resin. The air in the wood is replaced by resin and the wood then removed and baked. This seals the wood and protects it from the elements to prevent warping.
The Slab is fitted with a Miyota 8215 automatic (mechanical) movement, which according to Slim Timber made it the first automatic wooden watch, so theres no worry about changing batteries because it's powered by kinetic energy. The watch runs for up to two days when not in use and retails for $245
More at Slim Timber
Wood shock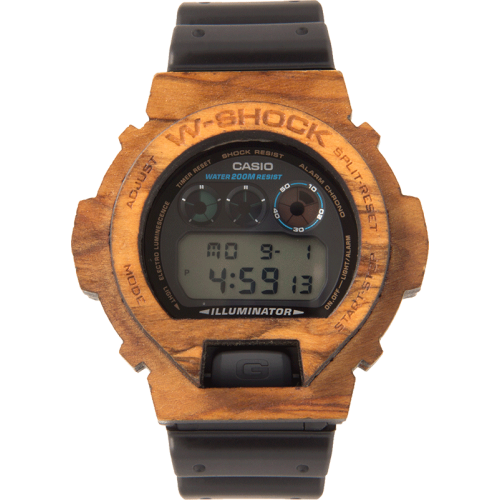 Taking the Casio G-Shock as a starting point these Wood Shock watches (AKA W-Shock)house the classic digital watch inside a bezel and case made of wood.
The W-Shock features hand- and laser-crafted wooden bodies, which have been made to mimic the chunky and sporty profile of actual G-Shock cases. Everything has been replicated including the engravings around the dial. They use the DW6900 G-Shock model as the base for their wooden watches and so have the same feature and function list as that model including an Auto-Calendar (pre-programmed until the year 2039) and multi Function alarm
They are a collaborative effort between Saint 48 and PRPLMNT and retail for $300
Ab Aeterno wooden watches
Made in Italy with Swiss movements these wooden watches use 100% natural maple wood, precious red sandalwood, green sandalwood and black sandalwood for models with unique styles and different characters.
Some characteristics include a weight of only 50 grams and versatility since every watch can be worn with casual, elegant, street wear or sporty outfits; and finally uniqueness, thanks to the different unmatched grains of the wood.
The Volcano pictured retails for 119 Euros
Lucius & Ki

Established in Jakarta 2009, Lucius & Ki are Indonesia's first watch manufacturer and create higher end wooden watches equipped with a Swiss movement ETA.
Lucius & Ki was set up by two young entrepreneurs Lucius. L. Worang and Hocky. E. Santha. Their wooden watches use wood coming from the tropical forest of Sumatra, one of the largest islands among thousands of the Indonesian archipelago. They buy their wood from a Sumatran supplier certified by the Forest Stewardship Council, an independent organization promoting global environmental preservation.
The "Wayang" watch is named after the traditional Javanese puppet theater and is engraved with an image of Arjuna, a warrior hero of the Mahabharata epic. Named after the Javanese wooden pavilion the "Pendopo" is engraved with a column design recalling the architecture of those buildings.
According to Leon L Worang joint founder of the company, each watch is finally unique as no two woods are the same.
The Mr Worang's passion for wooden watches started when his grandmother gave him one on his 4th birthday after which he started a collection, in 2008, after meeting Hocky E Santha, a watch restorer, they decided to develop their own and added a wood craftsman to the team.
The tropical wood watches sell for over $1500 each.
Koa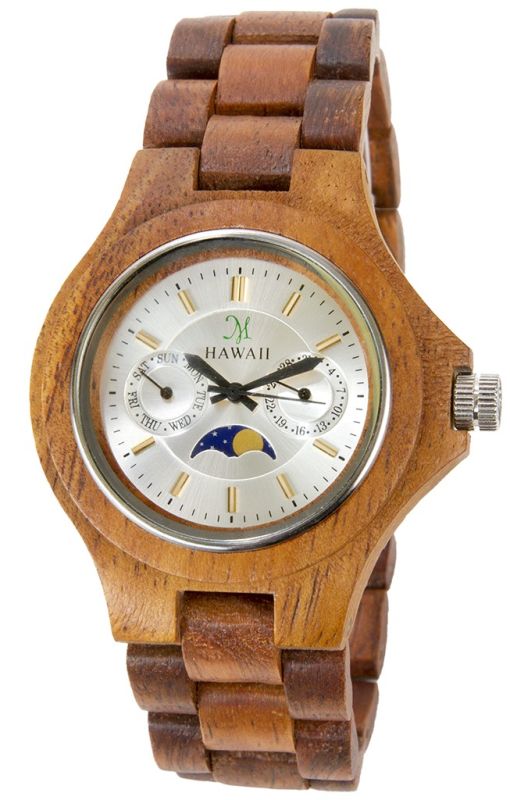 A Hawaiian wooden watch brand, with more traditional designs. For over 53, years, they have been the fine furniture maker of Hawaii, longer than any other company in the history of Hawaii and employ over 35 craftsmen in our Furniture Workshop in Honolulu, HI.
The Koa wood is hand-selected to use in their wooden watches and it must be particularly dense to withstand intricate carving into individual links. They have over 30 styles of solid Koa watches for men and women, and these range from models with automatic movements to moon phase watches. They also have ones with specialized faces made from mother of pearl, silver or gold. Their wooden watches are assembled by their partner in British Columbia, Canada and made with their private stock of Koa.
Koa is a hardwood that grows only in Hawaii and the brand never cut down or use wood from trees that are cut down and only use Koa wood from previously dead or fallen trees.
The moon phase watch shown retails for $690.00
Mistura
Colourful wooden watches from this brand based in Texas, they range from white leather straps to teak surrounds, from striking orange hands to subtle wooden dials.
Mistura wooden watches are handcrafted with South American sustainable wood and 100% genuine leather.
Using Pui , Teak , ebony, purpleheart and bamboo in their watches every wooden wristwatch is handcrafted and can take up to 85 hours to create .
Pictured is the Avanti which retails for $279.
Mica
Mica was founded in 2008 by a group of friends thinking outside the box and wanting to do something different and original in the watch market. With so many similar looking lines from one brand to another they felt they wanted to contribute to keeping things custom and create products that stood out from the pack. Their lineup of wooden watches is the staple statement behind their brand .
After years on R&D they have developed their own wood science dubbed SolidCore (TM) a proprietary wood material which improves durability, luster, and resistance to the elements. They seal and finish every watch from the inside out.
Our mission is to stay at the forefront of materials, design, and quality with the products we develop.
Pictured is the plank which is 100% Pine With SolidCore™ Treatment, 44mm in size and uses a 3 Hand Japanese Quartz and has a Stainless Steel Buckle & Crown
Prices start at $145
Kisai Night Vision Wood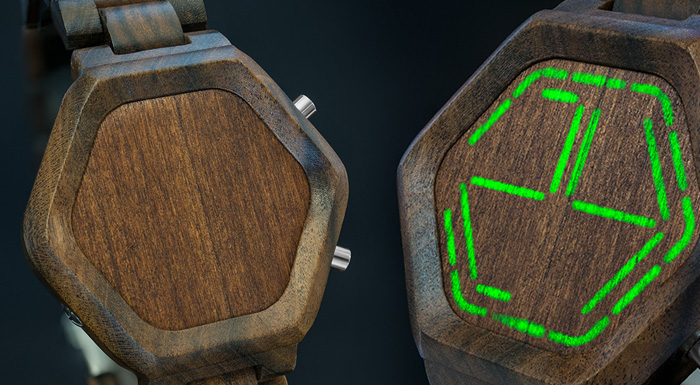 The Kisai Night Vision Wood is apparently one of the easiest to read watches from Tokyoflash Japan.
Press the button and all will be revealed as LEDs are concealed beneath the wood surface and will shine through to display the time.
Readable at a glance this wooden watch has time & date functions, an alarm and a light-up animation. It is made from 100% natural wood in very limited quantities and features a laminated watch face which is recessed against the uniquely shaped case. It comes in eiither dark sandalwood or maple with blue, red or green LEDs.
Hours are shown in the outer ring in the same position as hours on a clock, the flashing light in the ring indicates the current hour. Minutes are shown digitally in the centre.
The date is shown in the same way, touch the lower button and the month will be shown in the outer ring and the date digitally in the centre.
The watch has an adjustable strap and weighs just 60 grams, a lightweight watch design suitable for small and large wrists, like all wood watches from Tokyoflash Japan, a clear coating has been applied to Kisai Night Vision Wood for protection and durability.
Retail is £95