Devon Works
, called the
" Devon Tread 1"
Devon Works is a California based company that doesnt only produce watches but specialises in creating innovative luxury items.
As Devon puts it "The sleek, bold Tread 1 has a unique aesthetic unlike any other timepiece. Design inspiration for this luxury watch came from industrial conveyor belts and motorcycles."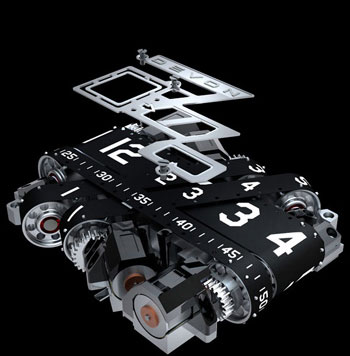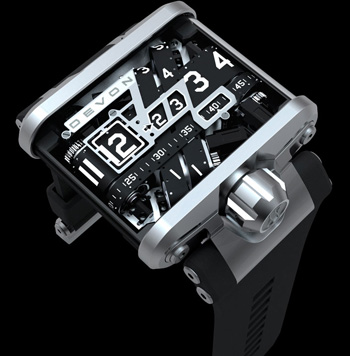 Four tiny microstep motors drive the movement of four belts which are mounted on a central chassis. Fibre glass reinforced nylon is utilized for the belts to obtain a thickness of 2/1000th of an inch but maintain the high strength needed. The movement is powered by a Lithium rechargeable battery, which holds a charge for two weeks. The belts are monitored by a propriety optical recognition system in order to ensure accuracy.
Devon Works employed the help of a California aerospace company to aid in the innovative engineering and design process. Further information at their homepage.
The first Belt Driven Watch, was released in 2004 by TAG Heuer, who showcased their concept for the first Belt driven watch, and in 2007 released a prototype version. The concept behind this unique watch was to use belts and ball bearings instead of conventional wheels and pinions.
Then in 2009 to mark its 150th Anniversary they released a limited run of 150, 75 being sold in October 2009 and another 75 in June 2010. MSRP is 100,000 Swiss Francs (approx. $96,500).
Creating a belt driven watch was a unique undertaking for TAG Heuer utilising technology more typically associated with the aerospace industry than traditional watchmaking as well as employing miniturising technology found in the space and medical industries.
Tag Heuer Monaco V4 (back)
To quote "The new, and therefore unique techniques applied to make this watch impose certain specific constraints. They required a total review of the traditional, and often empirical and repetitive approach to development".
– Tag Heuer
Given Tag Heuers long association with the automobile industry, its apt that the configuration of the "spring barrels" brings to mind the cylinders of a sports car and of course is also implied in its "TAG Heuer V4" name. Tag heuer also refers to some of the technical problems they've encountered with this watch as "transmission problems ".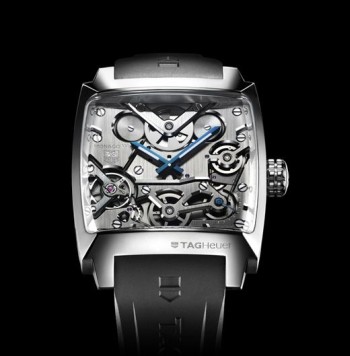 Tag Heuer Monaco V4 (front)