Alchemy plays a part in some of these watches -the magical transformation of base matter into something of "higher merit"… I leave it to you to decide on the merit.
So here are ten unusual watch materials that have been employed by watchmakers in various areas of construction, from simply dials to more technical aspects such as power reserves .
Dinosaur Dung
Watch Model: Artya Coprolite
Interesting watch material: Fossilized Feces, Petrified Dinosaur Dung , Coprolite
Artya creations are quite often "out there", and the brand is almost on the "eccentric fringe" of watchmaking,  to use an analogy, if  Cartier is the equivalent of a Renoir then ArtYa would be the Van Gogh in the world of watchmaking.
Well one way of grabbing peoples attention is to raise a stink and perhaps that was the intention of ArtYa when they released their Dinosaur Dung watch; or to use the correct model name "Coprolite" (fossilized feces).
The said 'matter' used in the creation of its dial is from a herbivore that died about 100 million years ago in what is now the US.
Fortunately the Coprolite doesn't look (or hopefully smell) as bad as it sounds.  Fortunately whatever the herbivore ate for lunch yielded a nice pastel shaded 'nugget'  for use as the Coprolite's watch face. According to ArtYa  "A relic of the Jurassic period, it has taken millions of years for this organic substance to embrace its present warm and matchless tints."
The treatment of the brass case adds to and compliments the colours in the dial.
It is certainly a one of a kind item that's sure to stimulate conversation. And despite the unusual nature of the material used in its construction the watch hasn't  soiled the reputation of the brand.
Concrete
Watch Model: Dzmitry Samal

Interesting watch material: Concrete
Graffitti artists might like this one, although there's not much space for "self expression".
Designer Dzmitry Samal may have intended to cement his position in the watch world by paving the way with this unusual watch material.
Concrete is an obvious choice of material when constructing buildings, but watches…well that didn't stop Dzmitry Samal who was inspired by architecture in constructing this interesting watch from the stuff.  He also apparently wanted to create a watch that "reflected the personality and strength of the owner".
They're available in 8 different colours in either a heptagonal or D-shaped case with Swiss movement inside, they're also water resistant – though you may need water wings to keep afloat.
Certainly in this case the choice of material implies a rugged durability and it looks a lot more stylish than you would imagine, just don't drop it on your toe.
And if you need concrete evidence this watch exists they can be had for 1200 Euro's at the designers site – a limited run of between 100 and 150 of each design and sorry no word as to whether a tougher re-enforced concrete model will be available!
Liquid
Watch Model: HYT H1

Interesting watch material: Fluoroscein Loaded Liquid

In 2012 watch brand HYT launched an unprecedented watch, one that tells the time using liquid.
This mind-bogglingly complex piece of micro-engineering or rather hydro-engineering uses a "fluorescein-loaded" liquid that is pumped around a tube using miniature bellows and pistons.
Research methods usually the domain of nanotechnology were used in the development of the HYT liquid watch, and some of its components are being manufactured by suppliers to NASA.
Paradoxically the inventor Lucien Vouillamoz looked back to one of the oldest forms of time measuring instruments for inspiration, the Egyption clepsydra or water clock .
The design of the 'liquid watch' was by Etude de Style design lab who collaborated with Jean-François Mojon and his team at Chronode to develop the movement, collectively they're known as hydro mechanical horologists.
And yes the watch is water resistant too.
Feathers.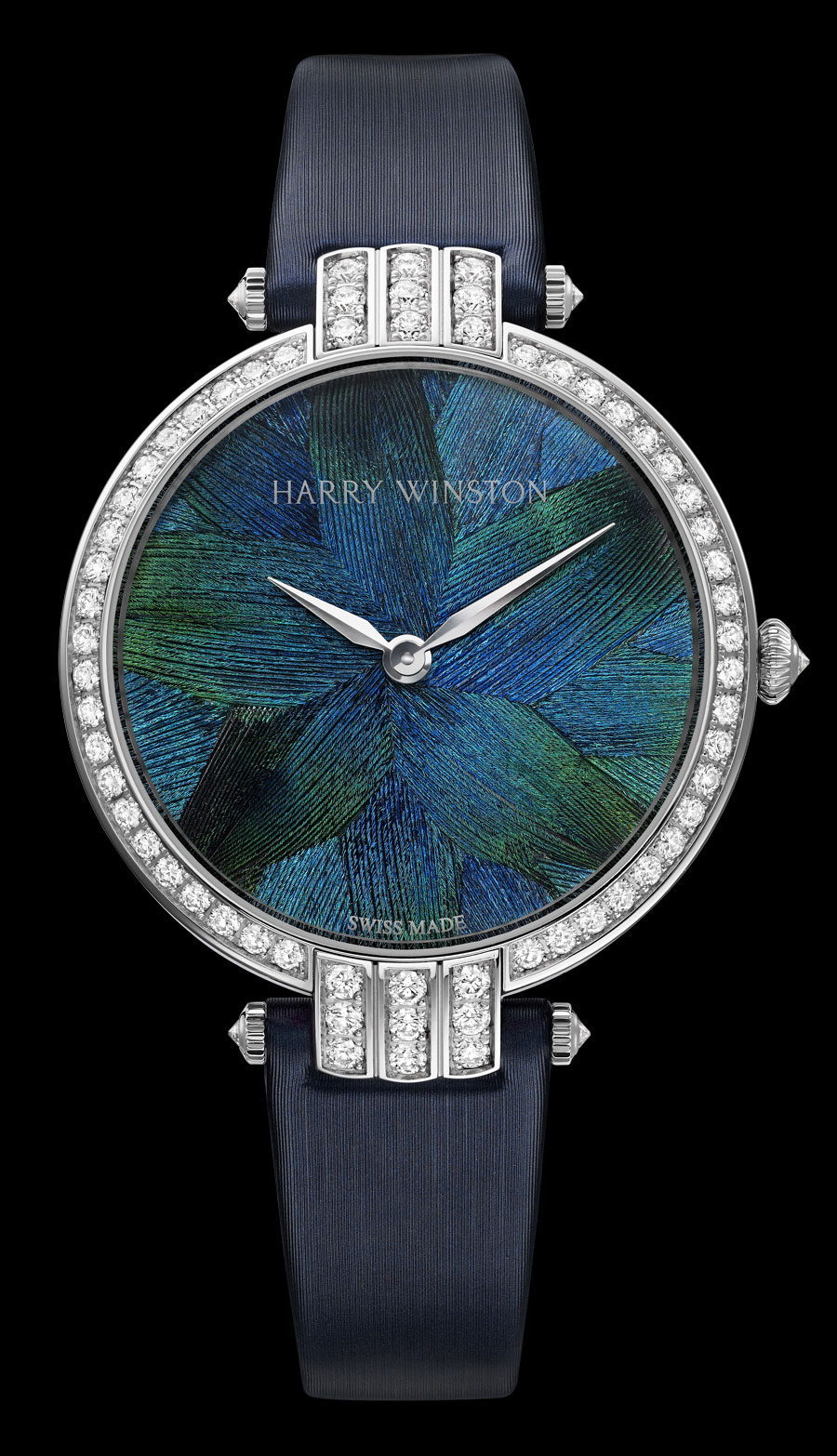 Watch Model: Harry Winston Premier Feathers

Interesting watch material: Bird Feathers
Feathers are used to add some glamor to watches and they have an appeal mainly aimed at women. A few watchmakers have used them to decorate their dials, back in 1970 Corum came out with their "Feathered Friend" watch which had dials made from peacock, pheasant, kingfisher and the red ibis feathers.
More recently Harry Winston unveiled its Premier Feathers collection of timepieces last year at Baselworld. These luxury watches went so far as using only "ethically sourced" feathers from birds raised specifically for this purpose. A master "plumassier"  Nelly Saunier is behind their creation,  each tiny feather is painstakingly glued to the dial which takes 7 hours to assemble.
The feather dials are available in a choice ranging from silver pheasant , Lady Amherst pheasant , peacock, or delicate ring-necked pheasant feathers. They retail for $69,000.
Other examples of watches that use feathers in their dials include the Dior VIII Grand Bal Plume and the Jaeger-LeCoultre Master Lady Tourbillon Feathers.
For people with an appreciation of fine craftsmanship these watches may tickle their fancy.
Phosphorescent nano-particles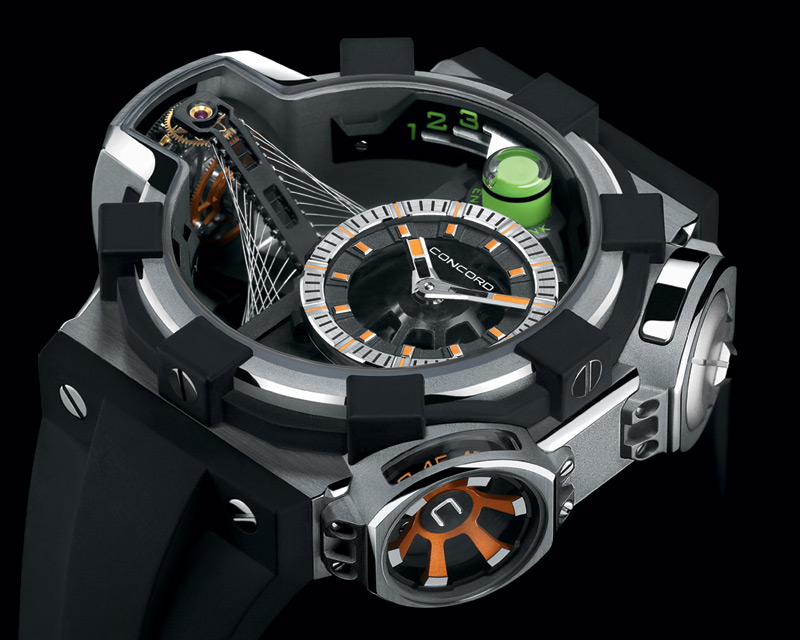 Watch Model: Concord C1 Quanttum Gravity

Interesting watch material: Green phosphorescent nano-particles
Ooh it glows. One of the most complicated watches ever made the Concord C1 Quanttum Gravity looks like a time machine invented by a mad professor in a laboratory somewhere. Which in fact isnt far off,  actually it was designed and developed by "C lab series" who apart from passion and an ounce of madness also list among their attributes "polyvalence" – a term used in chemisty, this leads us to the interesting material used in this watch.
An energy tank containing Phosphorescent nano particles is used to indicate the 3 day power reserve. The tension from the mainspring is harnessed to push a cylinder which in turn pushes up the green liquid, and by looking at its level you are able to determine how much power the watch has left.
An impressive piece of engineering that uses 511 parts the watch is not only astounding for its complexity but also for some of the techno-babble that accompanied it: "the C1 Quantum Gravity apprehends time as a perspective, using emptiness as a material on which time features are grafted."  Right…
Its housed in a titanium and white gold case measuring close to 60mm in breadth, the size of the price tag is also quite large: $495,000
Tree Sap

Watch Model: Angular Momentum Urushi Watch Models

Interesting watch material: Tree sap, Urushi, Japanese wood lacquer.
Lets bring things down to earth a bit after all that slick technical wizardry; tree sap, or to utilize the commonly used Japanese term Urushi is used in this watch.
Urushi is gathered and refined from the Urushi tree which is found mainly in Asia. It has a number of uses particularly in Japan where its decorative power has become an important part of its artistic culture.
A number of watchmakers use this material in their dials.  Its used either in its pure form or sometimes with the technique of Maki-e.  Maki-e combines the lacquer with powdered metal, often gold, which is sprinkled  into it to accentuate the contours of the decoration.
Small independent Swiss watchmakers Angular momentum use traditional craft in their watches and have a large collection  devoted to Urushi dial watches, this example is their "Aquarium" model featuring a Japanese carp engraved in high relief . The ground of the pond is done using black Ishime Urushi and a diamond employed for the Koi's eye.
Other well known models using Urushi are the Metier d'Art collection by Vacheron Constantin and the Chopard LUC XP Urushi model.
Squashed Espresso Capsules
Watch Model: Blancier Grand Cru series

Interesting watch material: Squashed Espresso Capsules

One man's trash is another man's treasure as they say, or in this case watch dial.
This watch is the epitome of an alchemical watch, taking base matter – in this case a squashed espresso capsule and turning it into treasure or in this case money by way of  selling watches.
"Up-cycling" is the term cleverly used by Blancier when describing the process of using the squashed capsules as dials thus avoiding any negative connotations that are associated with the term "recycling". They take the used capsules from Nespresso espresso machines, remove the paper filter and outer ring and turn them into dials by compressing them down to 0.4mm thickness.
Nespresso capsules come in different colours, each one signifying a different coffee bean and so too do the dials. Inside the Grand Cru watches are Swiss ETA Unitas 6748 hand-wound movements which can be seen through the rear of the watches.
Bullets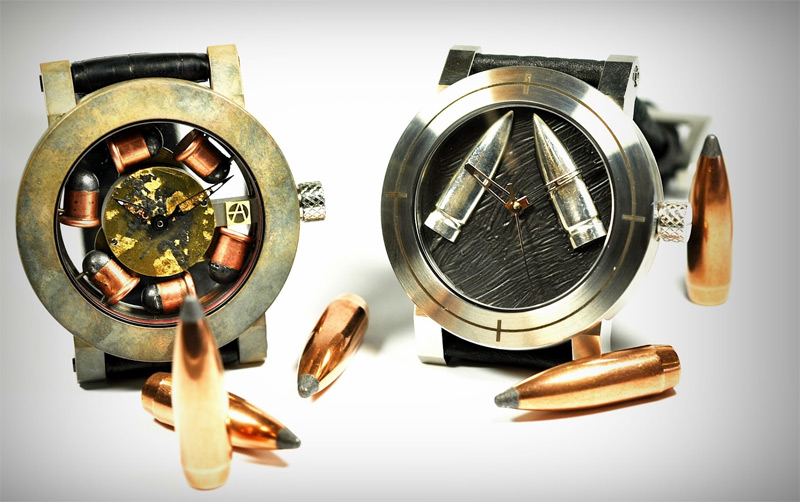 Watch Model: Son of a Gun by Artya

Interesting watch material: Bullets, gunpowder, garlic..

With a dial featuring six 6mm Flobert bullets the idea for the design of this watch was to mimic the look of a revolvers bullet chamber.
Considering this I suppose this watch's case could justifiably be called a full metal jacket. The "Son of a Gun" watch collection features various models with bullets and targets. There is even one to ward off Werewolves (pictured right) that features two silver bullets that were apparently, for good measure forged during a full moon and rubbed in garlic! The target model features said target encrusted with gunpowder – thus having most of the bases covered with the firearms theme.
If you like having long chats with airline security then this watch could be just the ticket – with complimentary cavity search.
Should you decide to bite the bullet and pick one of these up visit Artya's site
Moon Dust
Watch Model: Moon Dust DNA

Interesting watch material: Moon Dust,  Apollo 11 steel,  spacesuit fibres
The Titanic's sinking in 1912 was one of the worst maritime disasters during peacetime  with 1500 people drowning, so it was somewhat understandable that Romain Jerome's first watch in its DNA Series had people accusing it of bad taste for its use of metal from ill-fated ship. Despite -or perhaps because of- this controversy the watch was a popular item and a follow up became inevitable.
The second, the Moon Dust DNA watch features moon dust from a rock acquired from the first moon landing. The dust was sprinkled in tiny craters in the watch's dial that has been given a lunar like appearance.
Furthering the lunar theme is a case made of steel from the Apollo 11 space shuttle,  along with fibers from a spacesuit worn during the ISS mission which are used for the strap.
Incidentally the DNA watch range was established by Yvan Arpa who went on to create his artYa brand mentioned previously.
In a clever piece of marketing the DNA Moon Dust was limited to 1969 pieces, commemorating the year man set foot on the moon.
DNA
Watch Model: Van Ree Personal DNA watch.

Interesting watch material: Human DNA

Talking of DNA,  here is one using the real thing. Dutch watchmakers Van Ree fuse haute horlogerie and bio-technnology with this watch.
A straight forward conventional looking dial belies the unusualness of this watch. A small transparent compartment at the 4 o'clock position contains a capsule which is used to hold the owners DNA.
If you were ever to lose or have this watch stolen then it would be easy to figure out its owner since the watch contains all the forensic evidence needed to trace it back to you.
Not only does this watch house the owners personal fingerprint but it also shows the owner's name and personal DNA code engraved around the movement.
If you like your watch up close and personal then they don't get much more so than this, as Van Ree points out  "The uniqueness of each watch is guaranteed by nature!"