This article is the result of some watch sleuthing and features a selection of actors ranging from the silent screen era to recent times and the watches they chose to wear.
From Charlie Chaplin to Robert Redford,  "The Tramp" to the "Sundance Kid"  you will find information on the watch they chose and a few interesting facts about the person.
Arranged alphabetically.
Humphrey Bogart
Watch: Longines Evidenza.
A groundbreaking tonneau-shaped wristwatch released in 1941, Bogart wore it during daily life as well as in the 1942 classic Casablanca.
He had the gilt case inscribed with H.B.
Longines coined – and registered – the phrase "elegance is an attitude" for their advertising campaign featuring Bogart and Audrey Hepburn. The watch is now preserved in Longines' museum.
Trade Mark: Often played a hard-boiled cynic. His low-key nasal voice with lisp.

Interesting Facts
– During his time serving in the navy, a prisoner he was escorting hit Bogart in the face with his shackles and escaped. Bogart managed to successfully chase the man down however the army surgeon did a poor job stitching his lip and the injury left him with his trademark lisp.
– Was an excellent chess player. Before he made money acting he used to play for money in Coney Island, New York hustling patzers. Later became tournament director for the United Chess Federation.
– He originally studied to be a surgeon like his father but was expelled from Phillips academy while preparing for medical studies at Yale.
– The 1940's was his golden period with such classics as The Maltese Falcon (1941) followed by Casablanca (1942), The Big Sleep (1946), and Key Largo (1948).
– A heavy drinker he famously remarked "The trouble with the world is that it's always one drink behind."
– IIn 1999, the American Film Institute named Humphrey Bogart the Greatest Male Star of All Time.


Marlon Brando
Watch: Rolex GMT Master.
Seen here wearing it while playing "Kurtz" during the making of the 1979 film Apocalypse Now. Source
Trade Marks: Method Acting. Mumbling. Difficult to work with.
Interesting Facts
– Revolutionized American acting by introducing "The Method" into American culture. An acting technique that many actors such as James Dean took up trying to emulate Brando.
– His directorial debut came with the film One-Eyed Jacks (1961) when Brando took over directing duties after Stanley Kubrick dropped out over creative differences.
– Received more money for his short appearance as Jor-El in Superman (1978) than Christopher Reeve did in the title role, $16 million for 15 minutes.
– During the filming of 'Apocalypse Now' Brando detested Dennis Hopper so much he refused to shoot any of his scenes with him.
– Delays in production led some to nickname the film 'Apocalypse Later'.
Charlie Chaplin
Watch: IWC . International Watch Company, Schaffhausen, Automatic.
The 1957 center-seconds, self-winding watch in 18-karat pink gold was auctioned by Antiqorum in 2007 and sold for 20,060 Swiss Dollars accompanied by a hand-written letter by Chaplin's son, Eugene Chaplin, attesting to the watch's authenticity. Source.
Trade Mark: A toothbrush mustached tramp with undersized bowler hat and bamboo cane.

Interesting Facts
– Became the first actor to appear on the cover of Time magazine in 1925.
– So popular in the 1920s and 1930s that he received over 73,000 letters in just 2 days during a visit to London.
– Despite being at the height of his popularity he participated in a look-a-like contest of himself and came third.
– Composed around 500 melodies for his own films.
– His imprints on the Hollywood walk of fame were removed due to suspicions of communism and were subsequently lost.
– Three months after his death on Christmas day in 1977 his body was stolen in an attempt to extort money. After recovering his body it was buried under 6 feet of concrete to prevent further attempts.
Sammy Davis Jr.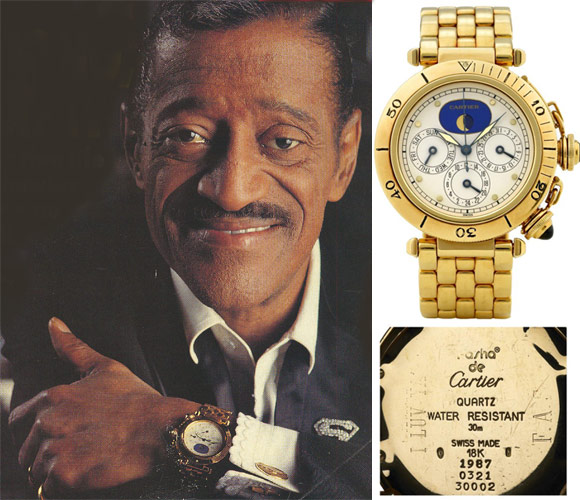 Watch: A Cartier Pasha
A gift from fellow "Rat Packer" Frank Sinatra the watch was engraved with the message "Sammy, I Luv Ya, F.A.S."
It was sold at auction for $12,600 in 2009.  Source.
He can also be seen wearing an Heuer Monaco on a trip to Vietnam to entertain the troops before Steve McQueen made the Monaco famous in the film Le Mans.
Trade Mark: Glass left eye. Self-deprecating humor
Interesting Facts
– Was multi-talented and often billed as the "greatest living entertainer in the world". He could do it all -sing, dance, play instruments, act, do stand-up.
– Known for his self-deprecating humor, he overheard someone complain about discrimination and said, "You got it easy. I'm a short, ugly, one-eyed, black Jew. What do you think it's like for me?"
– Helped break down racial barriers in show business during the 1950s and 1960s, particularly in Las Vegas, where he often performed.
– A member of the "Rat Pack".
– After the accident injuring his eye he wore an eye-patch for a while until Humphrey Bogart suggested he remove it because he wouldn't want to be known as 'the kid with the eye-patch'
James Dean
Watch: Pocket Watch.
Chose a gold-filled pocket watch manufactured by Standard Watch Co as his timepiece. It features an Elgin movement and the cover bears James Dean's engraved initials. The time is still set to 5.43 the time at which Dean died. Source.
He purchased it in 1951 as a struggling actor and it became his lucky charm to which he attributed his success. He insisted on wearing it during the shooting of East of Eden (1955) despite the protestations of director Elia Kazan.
Trade Mark: The Red Jacket, white T-Shirt and blue Jeans from "Rebel Without A Cause"

Interesting Facts
– He had major roles in only three movies.
-His career defining role was when he starred as brooding red-jacketed teenager Jim Stark in Rebel Without a Cause (1955).
– On September 30, 1955, just as he was finishing shooting for Giant (1956) Dean and his mechanic Rolf Wütherich were in the star's Porsche 550 Spyder when they crashed into an oncoming car.
Dean was pronounced dead at hospital. His last words were: "That guy's gotta stop … he'll see us."
– He had received a speeding ticket just two hours earlier.
– The only actor who has received two posthumous Academy Award nominations, for the movies East of Eden and Giant.
– His violent death, brief movie career and rebellious image helped turn him into a cultural icon , "Without James Dean, the Beatles would have never existed." said John Lennon.
Cary Grant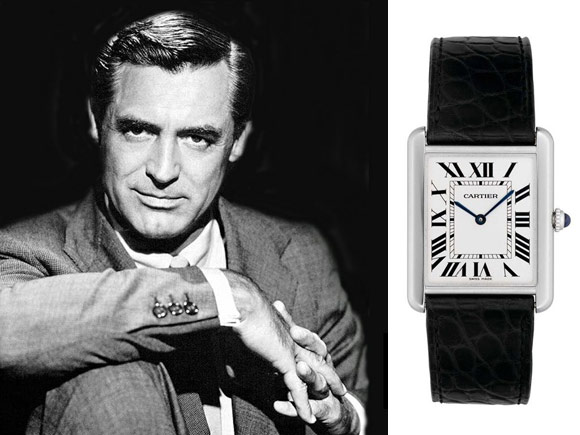 Watch: Cartier Tank.
The Renault tanks which Louis Cartier saw on the Western front inspired him to create this classic watch. Released in 1919 its one of the first wristwatches and was also worn by Warren Beatty and Harry Truman.
Trade Mark: Devil-may-care bachelor with witty riposte. Mid-Atlantic accent.
Interesting Facts
– His real name was Archie Leach. John Cleese's character in A Fish Called Wanda (1988) was named "Archie Leach" after Grant's real name.
– Kept a length of twine in his pocket to remind himself of the days when he had nothing.
– A sartorial inspiration for legions of men Ian Fleming partially based James Bond on Grant.
– Started out as an acrobat and credits this for giving him the strength and dexterity to perform most of his own stunts.
– When asked about the acting profession he remarked "We have our factory, which is called a stage. We make a product, we color it, we title it and we ship it out in cans."
– To the surprise of many he retired in 1966 and never worked again despite pleas from famous directors such as Howard Hawks, Billy Wilder, and Stanley Kubrick.
Audrey Hepburn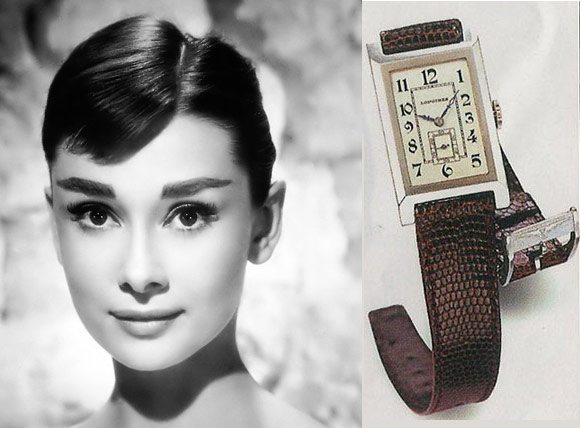 Watch: Longines.
Trademark: Elegant beauty

Interesting Facts
– Gained immediate success with her first American role in Roman Holiday (1953) which was a huge hit and won her an Oscar for Best Actress.
– The pinnacle of her success came with the film Breakfast at Tiffany's in 1961.
– Retired at the end of the sixties after her divorce from actor Mel Ferrer.
– From 1988 she became a special ambassador to the United Nations UNICEF.
– Had a breed of tulip named after her in 1990.
Steve McQueen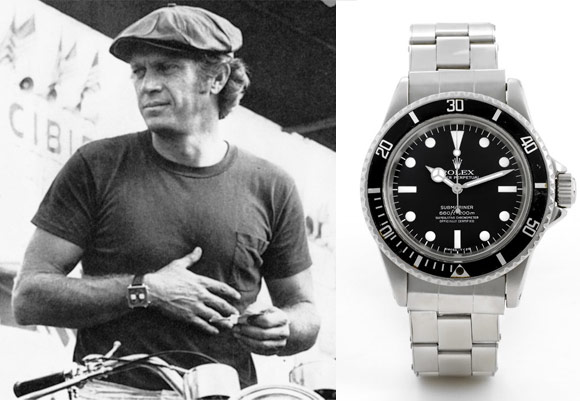 Watch: Rolex Submariner / Tag Heuer Monaco. He switched between his Rolex Reference 5512 Submariner and the Tag Heuer Monaco he made famous wearing during the 1971 film Le Mans. Pictured while biking with his Tag Heuer Monaco. His Rolex was sold at auction in 2010 for $234,000 – a record for this particular model.
Trademark: Often played rebellious tough guys.
Interesting Facts
He was an avid racer of cars and motorcycles and did most of the driving himself for the film Le Mans (1971) round the harrowing 8.5 mile circuit at speeds often in excess of 200mph.
He once commented, "I'm not sure whether I'm an actor who races or a racer who acts." . He was inducted into the Motorcycle Hall of Fame in 1999.
Had an interest in martial arts and became a black-belt in Tang Soo Do. He was a pallbearer at his friend Bruce Lee's funeral.
Frank Bullitt was his favorite role. He turned down roles in Butch Cassidy and the Sundance Kid, Dirty Harry and Ocean's Eleven.
– Although a smoker he believed that the lung cancer that eventually took his life was caused by exposure to asbestos. This happened either while in the military or from brake shoe dust from long years of working on cars (brake shoes were made of asbestos in the old days).
Paul Newman
Watch: Rolex Daytona
The Daytona a vintage sports model  became unofficially referred to as the "Paul Newman" Daytona.
Its one of the most sought after and collectible Rolex watches.
Trade Mark: Played charismatic anti-heroes and rebels.
Interesting Facts
– Considered his first performance in the costume epic The Silver Chalice (1954) so bad that he took out a full-page ad in a trade paper apologising to anyone who might have seen it.
– One of the top box office draws of the 1960s, starring in classics such as Cool Hand Luke (1967) and Butch Cassidy and the Sundance Kid (1969)
– A professional racing driver and auto racing enthusiast he said that the noise of a V-8 engine is the sound he loves most. In 1979 he finished second overall in the famous Le Mans endurance race.
– A generous philanthropist he donated the entire earnings, more than $100 million, from his food product company "Newman's Own" to charity.
– Known for his sense of humor, in 1998 he joked that "The embarrassing thing is that my salad dressing is out-grossing my films. "
– At the start of his career he was often mistaken for Marlon Brando; claims to have signed around 500 autographs reading , "Best wishes, Marlon Brando."
Robert Redford
Watch: Rolex Submariner.
Trademark: All-American good looks. Often in political thrillers.
Interesting Facts
– Had his breakthrough role when he was 32 as "The Sundance Kid" in Butch Cassidy and the Sundance Kid (1969).
– Set up the Sundance Institute for aspiring filmmakers in 1980, its annual festival becoming one of the worlds most influential.
– Talented behind the camera as well as in front, he won an Oscar for Best Director in 1981 for his directorial debut Ordinary People (1980)
– Has used his fame to help further environmental causes and protect land in his native state of Utah.
He once remarked " Some people have analysis. I have Utah."