Single hand watches may appear unconventional or even strange to many of us today but telling the time using just a single hand was in fact the normal way when pocket watches were introduced in the early 16th century.
In fact timekeeping began with just a single hand, sundials and the early church clocks kept time this way.
So the single hand watch is continuing an age-old method of measuring time.
The introduction of a 2nd hand must have seemed as odd to people in the late 17th century as single hand watches appear to us today.
By having a design that recalls the early timepieces, single hand watches are imbued with a sense of classicism whilst drawing attention to the early origins of the watchmakers craft.
For those with a minimalist taste in watches, they must surely be appealing. You can find more watches in the single hand watches category.
MeisterSinger
MeisterSinger use a dial divided into 144 markers. Each marker represents 5 minutes.
The time shown is 15 minutes past 10.
The 15 and 30 minute markers are bolder and the single hand is sharply pointed for more precise reading.
Features a stainless steel case with glass back and an ETA hand wound movement.
Price:$1600 Source:  MeisterSinger
Botta "Uno"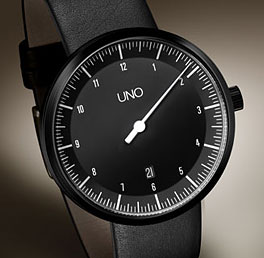 The Uno also uses a dial with five minute gradations. The time, according to the manufacturer can be read down to more or less one minute by judging the distance between individual markers.
According to Botta the "great strength of the UNO, however, lies in everyday time-keeping and the fact that the time of day is shown "at a glance" by an analogue and graphic representation of the day."
Price:$400 Source:  Botta
Nienaber Uhren "Antero"
The "Antero" features an intriguing and unique dial with a gap at the 9 o'clock position. Using a "anterograde display" that skips over this 9 o'clock gap so that the seconds hand dial is not obscured.
The "Antero" uses a manually wound ETA/Unitas 6497 movement with a power reserve of more than 40 hours.
Also features a glass back and 42mm stainless steel case.
Source: Nienaber Uhren
Karl Falk "Einzeiger"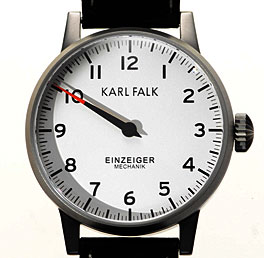 The "Einzeiger" or in English "one hand" watch features a red tip to enable more precise time-telling.
A 43mm brushed stainless steel case with transparent back houses a UNITAS 6498, 17 jewels hand wound movement that is water resistant to 5ATM.
Price:$1,400 Source: Karl Falk
Pita "Minimal"
As you may of noticed this watch doesn't feature a crown. The "Minimal" is truly that, using a patented Pita "time setting system".
These single hand watches are designed and handmade in Barcelona and available in 18 ct. yellow / white / rose Gold, or Platinum 950.
Price:$15,000 Source:  Pita


Defakto
A chunkier design and just three single markers in between the hour markers make this single hand watch the most relaxed on the list.
According to Defakto by wearing one of their watches " Your way of experiencing time will get way more relaxed and laid back ".
Price:$600-700 Source: Defakto
Epos Collection Sophistiquee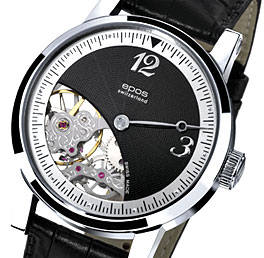 Swiss watchmaker Epos combines a single hand with a cutaway dial revealing an engraved mechanical hand-wound Unitas 6498 skeleton movement . .
The 41mm case is water resistant to 50m.
Price:$930 Source:  Epos
Schauer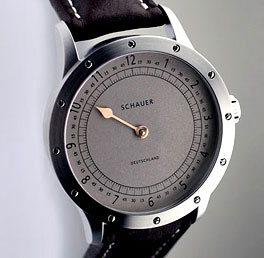 These watches are individually handmade by German watchmaker Jorg Schauer and feature a highly detailed dial with single 18 carat pink gold hand.
A 42mm case with sapphire crystals front and back housing a DUROWE 7426-4 movement.
Price:$4200 Source:  Schauer
Jaquet Droz "Grande Heure"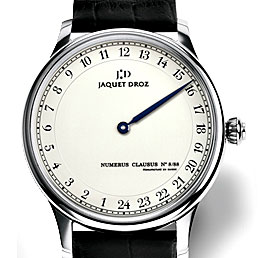 Rotating at half the speed of a typical single hand watch, the Grande Heure is a rarely seen 24 Hour single hand watch.
Jaquet Droz states these types of watches are about "living time differently
and appreciating it in a new light" echoing the credo of the other single hand watchmakers.
Price:$24000 Source:Jaquet Droz
Angular Momentum R.D.S Classic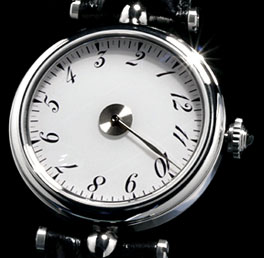 The R.D.S in the Angular Momentum's name refers to their patented 'Revolving Disc System', which they state means "that a watch hand can be replaced by a disc"
The single hand indicates the minutes while the hour markers rotate on a disc and are read at the 12 o'clock position. The time shown is 02:19
Source:   Angular Momentum
Starck
Despite a more unconventional appearance this Starck watch uses a similar timetelling system to other single hand watches, albeit with a smaller hand.
Something slightly different is a central rotating disc with the Stark logo on, which indicates the seconds.
Price:$130 approx Source:   Starck
Kudoke "Mysticum"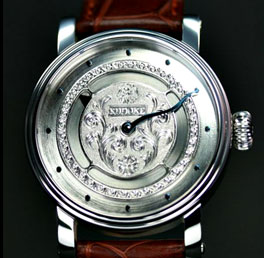 The Mysticum has a single, hand made wavy hand indicating the minutes, and a pointer rotating beneath a circular central panel for the hours.
The dial is skeletonized and hand engraved, with sapphire crystals front and back through which to view it. Housing a hand wound ETA movement with 40 hr power reserve.
Price:$6,500. Source:  Kudoke