A skeleton watch exposes its usually hidden inner mechanism. Its a way of showcasing the moving parts of the watch -in particular the balance wheel, mainspring, escapement and sometimes tourbillon.
Beauty is more than skin deep
Watchmaking encompasses three elements; mechanics, art and history, this combination makes for a fascinating subject.
A skeleton watch more than other timepieces epitomises the watch as not just a timetelling device but as an aesthetic object, something of beauty, to be appreciated for its craftsmanship.
In the case of hand finished skeleton watches, its an opportunity for the watchmaker to express his art and display his craftsmanship.
By skeletonizing the watch he reveals the beauty and intricacy of the movements geometric structure, and the interaction of these cogs, springs and levers can be a fascinating visual treat.
The watchmaker decorates the inner mechanism, through use of engraving, embellishing and polishing to enhance to mechanical structure within. Each technique requires the use of special tools and skills that have centuries of tradition.
Typically these mechanisms are automatic or manual winding type, but Quartz and even tuning fork skeleton watches exist.
Design
Exposure
The design of a skeleton watch will vary in the extent to which the movement is exposed.
Some have the dial entirely removed while others just sections of it.
Often the mechanism will also be exposed through the use of an 'exhibition' case back.
Some skeleton watches that have had the dial removed still retain hour markers, whilst others consist of only the exposed mechanism and the watch hands.
Fully and partially Skeletonized watches by Vacheron Constantin and Greubel Forsey
Traditional or Modern
Skeleton watches have a rich heritage, which many watchmakers draw on for their approach to design.
The ones shown above are more traditional and are quite "dressy" in terms of style. For those looking for something more casual or bolder, other manufacturers have taken the idea of a skeleton watch as a starting point and have created more radical designs.
Stylized and skeletonized; watches by Franc Vila and Roger Dubuis.
Movement Finishing & Materials commonly used in Skeleton watches.
Engraving
By Hand
The motif is first traced on using a pointed scriber and then engraved using a Burin (special type of Chisel)
Parts are decorated with various motifs and sections of the movement removed, forming a lattice-like appearance.
The engraver must take care not to remove too much metal from the movement which could prove detrimental its smooth running.
By Machine
Various types are used. For more precise engraving, chemical etching is used.
A negative of the design is coated on the surface using a UV-sensitive varnish. This is then exposed to UV rays and dipped in an acid reagent which only affects the areas unprotected by the UV varnish. Other methods such as mechanical engraving is often used for letters and numbers on movements. Laser engraving is also used.
Patterns:
Guilloche– A meticulous type of engraved pattern applied to watch dials, typically comprised of interwoven lines.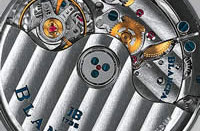 Cotes de Geneve– (Geneva Stripes) also known as damaskeening. A type of decoration originally done by hand but now often done by machine. Applied to the watch movement it has the appearance of stripes on the movement and is sometimes found in higher grade watch movements.
Perlage– Also known as Perlee. A cheaper form of decoration than Cotes de Geneve, consisting of overlapping circles. Also serves the practical purpose of catching dust particles and preventing them from entering the movement.
Materials:
Jewels– These are used as bearings to reduce friction in the movement, originally made of natural ruby or sapphire, synthetic is typically used these days.
Rhodium Plating– many high end movements feature Rhodium as well as Gold plating.
German Silver– Some higher end watchmakers use German Silver instead of brass in their movements
Videos
In the video below you can see master watchmaker and skeletonized movement expert Jochen Benzinger at work engraving a watch.
Jochen Benzinger