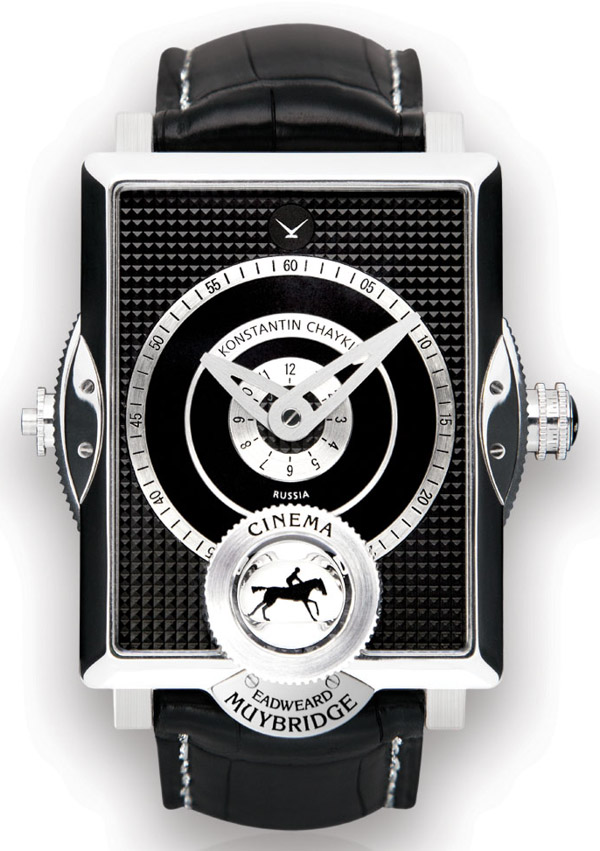 From 
Russian independent watchmaker
the Konstantin Chaykin Cinema watch features an animation complication.
The cinema watch is a tribute to the the "zoopraxiscope", considered the first kind of movie projector and invented in 1879 by Eadweard Muybridge.
By pressing a button at the 9 o'clock position a disc spins showing an animation of a man riding a galloping  horse. This is viewable through a magnifying aperture at the 6 o'clock position.
In a sense Konstantin Chaykin has created his own miniature projector mounted into the watch, and the case has been designed and decorated to resemble on old movie camera.
Featuring 12 images the disc can spin for up to 20 seconds showing the  animation. The Konstantin Chaykin Cinema watch uses the manual wind completely in-house built  Caliber KCM01-.
It is powered two  separate mainspring barrels, one used separately for the animation complication, the crown is turned in two directions to wind them both.
Konstantin Chaykin Cinema Technical Specifications:
Calibre: KCM 01-0
Dimensions (mm): 32*42,5*7,5
Materials: steel, brass, enamel
Escapement: anchor
Jewels: 31
Power Reserve: 48 hours
Animation Power Reserve: 20 seconds
Animation Speed: 1 cycle per second (12 images)
Vibration: 21 600 v.p.h
Functions:
– hours;
– minutes;
– animation.
Case:
Dimensions (mm): 37*47*12,2
Materials: stainless steel
Dial:
Stainless steel, black lacquer, guilloché,
Strap: alligator skin