Men in
orange suits
carrying geiger counters come to mind at the mention of radioactivity, however the radioactive gas Tritium is harmless at the amounts used in tritium watches.
Tritium is a naturally found Hydrogen atom with an atomic weight of 3, so its symbol is H3. In watches the gas is hermetically sealed inside glass tubes (vials) coated with phosphorescent paint, together this creates a chemical reaction producing colourful glowing light.
Tritium has a half life of 12.3 years so its brightness will start to fade after that and most manufacturers give the tritium illumination a longevity of between 10-20 years. After that the watch needs to be sent back to the manufacturer to have the Tritium vials replaced. Mb Microtec is the main supplier for tritium in watches.
Despite many watch manufacturers claims with their sales hyperbole, Tritium is not the brightest form of watch illumination, Superluminova is brighter.
However the advantage Tritium watches have is that tritium doesn't require any ambient light source to charge itself and will glow consistently at the same constant level providing unlimited night time readability.
Whereas Super-Luminova or other phosphorescent luminescent paint initially glows brighter but tapers off, progressively becoming less luminous over several hours.
Tritium watches are useful for people who work for long periods in dark environments, for night diving or for people who just like the novelty of owning a watch that is constantly illuminated.
More info at mb microtec
Note: The information in this article is time-sensitive and subject to change.
Tawatec E.O.Diver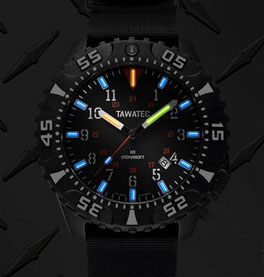 This first one lights up like a Christmas tree being Swiss brand Tawatec's multicoloured "Tactical Lights" model. They also offer this model in two other colours with the "Green Lights" and "Blue Lights" editions.
Water Resistant to 200m, the crown has a double o-ring seal and is powered by a Rhonda 515 Quartz movement, which has a reputation for rugged reliability. The watch comes with a power saving function which saves 30% when the crown is pulled out. It is housed in a 46mm case of carbon reinforced poly resin construction.
Price: $300 Source: Link
Reactor
Reactor developed a special proprietary way of applying Superluminova for their watches, which according to independent tests made them the "longest-lasting phosphorescent watches in the world ".
However while Superluminova is up to five times brighter than Tritium it fades to below the level of Tritium after several hours.
So Reactor decided to develop a special technology for their Tritium watches called Never Dark which combines the Swiss phosphorescent paint Superluminova with Tritium-filled tubes for the benefits of both.
Price:$350 Source:Link
Dievas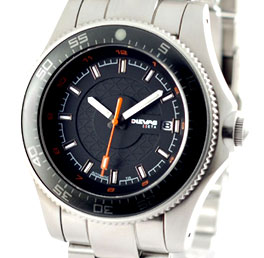 Equipped with a total of 15 Tritium Tubes to illuminate the dial, the hour, minute and second hands the Dievas uses what is considered the industry gold standard in Tritium illumination, the top of the line GTLS (Gaseous Tritium Light Sources) made by Swiss company MB-microtec's trigalight technology.
Founded in 2006 Dievas has collaborated with military personnel and field operatives in the design of their Tritium watches.
They come equipped with the dependable Miyota automatic movement due to its robustness and have a water resistance rating of 300m.
Price: $340 Source: Link
Firemark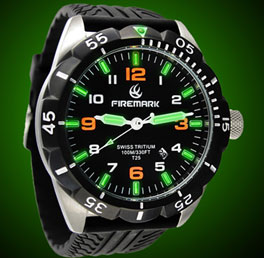 This Tritium watch uses Firemark's "Light Illumination Technology" (LIT) using Swiss mb-microtec's high-grade micro gas tubes on the hands and all hour markers.
Firemark Tritium watches use Miyota/Citizen quartz movements and high grade 316L heat-treated stainless steel for the cases and bracelets.
All their watches come with 100m water resistance and hardened mineral crystals offering "unmatched shatter resistance"
Price:$250 Source:Link
Praetorian
This is the Signifier Automatic PVD dive watch using H3 Trigalights by mb microtec illumination.
It uses a variety of different colored Tritium for the hands and dial. The hands and bezel use green while the hour markers are in blue except for 12 o'clock which is in orange.
The solid 316L black PVD coated stainless steel case houses a Citizen/Miyota 8215 Automatic Movement and comes with a screw-down crown and case back, and is water resistant to 200 meters.
Price:$450 Source:Link
Armourlite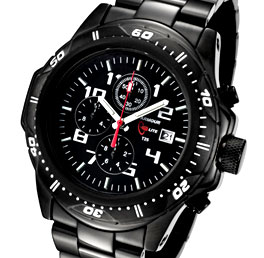 Armourlite collaborated with a specialty manufacturer of high impact shatterproof glass to create their watch crystal and further enhanced its impact resistance through the use of a rubber retaining ring for shock absorption.
The case was manufactured from the toughest combination of steel and to test the watch they had it run over by a 22 ton fire truck.
It uses green MB microtec tritium for hands and markers and is water resistant to 100 meters.
Price:$375 Source:Link
Swiss Timer
Features orange Tritium, the most popular new Tritium colour, except for the 12 o'clock marker which is blue.
Equipped with a black PVD plated Stainless Steel Case which houses a multi jewel Swiss Quartz Chronograph Movement featuring a lap timer function.
42mm in diameter and 12mm thick its water resistant to 100 meters.
Price:$350 Source:Link
Swiss military Watch
This is SMW's Black Titan 300m Diver using the H3 tritium light system which they have underlayed with highly polished steel plates.
The tritium is green for the hands and markers as well as on the bezel, and the 12 marker is in Orange.
A 44mm black pvd coated titanium case houses the Swiss Ronda quartz movement.
Price:$690 Source:Link
Traser

Traser uses all white Tritium except for the 12 o'clock indicator which is orange, called "Trigalight" on Traser watches which is part of MB microtec.
This is an aviator tritium watch, its full name "H3 Aviator Jungmann" is after Jungmann planes from the pre WWII era and it comes with a leather aviator style strap.
The unidirectional navigational bezel can be used together with the sun to determine compass direction.
Price:$635 Source:Link
Nite
Swiss made movements are provided by Ronda with a water resistance to 100m and featuring push-in crown with triple o-ring seal.
NATO approved. Nite tritium watches are recognised military quality products and have a NATO stock number.
Sapphire with triple anti-reflective coating.
Measuring 42mm in diameter and weighing 76grams.
Price:$310 Source:Link