Designed for the unique requirements of a highly specialised market,  professionals Tactical watches are few and far between. This latest one, the Luminox Surefire 2211 Wristlight Tactical watch combines a Swiss Luminox quartz watch with the 2211 Wristlight by SureFire and measures a monster 61 by 51 mm and 28 mm thick! At 143 grams its the same as having one of the larger smartphones attached to your wrist.
A California-based company SureFire specializes in the production of weapon-mounted lights and laser sights, shield lights and baton lights, as well as hand-held lights. The 2211 Wristlight is worn by members of the L.A. police on the firearm support-hand wrist and as its name suggests, is a rectangular flashlight.
The Luminox Surefire 2211 features more than just a flashlight according to SureFire it is also a "force-option" tool which means its powerful and bright enough to temporarily blind, unbalance, and disorient an attacker: "This broad, powerful beam is ideal for identifying threats and blinding an aggressor's night-adapted vision. " To get an idea of how powerful the light it check out the video below.
At its lowest setting the battery is said to last for about 13 hours and in its highest setting can run for over one hour. It uses a Li-Ion integral battery which can be charged via a micro-USB slot. Ity has brightness settings of 15, 60, and 300 lumens.
The LED's output can be set to 300 lumens with a press of either of its ambidextrous switches and there are also two useful lower-output settings of 60 and 15 lumens for tasks where less light is needed such as navigating outdoor trails or loading/unloading gear. These lower levels can be easily accessed by pressing both buttons simultaneously.
The Luminox Surefire 2211 features a Swiss quartz movement, a unidirectional rotating bezel with timer markings,  indexes and hands of the watch being illuminated by tritium gas tubes that glow continuously and do not need to be "charged" to emit light.
The Luminox SureFire 2211 Wristlight Tactical Watch costs $795 and is available at Surefire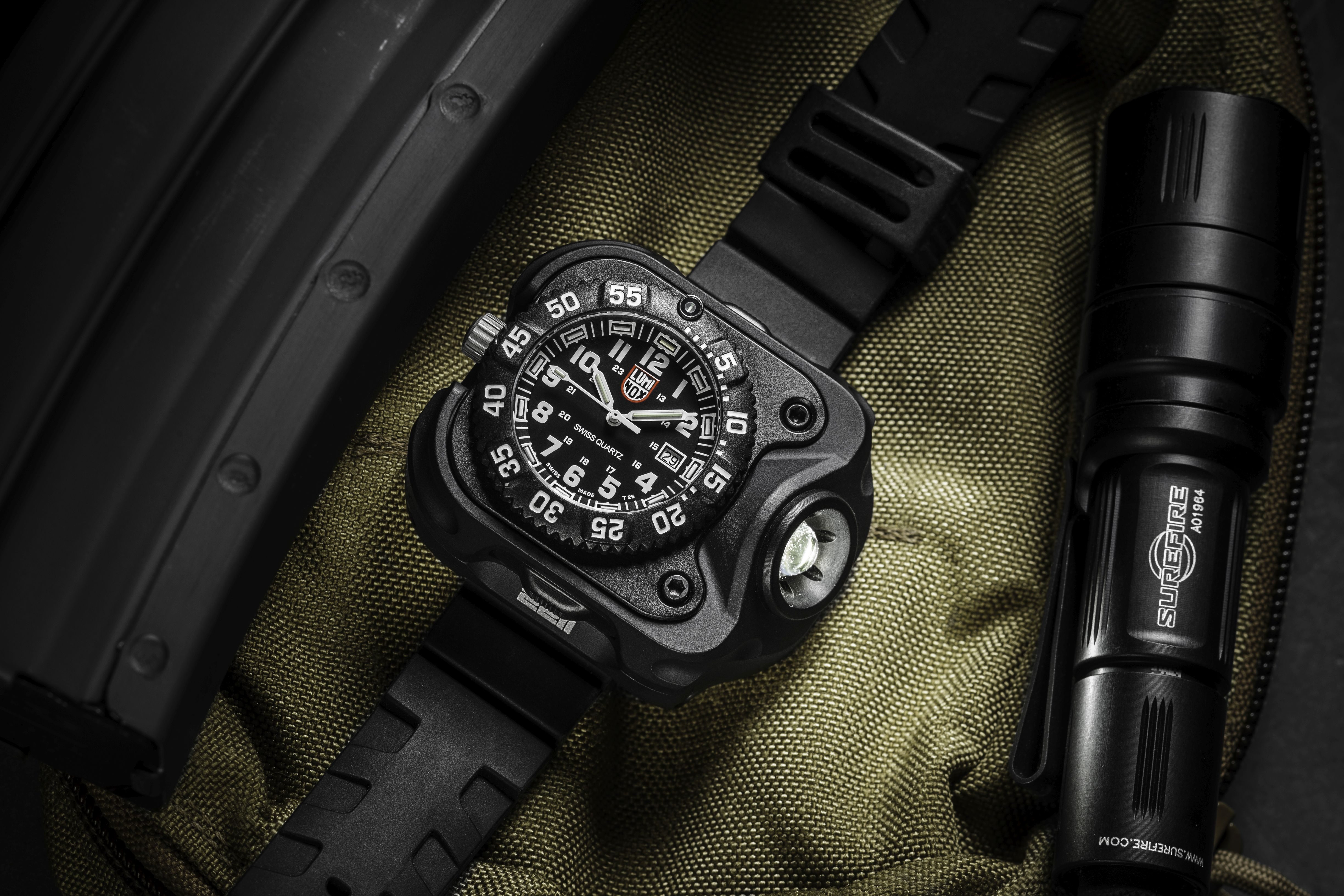 Luminox Surefire 2211 Specifications

LIGHT ACTIVATION
High Output: Pressing either pushbutton switch once will activate the high output. Pressing either switch individually again after 0.5 seconds will turn the light off.
Low Output: Pressing either pushbutton switch twice within 0.5 seconds will activate the high output and then the low output. To turn the light off, press either switch again.
Cycling Low to High Output: Pressing and holding both pushbutton switches simultaneously will activate the low, medium, and then high outputs—in that order—with 0.75 seconds between changes in light level. Release both switches when the desired output has been reached. To turn the light off, press either switch.
When using the WristLight with a handgun, activate light—strapped to your support (non-gun) hand—before drawing pistol from holster. Deactivate light after safely holstering pistol. Do not activate, deactivate, or adjust your 2211 Luminox while holding a firearm.
FUEL GAUGE
The 2211 Luminox is equipped with an LED that lets you monitor the battery charge status, both during use and while charging.
BATTERY CHARGING
The 2211 Luminox is powered by an integral lithium-ion battery that will provide years of service, depending on use. The included micro-USB charger can be plugged into a all socket, or, after removing the USB cable from the AC plug, into a USB port.
Output / Runtime
High: 300.0 lumens / 1 hour*
Med: 60.0 lumens / 4.0 hours
Low: 15.0 lumens / 13.0 hours
Dimensions: 2.4″(L) x 2″(W) x 1.1″(H)
Material: Mil-Spec hard-anodized aerospace aluminum; rubber wristband
Power Source: Rechargeable lithium-ion battery