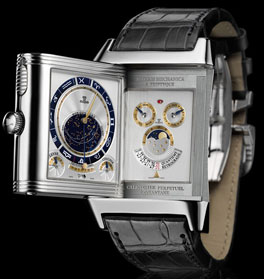 This year is the 80th anniversary of the Jaeger-LeCoultre Reverso, a watch able to rotate 180 degrees within its case and devised in order to protect the watch face.
With that in mind, an article on this iconic reversible watch seemed in order.
Sporting beginnings
The Reverso was released in 1931, and its idea came about as the result of a polo match in India.

Cesar De Trey, while relaxing in a bar after a polo match happened to notice the smashed crystal on a watch worn by one of the other players, this led him to suggest the idea of a reversible watch to his friend Jacques-David LeCoultre.
Looking into this idea Jacques-David LeCoultre discovered there weren't really any watches that filled the need of an unbreakable watch and set about creating one, the Reverso. On its release it was greeted enthusiastically and sold well, even gracing the wrists of amongst others King Edward VIII and Amelia Earhart. The reversible design of the watch apart from protecting the face also gave it the opportunity of having a nicely engraved back that could be flipped over and displayed, a feature that also proved to be an attractive selling point.
Obscurity and rebirth
Despite initial success its full potential was cut short with the start of the second world war along with changes in taste and fashion. Jaeger-LeCoultre's also decided to focus more on simpler watch designs since the Reverso's complex case was so expensive to manufacture. The combination of these factors resulted in the Reverso falling into obscurity until the 1960's, since then however it has gone on to become Jaeger-LeCoultre's most popular watch by far.
The reversible aspect of its design has given rise to many Reverso model variations over the years. Including models with two dials for different time zones, differently styled or types of face, along with even more complex models such as the "Gyrotourbillon" and "Mechanica à Tryptique" (pictured above).
Jaeger Le-Coultre have created the largest virtual museum devoted to the Reverso, you can visit it here