The
Anura Rafael Write Time
is the worlds first mechanical watch pen.
Combining a tourbillon watch and fountain pen into one, the Anura Rafael Write Time is a unique convertible objet d'art that transforms from watch to pen and vice versa.
Its made up of what the brand refers to as a "capsule" which to use as a watch is attached to a "receptacle" , which is in turn attached to an alligator strap.
Measuring 60mm long , 34mm in diameter and at 31mm thick(!) it certainly makes a bold and unusual statement on the wrist !
The capsule is constructed from sapphire crystal, pink gold wrapped in alligator leather. Housed inside the large sapphire crystal are three discs that indicate the time; one for the hours and the other two for the minutes. The numerals on these discs have been hand engraved.
To turn the Write Time into a writing instrument, you unlock the rotating ring, remove the capsule, and attach it to the end of the pen.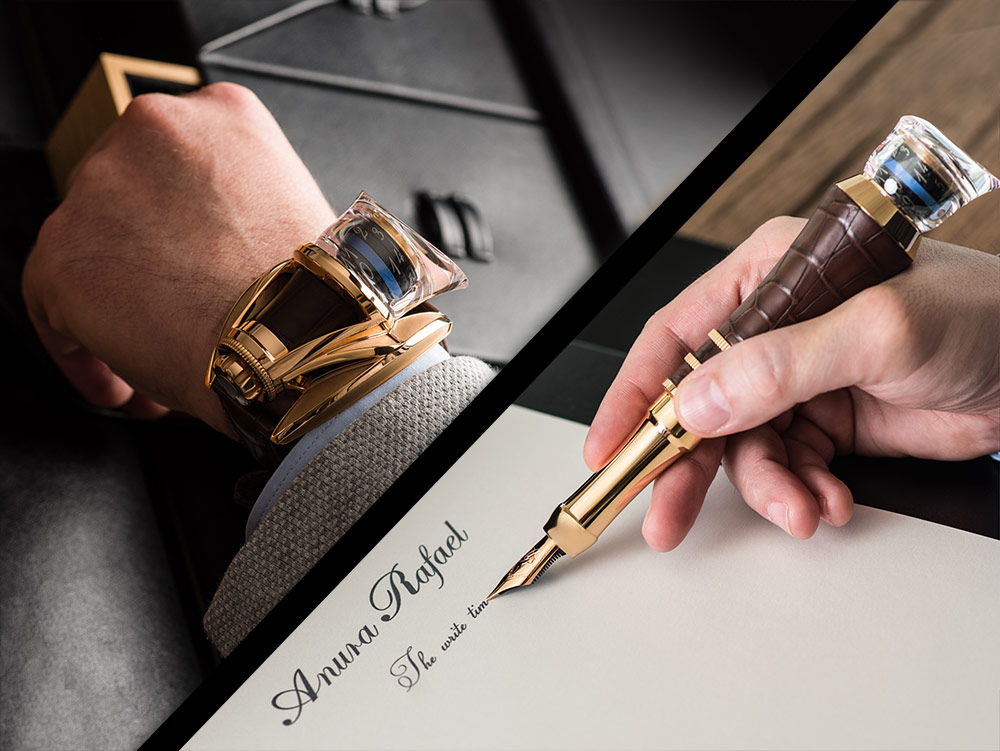 The Anura Rafael Write Time is powered by movement, Calibre ARS001/T  which is hand wound and features a linear gear train and you wind it using the large fluted crown made from pink gold located at the end of the case.
Its often the case that watch collectors also have and an interest pens and vice versa is often also true so it makes sense to create something that captures both niches at once.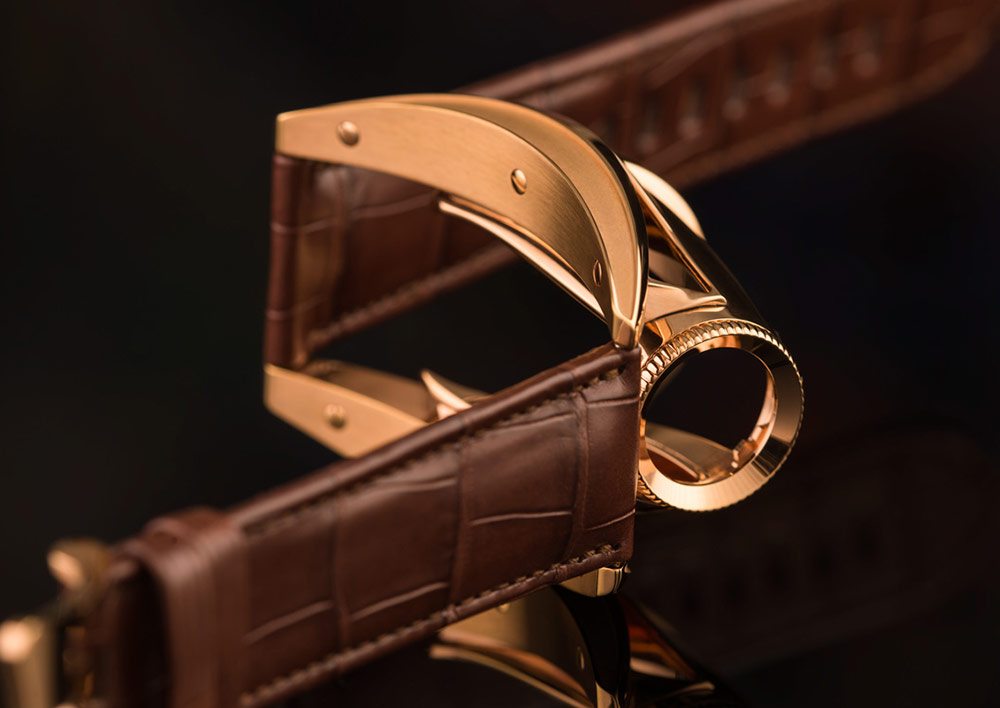 The Anura Rafael Write Time took two years to develop and consists of 472 parts.
The set comes in a leather travel case together with an inkpot, there is also a wide choice in customization offering a lot of possibilities including options in materials, colors, finish, the movement, the nib and the travel box.
Prices start from 245,000 CHF
Read more at Anura Rafael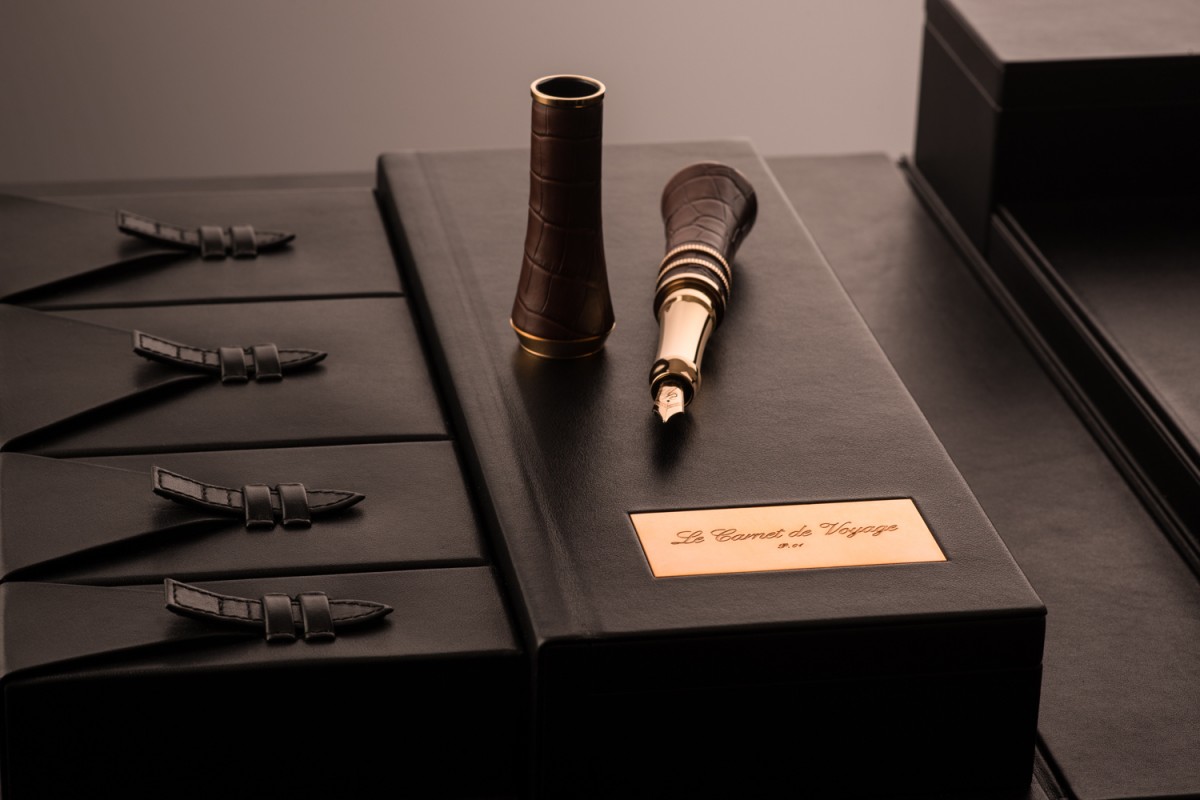 Technical Specifications
Convertible horological capsule with patented locking system
Material: Sapphire crystal, pink gold, alligator leather.
Length: 60 mm
Diameter: Conical, 34mm max. diameter.
Water resistance: 3 ATM / 30M.
Calibre ARS001/T, linear movement with manual winding 
Frequency: 28´800 vibrations per hour / 4Hz.
Power Reserve: 48 hours.
Jewels: 42
Components: 472
Functions: Digital indication of the hours and minutes on three discs, one-minute tourbillon.
Case
Length: 55mm
Width: 42mm
Height: 31mm
Material: Pink gold (5N).
Pen
Material: Pink gold (5N) and alligator leather.
Type: Piston or cartridge fountain pen.
Nib: 18K pink gold (5N) / Rhodium with customized nib size.
Cap: Anura Rafael clip and orientation system.
Length: 188mm
Diameter: Conical, 36mm max. diameter.
Travel writing Cabinet
Dimensions: 485mm x 280mm x 65mm
Material: Full grain calf leather.