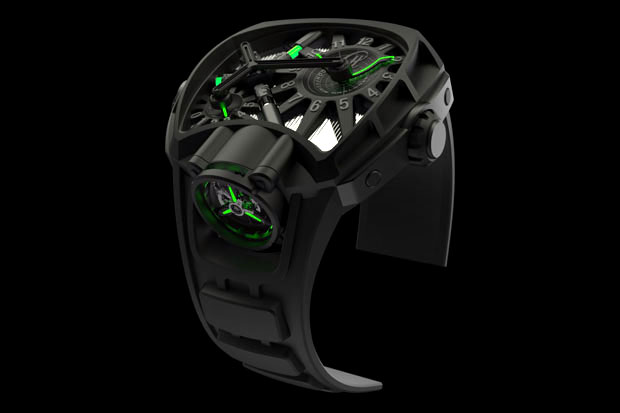 Do you want to have the power to slow down and speed up time? Well with the "La Clé Du Temps" -in English "The key of time"- Hublot have devised a watch that gives you this highly unusual function.
You can make the watch go faster or slower than normal time by using a crown on the left of the watch.
Using this, the speed of time is increased or decreased, the watch meanwhile keeps track of the correct time and can be returned to it any moment. How this novel function is used is up to the owner, and may be more of a symbolic novelty than anything, but will definitely be a cause of intrigue and a conversational topic.
The "La Clé Du Temps" is part of the Confrerie series of watches which feature Hublot`s most innovative and progressive models. The watch uses a combination of dials; time is told using the upper right dial and a 5-day power reserve indicator is in the lower left corner, above that you have the unique "time machine" like controller.
A flying tourbillon that drives the watch is housed in a cylindrical casing that extends out from the bottom of the case. Bright luminescent green markings accentuate the micro blasted titanium black DLC case and further its futuristic appearance.
An unusual time measurement instrument the Hublot La Clé Du Temps is available as a limited edition.
Source Hublot.