The founder of MB&F, Maximillian Busser had the idea for the MB&F Horological Machine N°7 Aquapod when a jellyfish stung his wife's foot.
Every year, there is an anticipation for what MB&F will come up with and having pushed the limits of watchmaking by propelling itself into space (HM2, HM3, HM6), the sky (HM4) and on roads  (HM5, HMX, HM8),  Max and his friends decided to jump into the water with Horological Machine No. 7, aka HM7 Aquapod.
Although the HM7 Aquapod is not a dive watch, there is a ceramic bezel and it can be worn in the water to depth of 50m. So MB&F has integrated the element that any marine watch worthy of the name must possess: a unidirectional rotating bezel, however, unlike typical dive watches, the Aquapod has a case-independent bezel, which floats outside like a lifebuoy.
The HM7 Aquapod is composed of 303-components, and features a 72-hour power reserve movement that has been fully developed in-house by MB&F. The organic, jellyfish inspired design of the HM7 Aquapod is counterbalanced by the watchmaking mechanics housed inside: a central flying tourbillon dominates the concentric vertical construction of the movement and the indications propagate around it – like waves on the ocean.
The tentacles of the rotor, shaped into a solid titanium block, form a three-dimensional structure that makes machining and finishing extremely difficult. Below the tentacles, a platinum mass ensures powerful and efficient winding.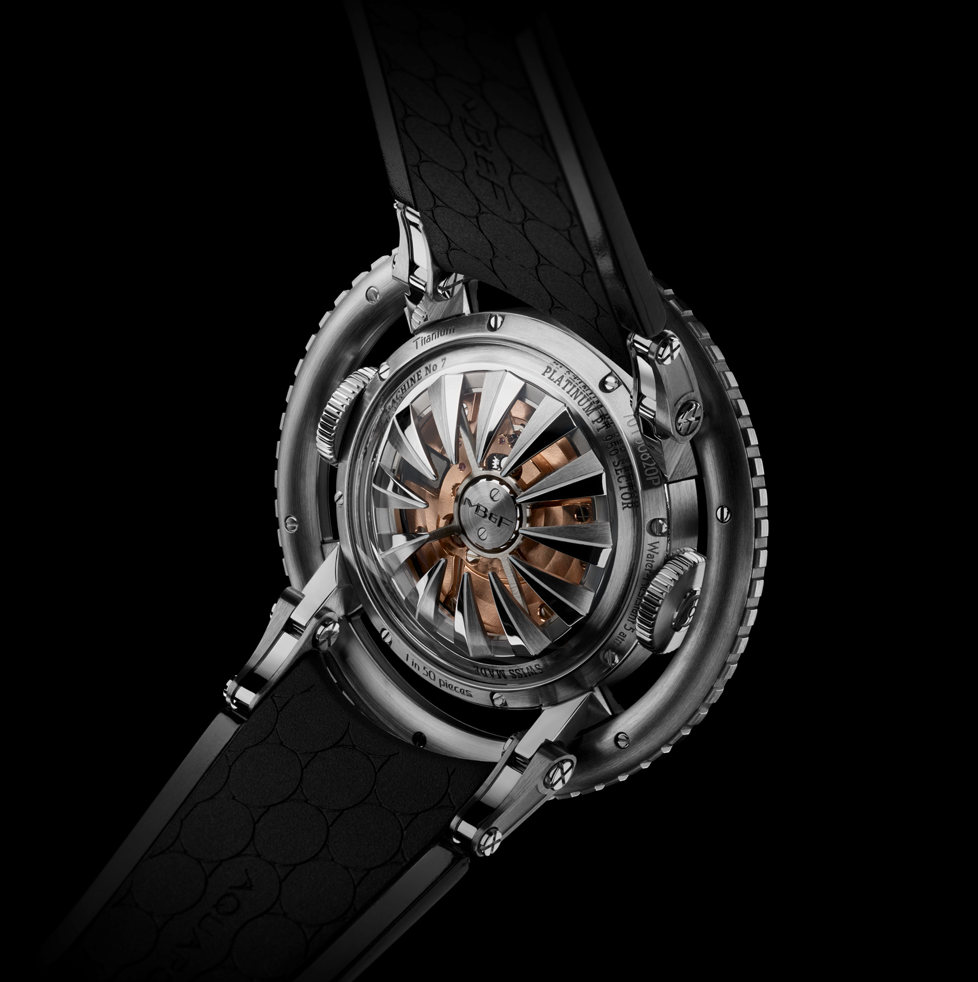 The jellyfish has inspired many aspects of the HM7 design, for instance jellyfish feed on food grabbed by their tentacles, and similarly the HM7 draws energy from an automatic tentacle winding rotor. And while jellyfish have a radially symmetrical nerve ring as a brain, the Aquapod has radially symmetrical rings to display hours and minutes. Jellyfish also have an umbrella or bell for the head, the Aquapod sports an imposing flying tourbillon that regulates the energy provided by the rotor and converts it to display the time.
For its launch, the HM7 Aquapod is limited to 33 in grade 5 titanium with blue bezel and 66 in 5N + pink gold with black bezel. More info on the MB&F site