1946 was the year the Dick Tracy watch was first introduced in comic strip form. A futuristic spy gadget featuring a two-way radio it captured peoples imagination and has continued to do so, it certainly held a fascination for Connecticut-based brothers Nick and Charlie Mathis,  "Since we were kids, we've wanted the real Dick Tracy watch, but no one ever made it," said Nick Mathis.  Many years after it's first incarnation in comic form they're love of the Dick Tracy watch lead them to create a real-life version, shown here is the 2018 model.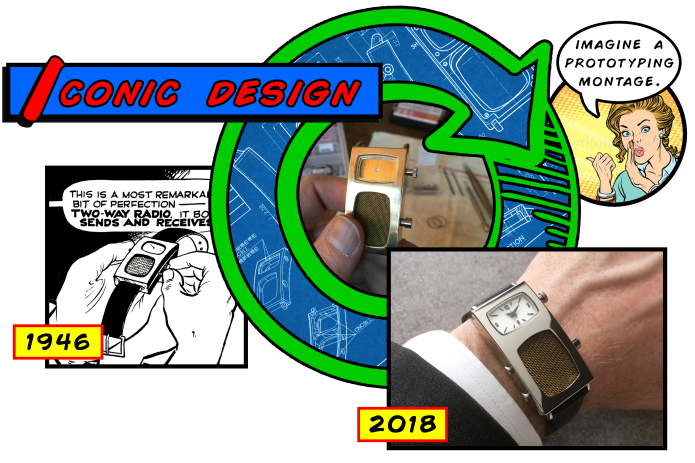 The Dick Tracy watch features an integrated Bluetooth module, microphone and speaker so that you can make calls from a paired smartphone. The watch is made from stainless steel has a sapphire crystal face, a mesh grill to cover the speakerphone components and an oil-tanned leather strap.
'I got to making my own Dick Tracy watch in my workshop — at the time, an apartment closet — using Fusion 360, a desktop CNC machine, and 3D printing through Shapeways. After posting pictures online, emails began to steadily flood my inbox asking to buy it. A person even offer $5,000 if I'd make him one!" This gave them confidence to pursue their dream of creating a realife version of the Dick Tracy watch and in 2016, they purchased an official license to make the two-way wrist radio a reality.
A limited edition of 1000, each individually numbered and priced at $249
For more info head over to https://www.dicktracy.watch/
FEATURES
Manufactured by Longio Watch Co.
Only 1000 Made – Uniquely Numbered (Limited Edition Only)
Certificate of Authenticity (Limited Edition Only)
Sapphire Crystal
316L Stainless Steel
Miyota 5R32 Quartz Movement
Decorative* Brass Radio Mesh & Spring Action Radio Buttons
Water Resistant to 30 Meters
Custom Hadley Roma 18mm Regular Black Oil Tanned Leather Band
*DOES NOT CONTAIN RADIO
DIMENSIONS
Width: 26 mm (1.02 in)
Length: 48 mm (1.89 in)
Thickness: 10.8 mm (0.425 in)