The Azimuth Grand Turismo is another unusual watch addition to the Azimuth line up which has included other  unique watches that have been inspired motor vehicles, such as a tank with the Azimuth SP1 Landship , 60s motorcycles with the SP1 Crazy Rider and more recently the Azimuth Twin Turbo which was inspired by 60s sports cars.
The shape of the Azimuth Grand Turismo evokes the profile of vintage sports cars, especially that of the famous Porsche 911 of the 60s, while its dial is placed almost vertically on the wrist allowing you to read the time very easily driving your supercar, similar in format to the MB&F HM 5 (also inspired by sports cars) and the Parmigianni Bugatti
This unique upright dial format makes it easy viewing the time when your hands are on the steering wheel and whilst certainly, this unusual watch will not please everyone, it certainly may appeal to "petrol heads" and since these timepieces are produced in small quantities, it makes them even more desirable. These models are also aimed at those who love unconventional, avant-garde watchmaking.
While the case evokes the profile of a vintage racing car, the winding crown is reminiscent of a fuel cap and on both sides of the dial, "openings" (non-functional) are reminiscent of the grille of the old supercars.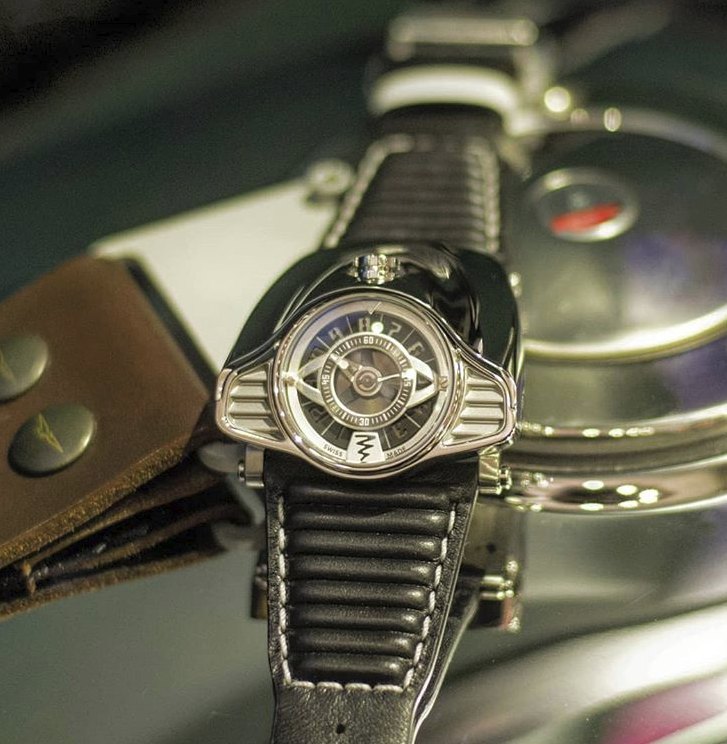 The dial indicates the hours through a spinning disc while the minutes and seconds are displayed more traditionally, but with hands that are inspired by those of car tachometers. Inside is a Swiss automatic mechanical caliber,  lastly the leather bracelet has a colorful stitching evoking, again, the world of vintage cars.
You can pick one up priced approximately 5000 Euros. More information at the Azimuth website.