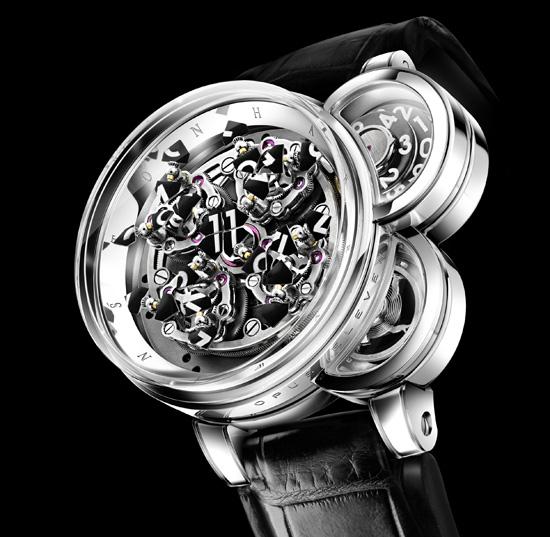 The new Harry Winston Opus 11 is sure to arouse great interest with its highly unusual and fascinating display.
Denis Giguet, designer of the Opus 11 says that the idea of "how to explode the time" was the genesis for the creation of the Opus 11, the latest in the Harry Winston Opus series of complicated watches.
You can see this idea at work when you view the watch in motion. In fact its a timepiece you really must see working to fully appreciate it, the way the intricate micro-mechanics move is quite mesmerizing, so its recommended checking out the video at the end of the post.

The hours only are shown at the center of the main dial using twenty four plates, while the two small displays on the right side of the watch show the minutes and the motion of the titanium balance wheel.
Denis Giguet, also designed MCT's "Sequential One" model which uses a "prism display system" and you can see similarities between the two, both using a complex arrangement of plates to display time.
The effect is so hypnotic and enchanting that you feel it should come with an hourly chime so you wont miss the show.
Cost of the Harry Winston Opus 11 : $230,000 | Limited edition of 111 watches
Visit the Harry Winston site