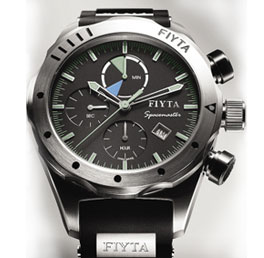 The Fiyta Spacemaster
was worn by astronaut Zhai Zhigang on the 29 September 2008 on the
first spacewalk by a Chinese astronaut.
This is the third space watch by Fiyta having developed two earlier watches for previous manned space missions by Chinese taikonauts, since 2003 having worked jointly with the Astronaut Centre of China.
The watch comes equipped with an 8 hour rotating bezel since the survival period inside the Chinese Feitian EVA spacesuit is 8 hours.
Further features include blue and green 30 and 40 minute indicators which correspond to the time lengths of tasks carried out on the missions as well as a morning/afternoon indicator to help the astronauts keep track of earth time.
Two versions of the Fiyta Spacemaster watch exist; 53 piece LE has a 54 mm case, 699 piece LE has a 45 mm case. Each one having been tested by the China National Horological Quality Supervision.
Source:Link Price:$2000