This article lists some of their dive watches that have become classics or even cult favourites.
If you have reached this page directly you can also find a primer on the history and development of Seiko Dive watches
Last modified on 2013-03-22 09:41:15 GMT. 0 comments. Top.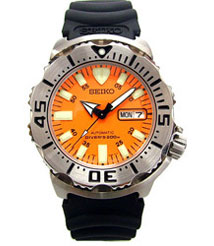 "The Monster"
SKX781K Orange Monster.[In Japan : SKX781K3]
SKX779K Black Monster.
SKZ203K Yellow Monster – Limited Edition 300 Pieces.
SKZ243K Red Monster – Limited Edition 1313 Pieces.
SKZ213K Blue Monster – Limited Production Run.
The Seiko Orange Monster is probably the best known of this series. Few dive watches costing under $200 capture peoples interest and attention as much as the the Seiko "Monster". It is one of those iconic watches considered one of the best Seiko Dive watches out there for the money.
Its burly, colorful and cool, not only that but its extremely well made, reliable and very durable. Its not surprising its so popular and has become affectionately known as the "Monster".
The combination of case and bezel are slightly reminiscent of an old six shooter gun barrel and has a satisfying heft to it.
The crown is screw down as you'd expect on a proper dive watch and is placed at the 4'Oclock position for comfort. It has sturdy guards either side of it.
The 7S26 automatic movement is one of the most popular movements produced and has a long and venerable history with a reputation for ruggedness and reliability, one that can take a lickin' and still keep on tickin'.
Of all Seiko dive watches the Monster is famous for its phenomenal luminosity thanks to the generous use of Seiko's trademarked Lumibrite.
Considered an essential addition by many watch collectors.
Size 46mm
Depth 14mm
Caliber: 7S26 Automatic
Water resistance: 200m
Price: $150
Introduced: 2001
Last modified on 2013-03-15 18:58:15 GMT. 0 comments. Top.
The SeikoTuna
This Seiko Dive watch, SBBN007 got its nickname due to its similarity to a can of Tuna (when viewed from the side.)
The Seiko Tuna is part of the Prospex line of Seiko Dive watches which are a range of upscale watches from Seiko, and the overall build quality and specifications are a cut above the Monster and other 7S26 powered divers.
The Tuna is even bigger than the "Monster" at 48mm not including the crown and is 14mm thick. Ticking inside its stainless steel hulk is a 7C46 quartz movement made specifically for this model and extremely accurate. The battery is rated to last 5 years and theres a small engraved mark which signifies which year the battery should be changed which is a neat idea.
The crystal is heavily domed adding a nice stylistic effect to the watch and further enhancing its bold impression, this exaggerated doming pushes it beyond the protection of the bezel so care needs to be taken to avoid scratching. The Tuna uses Seiko's propriety Hardlex crystal material which is more shatterproof than sapphire but not as scratch resistant.
Like the monster the Seiko Tuna uses Seiko's Lumibrite, and although not quite as bright as the Monster it still has a good glow to it.
Seiko Tuna Basic Specifications:
Water resistance: 300m
Size: 48mm
Caliber : 7C46 Quartz
Price: $500 still available some places in Japan and secondhand in US/EU (New model SBBN017 approx $800 depending on exchange rate)
Last modified on 2013-03-22 09:37:37 GMT. 1 comment. Top.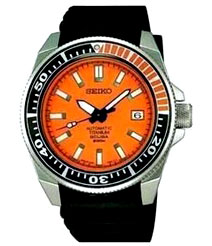 "The Samurai"
SBDA-series – Titanium (Japan only)
SNM-series – Stainless Steel (International)
(SBDA005 pictured)
There have been various reasons attributed to "The Samurai's" nickname, including that the watch hands resemble a samurai sword…or that it came about due to photos that were initially circulated of the watch in front of a Japanese castle.
Whatever the reason, one way to easily identify a Seiko Samurai is by the unique Bezel design.
The case design is more angular and less rugged in appearance than the monster and with the subtler white or black face versions could even be worn in a formal setting.
The stainless steel versions were priced much cheaper than the Ti versions and not just due to the differences in metal used but also because, unlike the Ti versions they were assembled in China.
Both the Titanium and SS versions have been discontinued, the SS first and then the Ti version in January 2008 and so it can be quite difficult to get hold of. There were slight stylistic differences between the SS and Ti versions, the SS versions don't have crown guards for instance.
Since the Titanium version is not Durashield protected its more prone to scratches than the stainless one.
As Seiko dive watches go, the lume on the Samurai glows brightly but tends to taper off quite quickly.
Seiko Samurai Basic Specifications:
Released in 2004.
Water resistance: 200m
Diameter: 42 mm excluding crown
Thickness: 13.7 mm
Caliber:  7S25 Automatic, non-hacking
Last modified on 2013-03-22 09:32:28 GMT. 2 comments. Top.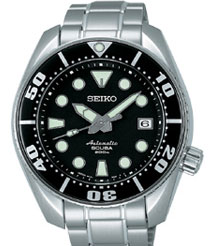 "The Sumo"
Seiko SBDC line of dive watches.
With the "Sumo" Seiko marked its return to high grade, reasonably priced dive watches that came with a hacking, hand winding automatic movement. The Seiko Sumo represents a super price/performance ratio.
For a mechanical movement it keeps excellent time and is very sturdy. The fit and finish for a watch in this price point is extremely high and the quality is close to the more expensive Marine Master.
The generously-sized case is handsomely sculpted and features subtle contrasts between brushed and polished surfaces which adds to its appeal and is reminiscent of the Marine Master.
On its first release various nicknames were discussed, in the end the final name that stuck was "Sumo" due to its large and fat appearance.
Seiko Sumo Basic Specifications:
Diameter: 48.5 mm
Thickness: 14 mm
Caliber: 6R15B, 23 jewels
Water resistance: 300m
Price: $450
Last modified on 2013-03-22 09:25:31 GMT. 0 comments. Top.
"The Marine Master"
Seiko SBDX 001
The Seiko Marine Master soon garnered a high reputation among Seiko dive watch enthusiasts, for many becoming the definitive Seiko dive watch.
The Marine Master is part of Seiko's high end Professional Divers Series, those with water resistance above 200m developed for use in saturation diving.
Though a lot of people refer to the Seiko Professional Diver series as 'Marine Masters', the SBDX 001 is the genuine Marine Master, the only one with it written on the dial.
At 210 grams this is a hefty watch. One of the reasons for its weight is its one piece monocoque case design which increases water resistance. If weight is an issue this can be alleviated by changing the SS bracelet for the included rubber one.
The movement is the 8L35 with 26 Jewels and a 50 Hour Power reserve and accurate to within 10-15 seconds a month. This is the only seiko dive watch that uses this movement, which is also used in some Grand Seiko's, it is also one of few that is individually hand assembled.
The crystal is domed Hardlex with anti-reflective coating.
Seiko Marine Master Basic Specifications:
Diameter: 44mm
Thickness: 14mm
Water resistance: 300m
Caliber: 8L35 Automatic 26 Jewels
Price: $2000
Last modified on 2013-03-20 23:18:41 GMT. 42 comments. Top.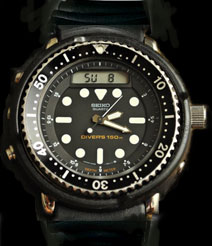 "The Arnie"
Seiko H558-5009
The Seiko H558-5009 was the first dive watch to feature a digital alarm chronograph with combination analog display.
Its nickname came about because it was a favourite watch of Arnold Schwarzenegger and he wore it in "Commando"(1985) and "Predator"(1987)
In order to build a watch that was rugged enough for the toughest adventures Seiko engineers tested it to -40c and up to +60c. The "Arnie" was a forerunner to the Landmaster series.
It was used on adventures to the North and South Poles as well as by an international team of explorers that climbed Everest in 1988.
With other features such as three time zones, chronograph, alarm and backlight, the "Arnie" is also a great 'tool' watch. These days its tricky finding one.
Basic Specifications:
Production date: March 1983.
Diameter: 46 mm (excluding crown).
Thickness: 12 mm.
Lug: 22 mm.
Price: $400-500