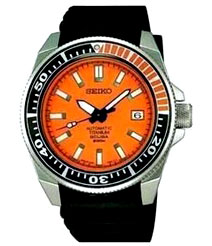 "The Samurai"
SBDA-series – Titanium (Japan only)
SNM-series – Stainless Steel (International)
(SBDA005 pictured)
There have been various reasons attributed to "The Samurai's" nickname, including that the watch hands resemble a samurai sword…or that it came about due to photos that were initially circulated of the watch in front of a Japanese castle.
Whatever the reason, one way to easily identify a Seiko Samurai is by the unique Bezel design.
The case design is more angular and less rugged in appearance than the monster and with the subtler white or black face versions could even be worn in a formal setting.
The stainless steel versions were priced much cheaper than the Ti versions and not just due to the differences in metal used but also because, unlike the Ti versions they were assembled in China.
Both the Titanium and SS versions have been discontinued, the SS first and then the Ti version in January 2008 and so it can be quite difficult to get hold of. There were slight stylistic differences between the SS and Ti versions, the SS versions don't have crown guards for instance.
Since the Titanium version is not Durashield protected its more prone to scratches than the stainless one.
As Seiko dive watches go, the lume on the Samurai glows brightly but tends to taper off quite quickly.
Seiko Samurai Basic Specifications:
Released in 2004.
Water resistance: 200m
Diameter: 42 mm excluding crown
Thickness: 13.7 mm
Caliber:  7S25 Automatic, non-hacking