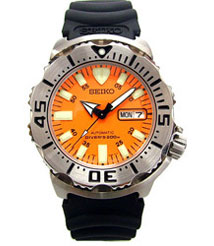 "The Monster"
SKX781K Orange Monster.[In Japan : SKX781K3]
SKX779K Black Monster.
SKZ203K Yellow Monster – Limited Edition 300 Pieces.
SKZ243K Red Monster – Limited Edition 1313 Pieces.
SKZ213K Blue Monster – Limited Production Run.
The Seiko Orange Monster is probably the best known of this series. Few dive watches costing under $200 capture peoples interest and attention as much as the the Seiko "Monster". It is one of those iconic watches considered one of the best Seiko Dive watches out there for the money.
Its burly, colorful and cool, not only that but its extremely well made, reliable and very durable. Its not surprising its so popular and has become affectionately known as the "Monster".
The combination of case and bezel are slightly reminiscent of an old six shooter gun barrel and has a satisfying heft to it.
The crown is screw down as you'd expect on a proper dive watch and is placed at the 4'Oclock position for comfort. It has sturdy guards either side of it.
The 7S26 automatic movement is one of the most popular movements produced and has a long and venerable history with a reputation for ruggedness and reliability, one that can take a lickin' and still keep on tickin'.
Of all Seiko dive watches the Monster is famous for its phenomenal luminosity thanks to the generous use of Seiko's trademarked Lumibrite.
Considered an essential addition by many watch collectors.
Size 46mm
Depth 14mm
Caliber: 7S26 Automatic
Water resistance: 200m
Price: $150
Introduced: 2001