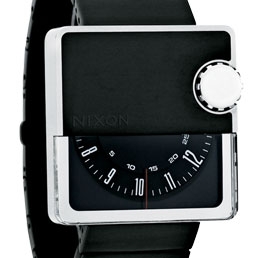 Nixon
Murf
With its boxey shape and disc style display the 'Murf' is reminiscent of a turntable, which is perhaps what drew Mos Def to choosing to wear it.
The large crown on the top right is used to adjust the time which is indicated though the two rotating discs, one for hours and one for minutes that line up.
For viewing after dark you can illuminate the disc by pressing the side of the crown to turn on an LED light.
Company: Link
Price: $300-350