a dive watch was considered an excellent test for Seiko engineers
, dive watches having to fulfil very strict requirements.
They not only had to be water resistant to great depths but also shockproof and have powerful luminescense for underwater readability. The market for dive watches back then was relatively small and dominated by Rolex and Omega.
Seiko released their first dive watch in 1965 , the 6217, it was in production until 1968. It had an automatic movement, the 62MAS-010, and was certified to a depth of 150m and retailed for 13,000 yen (about $130).
The 6217 wasn't a small watch for the time, although modern Seiko dive watches tend to be larger. It had a highly domed crystal that extended precariously high by modern standards and instead of sporting the now familiar wave design used on the back of modern Seiko dive watches this had a dolphin engraving aswell as a nicely signed (non-screw in) crown. The watch gained popularity and Martin Sheen can even be seen wearing a later version of it in the film Apocalypse Now.
The First Seiko Dive Watch, the 6217.
Having gained confidence from their initial effort Seiko engineers went on to release the 6215-010 model 300m diver watch just two years later in 1967.
Early Seiko dive watches.
Mov't Cal # Production Year
The 1975 Professional Diver to modern day.
There then followed a long delay in the production of seiko dive watches. The Seiko engineers tasked with their development and buoyed by what they believed to be progressively successful technical developments then suffered a setback. In 1968 the Seiko head office received a letter from a professional saturation (SAT) diver that was highly critical of Seiko Dive watches.
The diver, who regularly descended to depths of 350m pointed out various faults he had discovered during his use of Seiko dive watches. He complained that the glass on them often broke due to pressure caused by Helium entering the watches.
He also pointed out that the watches were not really shockproof and stopped working due to collisions with rocks whilst diving. He ended his letter damningly stating that Seiko dive watches were just not satisfactory for use by professional divers.
Disturbed by the letter the Seiko engineers set about developing a greatly improved version, one that would exceed even ISO standards.
It took them 7 years to create the watch, but the Seiko Professional 600m diver (model 6159-022) placed them at the forefront of dive watches. The case alone yielded 20 new patents for Seiko.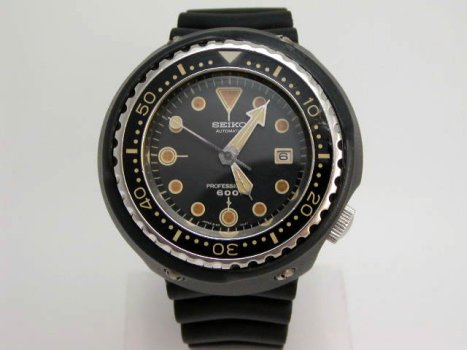 Seiko's 600m dive watch model 6159.
They made numerous major advances. Firstly, they succeeded in designing a watch that was not only highly sealed to prevent Helium penetration, but could also withstand the pressure of 600m dives. Preventing Helium penetration, by the use of rubber sealing was a first for a dive watch at this time. Previously dive watches employed Helium release valves to solve this problem.
Further features included the use for the first time of Titanium for the case construction, due to its lightness, durability and corrosion resistant properties. To this they added a ceramic finish to further increase corrosion protection. Another first for a dive watch was the use of a rubber strap, this was designed with vents and ribbing to adjust to wetsuit contractions caused by water pressure.
It was also shockproof and anti-magnetic and designed to be visible in total darkness with a minute hand specially designed to stand out to further help legibilty.
It was further immune to the build up of condensation and capable of being fully functional even after being immersed for month long periods.
This watch was the start of the professional series of seiko dive watches.
A lot of these features which were new innovations at the time are now considered standard features on many modern dive watches.
Further reading: classic seiko dive watch classics