Hublot, always on the lookout for new technologies, has just unveiled a limited edition of 20 copies of its Big Bang MP-11 (with a 14 day power reserve) with a 45 mm case (water resistant to 30 meters) in Saxem, an innovative material with an emerald green color.
In their development of the Big Bang MP-11 Hublot created sapphire crystal in various colours (transparent, black, yellow, blue and red) but discovered that it was particularly difficult to create a green version and so decided to explore new materials.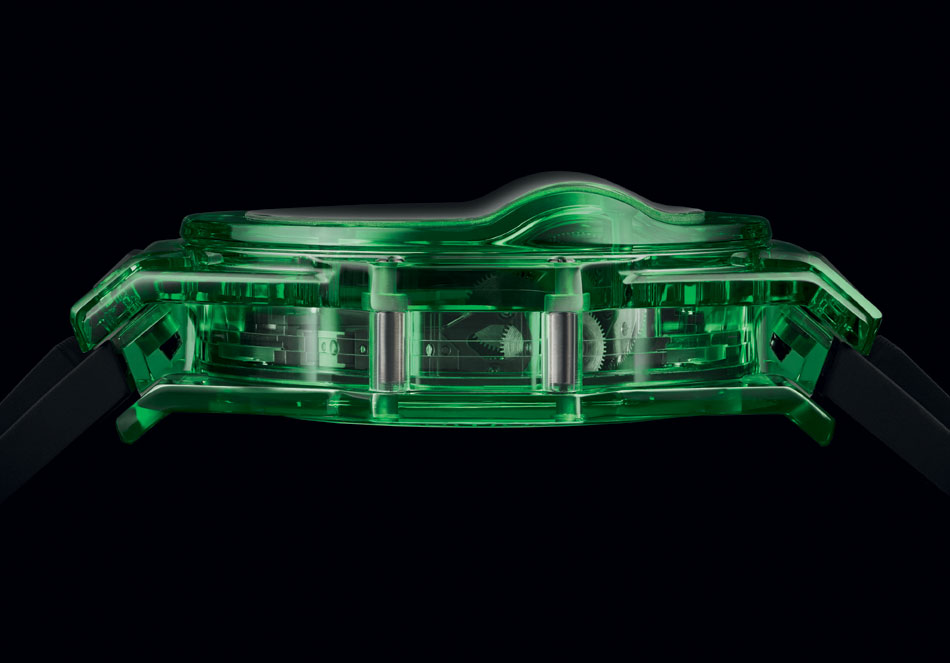 So they were able to revisit the contemporary design of the  Big Bang MP-11 model by shaping its case in an innovative new material in watchmaking (used for example in satellites). With a deep green rivaling the most beautiful of emeralds, the Saxem "combines outstanding strength with a brilliance close to that of diamond," says the press release.
To obtain a hue of green this transparent and with a unique brilliance, Hublot mixed aluminum oxide, a basic component of sapphire, with rare earths such as thulium and holmium as well as with chromium. Result: a material both harder than emerald (too soft to be machined) and with a higher gloss than sapphire.

The green Saxem, entirely polished, forms a beautiful contrast with the six H-shaped screws of the bezel, polished and micro-blasted black titanium, as well as with the black crown marrying titanium and rubber inserts.
At the heart of this Big Bang MP-11 beats a hand-wound skeleton movement with an extraordinary power reserve of two weeks. Hublot achieved this feat with an original motion architecture incorporating seven barrels coupled in series, all with a very reasonable thickness of 10.92 mm.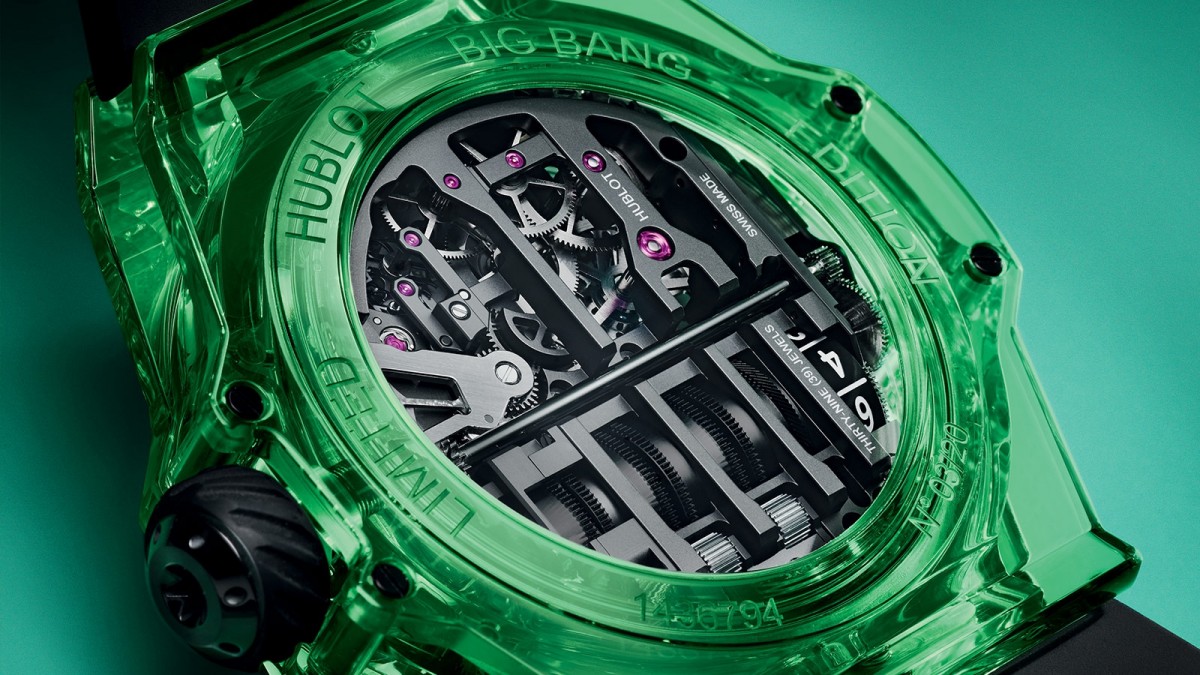 To allow the transmission of energy between the horizontal axis of the barrels and the vertical wheel drive controlling the display of hours and minutes, the designers have used a very rare system in watchmaking: a 90 degree reference through a helical gearwheel.
The Hublot Big Bang MP-11 is produced in a limited edition of 20 copies and priced at 125,000 Euro's.