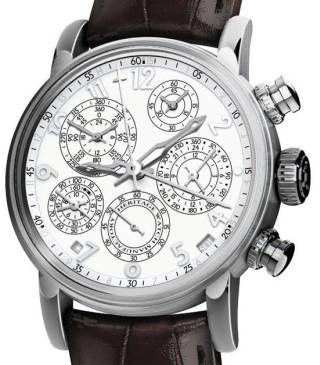 Does being able to navigate like an explorer from times past, and determine you're exact position on earth without the use of any modern electronic equipment appeal to you?
Then this might be the timepiece or perhaps rather navigational-piece for you.
Assuming you are able to understand how to use it that is!
For the "Firmamentum" is one of the most complicated watches there is. By complicated I mean difficult to understand not in reference to the horological term 'complication.'
The "Firmamentum" is a fascinating and sometimes mind-boggling creation from young independent watchmakers Heritage Watch Manufactory.

By understanding and using the dials on this watch you can navigate by use of the stars, or "celestial navigation" , as implied by the 'firmament' in its name.
HWM call it a "unique measurement and navigation instrument" and describe it as an "Hour angle instrument for the observation of heavenly bodies by means of 13 hands with two additional displays."
From what I understand, to determine your position on earth, the dials on the watch enable you to calculate your longitudinal position in degrees, minutes and seconds, and then using the sextant that comes with the watch you determine your latitudinal position.
The dials also indicate both solar time (the time we use normally) as well as sidereal time (star time).
The Firmamentum consists of 470 parts and in a sense you could call it a mechanical GPS watch.
You can find more in-depth information about the Firmamentum at the HWM site.
Below is a video via Hodinkee in which the designer of the watch , Karsten Frassdorf explains the functions of the dials in some detail. Below that find the specifications.
Heritage Watch Manufactory Firmamentum
Technical Specifications:
Type:
Hour angle instrument for the observation of heavenly bodies by means of 13 hands with two additional displays
Hands:
Hour angle variable for either sidereal and solar time, arcdegrees, arcminutes, 5 / 100 arcseconds
Solar time hour angle display in arcdegrees, arcminutes, 5/100 arcseconds
Power reserve display with balance wheel stop mechanism
Status display for basic regulation of Vivax balance wheel
Display of solar time as astronomical time
Second time zone settable to one minute of accuracy
Time in solar or sidereal time
Status of sidereal or solar time with variable hour angle, synchronisation mode
Movement:
Independent manufacture Calibre: Cal. 870
Hand bevelled plates
3 patents pending
Fully hardened parts
483 components
92 jewels
Swiss lever escapement; capillary phase to improve oil retention
Mass-regulated Vivax balance / 16 mm / patent pending
Over-coil hairspring (Breguet)
Tenere fine adjustment / patent pending
18 000 vib/h
56-hour power reserve
Case:
Polished satinised steel, 50 m
Domed sapphire glass crystal
Flat sapphire glass caseback