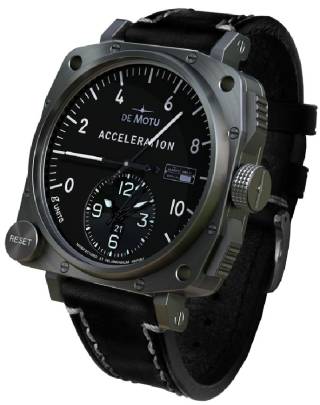 The DMG-11 is a pilot instrument watch launched this year by Finnish watch maker De Motu.
The DMG 11 is the worlds first ever watch to measure g-forces.
Made for pilots and aviation enthusiasts, or people who just want to see how many G's they're pulling on the latest amusement park ride.
The company is conveniently located directly at the airport of Helsinki-Malm. Production facilities are adjacent to the hangar and each watch is taken up by plane for a punishing high g-force test flight. The DMG-11 is designed to withstand 11G.

Sami Kontio, De Motu's test pilot speaking about its evolution said "Our product could have been ready years ago, if we had taken the easy route. It took us longer, but the final quality and reliability of the DMG 11 shows we make no compromises. I am proud and thrilled by our tenacity and the ingenious way we mastered every challenge."
The De Motu watch is designed and developed in a classic aviation style with the look and feel of a cockpit instrument. It features a large dial of 39mm with current and maximum g-readings, and a small dial with hours, minutes, seconds and date.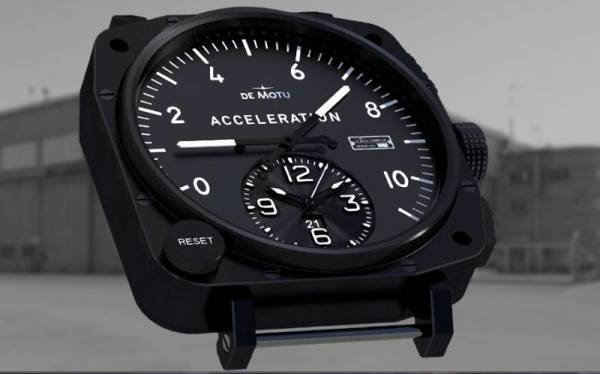 It is powered by in house movement caliber 101 which is highly accurate and features a temperature compensated crystal oscillator.
The luminous dial provides bright readability in all conditions, and the tactile sensations of the watch make sure the wearer knows, without looking, which function has been activated.
The DMG-11 is presented in a limited edition of 90 pieces, comes in plain stainless steel, DIARC-coated stainless steel and titanium.
The DMG-11 will likely pique the interest of both pilots as well as aviation enthusiasts.
Retail prices start at 6,875 euros and reach 8,848 euros (VAT excluded)