Each year at Baselworld Harry Winston unveils a new Opus watch.
The Opus models are collaborations with distinguished watchmakers and designers and certainly among the most spectacular timepieces created by HW. They are looked forward to with anticipation.
This year, Harry Winston has decided to give carte blanche to Emmanuel Bouchet and Augustine Nussbaum, watchmaker and designer respectively, to create a watch that displays hours and minutes in an original way.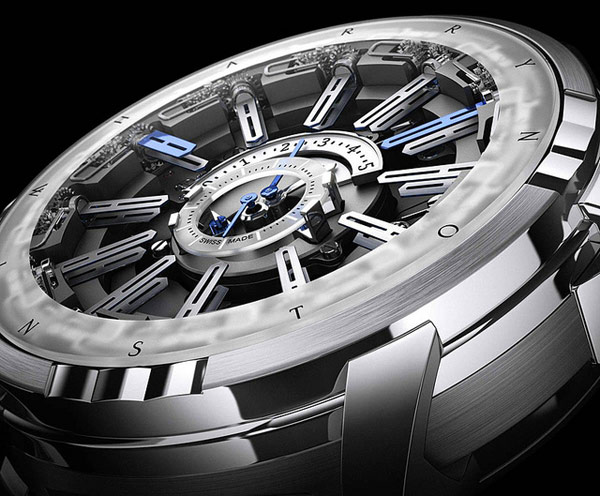 Mechanics
Inspired by the Copernican revolution that the Earth revolves around the sun and around itself, the Harry Winston Opus 12 applies this maxim to the letter.
It uses rotating hour/minute markers of differing lengths to indicate the time.
If you view the top image you will notice the marker indicating 10 minutes past is slightly longer than the one indicating 10 am/pm.
As the hour changes a mechanical display takes place as all the hour hands rotate one after each other up until the new hour. Its quite a dramatic visual spectacle, for a better idea of this view the video below.
At the center of the watch there are three more dials. One indicates seconds. A retrograde five minute indicator is there to give more precise reading of minutes and there is also a power reserve indicator.
Needless to say the manually wound movement is a complex one with over 600 parts and has two mainspring barrels. One of which is used entirely to drive the animated aspect of the display.
It is housed in a 46mm case in 18k white gold and the movement has a power reserve of about 45 hours.
The Opus 12 is a limited edition of 120 pieces and priced at about $260,000.