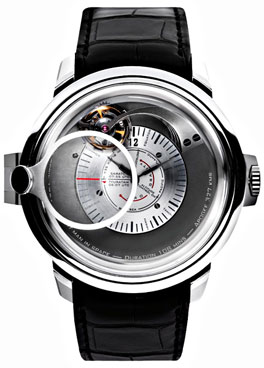 The Gagarin Tourbillon by Bernhard Lederer commemorates the 50th anniversary of Yuri Gagarin's space flight when he became the first man in space on April 12th 1961.
The feature that immediately grabs your attention when you first see the Gagarin Tourbillon is its use of a loupe style magnifying glass. This can be raised and lowered above the face of the watch as well as rotated, and gives you an enlarged view of the dial so you can appreciate its intricacies and workmanship in more detail.
The magnifying glass combined with the place names on the dial are designed to echo the window in Gagarins space capsule and his view of the earth. It also gives the watch an intriguing aspect and an appearance reminiscent of navigational instruments.
The Gagarin Tourbillon has a flying tourbillon that makes a rotation of the dial every 108 minutes, this is a direct reference and tribute to Gagarin's space flight which also took 108 minutes to orbit the earth, complimenting this are highlights of some of the places that Gagarins space capsule passed during orbit which have been inscribed on the dial. The time period in which Gagarin experienced zero gravity is also indicated using a red arc.
The space capsules name "Vostok" has also been inscribed around the tourbillon cage and its bridge design is inspired by the 25m commemorative statue located at the point where Gagarin landed near Engels.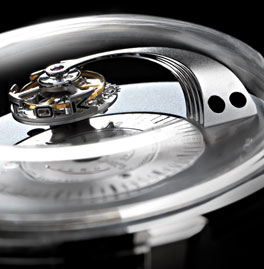 The case is 42mm wide and 15mm thick, and made from Platinum 950 – 46.5mm including the magnifying glass, and features a black alligator strap. Made up of 264 parts the movement is manually wound with an 80 hour reserve and developed by Bernhard Lederer in Switzerland. Limited edition of 50 pieces.
Read more about it at the Gagarin Tourbillon website
See more about Gagarin's first flight by watching the film "First Orbit"
To get a better appreciation of the watch check out the video.