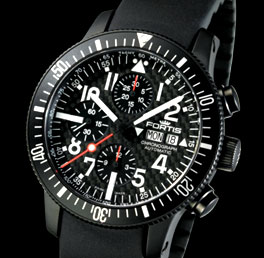 Fortis Cosmonauts Chronograph
Fortis was chosen to be the exclusive supplier of space watches for manned space missions by the Russian Federal Space Agency since 1994.
Fortis decided on an automatic chronograph for their space watch, and in order to see whether a self-winding movement could keep accurate time in space it was subjected to a number of tests.
Firstly it was successfully tested at three different angles to a force of 12 G (12 times the Earth gravitational pull) using a centrifuge.
Next, a series of steep climbs and dives aboard an MDK four-engine jet in order to see how it coped with zero gravity conditions. Finally it was subjected to extreme vacuum conditions. It passed the tests and had its first mission in 1994.
The watch shown is the B42 Official Cosmonauts Black Chronograph featuring Swiss Movement Valjoux 7750, a 42mm case diameter with a caseback engraved with the emblems of the Russian space Agency.
Source:Link Fortis Cosmonauts Chronograph Price:$3800