Recently released at this years Baselworld the Cyrus Klepcys mars watch from Cyrus could be termed a 'Martian watch' . Its a variation of their Klepcys model which featured a 3D moonphase but this time its been replaced by a miniature version of the red planet.
The Klepcys is a collaboration between Cyrus and renowned watchmaker Jean-François Mojon, who was also responsible for the Harry Winston Opus X.
A particularly unique aspect of the 3D Mars globe is that it rotates at the same speed as the real thing, completing one revolution every 24 hours, 37 minutes and 22 seconds.

An interesting detail at the left of the dial, at about 7 O'clock is an image of the famous "Martian face". Based on the photo taken of the mountain in Cydonia-the northern hemisphere of Mars which resembles a human face and was taken by the "Viking 1" in 1976.
The Cyrus Klepcys is powered by an automatic movement the hours are indicated by the large retrograde hand on the left which is surmounted by two rotating cubes that indicate the day / night cycle. Two discs at the centre display the minutes and seconds. Another retrograde (combined with a rotating cube indicating the tens) indicates the date on the right.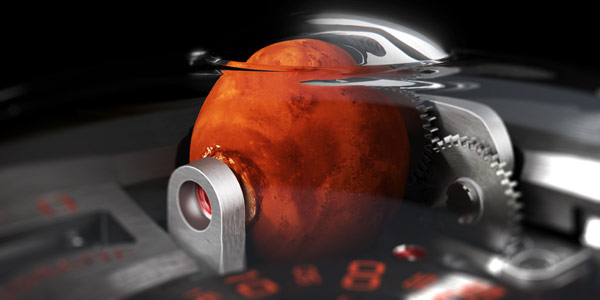 You can see the movement in action in this video of the Moonphase version below.
The Cyrus Klepcys mars watch is limited to 66 pieces, or as Cyrus puts it "66 earthlings will be able to enjoy this unique experience on their wrist."