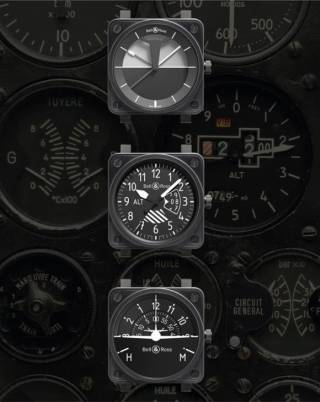 B&R first started producing watches in 1992. In 2005 they introduced the BR01 designed to closely resemble the cockpit clocks of aircraft.
Since then they have released limited edition watches with unique designs based on cockpit instruments such as the radar version previously covered here.
Now for 2012 they have added 3 new ones based on aircraft cockpit instruments:
The BR01 HORIZON, BR01 ALTIMETER, and the BR01 TURN COORDINATOR.



The BR01 HORIZON is inspired by the attitude indicator flight instrument which makes it possible to monitor the aircraft's position relative to the horizon, whatever the visibility conditions.
The BR01 ALTIMETER is inspired by the altimeter flight instrument which calculates the aircraft's altitude based on the measurement of atmospheric pressure.
The BR01 TURN COORDINATOR design is inspired by the Turn Coordinator flight instrument which indicates flight symmetry, without which the aircraft slides or slips. The turn indicator is a gyroscope used to visualize the rate of turn (roll). It features a bearing that moves in a curved tube to represent the aircraft's sideslip. The bearing functions use gravity.
Retail Price for these Bell and Ross instrument watches is around the $5000.00 mark.
Here Carlos Rosillo the CEO of BELL & ROSS explains about them: