Memento Mori
, or a
reminder of mortality
, the skull, when used on a watch could be taken to signify that time is precious.
The skull a primal symbol often with negative associations in the past, has become a popular contemporary motif in art, design and fashion.
So here is a collection of bone-afide Skull watches:
HUBLOT Skull Bang
Designed in conjunction with Laurent Picciotto, a long time associate of HUBLOT.
The case is made entirely of black ceramic in satin-finish and the dial is numberless so screws securing the bezel are used as reference points.
45 mm dial HUB 1112 automatic movement and water resistant up to 5 ATM with leather/rubber strap.
Limited to 100 pieces. Retails for €9,900 EUR (approximately $12,820 USD)
Visit Hublot for more info
Tendence CRYSTAL HEAD skull watches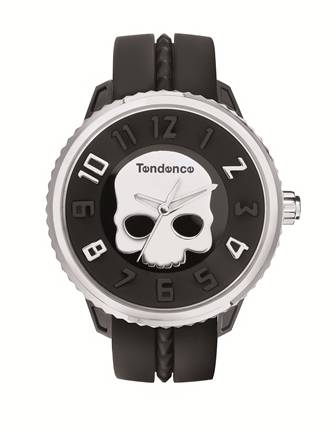 This skull watch comes complete with a skull shot glass designed by renowned American artist John Alexander!
Tendence is the brainchild of Fillippo Giardiello and Gabriele Ghielmini and formed in 2007.
Basic Spec: 41mm in size with a Miyota movement and water resistant to 100m
Retails around $400
Visit Tendence for more info
Bell & Ross 'BR01 Airborne II' Watch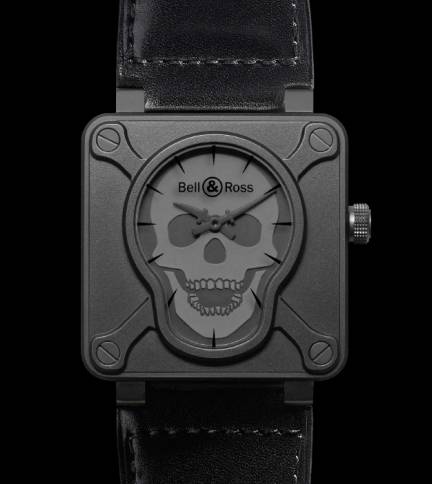 A tribute to U.S. Airborne paratroopers in memory of D-Day this piece honors the spirit of the Airborne division of WWII whose motto was "Death from Above"
They used a skull as a talisman to remind them of both impending threat and their ability to defeat it.
The dagger – or sword-shaped hands, depending on the model, further evoke designs borrowed from military art.
About $5000
Visit Bell and Ross
for more info
Daniel Strom "Memento Mori, Carpe Diem "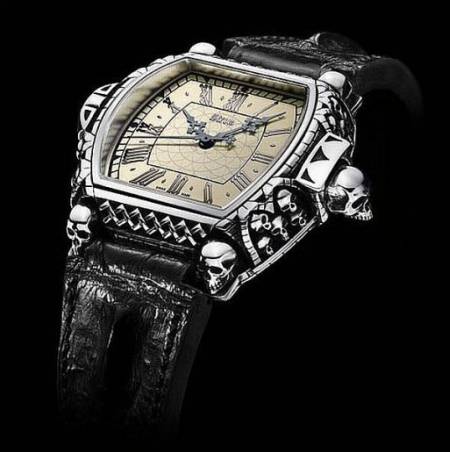 Ornate skull motifs artfully decorate the case of the "Memento Mori, Carpe Diem Skull Watch". The watch's dial comes in black or bone white with Roman numerals.
Choose from case materials including sterling silver, palladium, redgold, platinum and diamonds with an inner case made from stainless steel. Custom models are also available.
Ranging in price from $8,272. for the sterling silver version to $57,900 for the platinum version.
Visit Daniel Strom
for more info
Swatch Full-Blooded Black Skull watches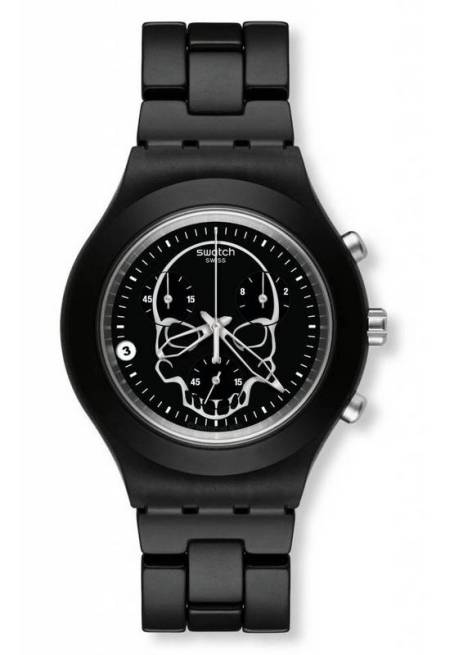 It was inevitable that Swatch would come out with Skull watches and their design features a silver skull silhouette.
Featuring hours, minutes, central seconds, as well as a date function and chronograph functions it is powered by a Swiss made ETA quartz movement and secured in a case constructed with water-resistance to 30 meters (100 feet).
Priced around $150
Visit Swatch for more info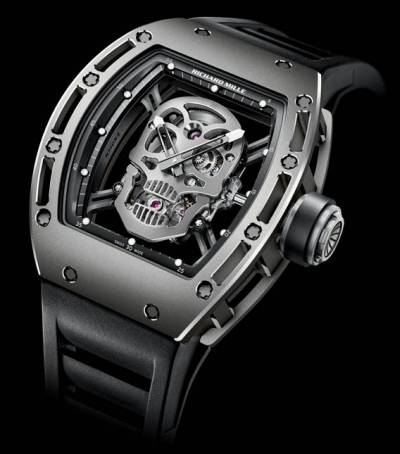 Richard Mille RM 052 Skull watch
Richard Mille uses a Titanium Cranium in his Tourbillon RM 052 Skull watch.
Not just a design motif the back of the skull forms the movements center bridge and the ruby of the tourbillon cage is held between the upper and lower jaws.
Costing an arm and a head at $500,000
You can read the full post that I wrote on this watch here:
Mr Jones "last laugh tattoo edition" watch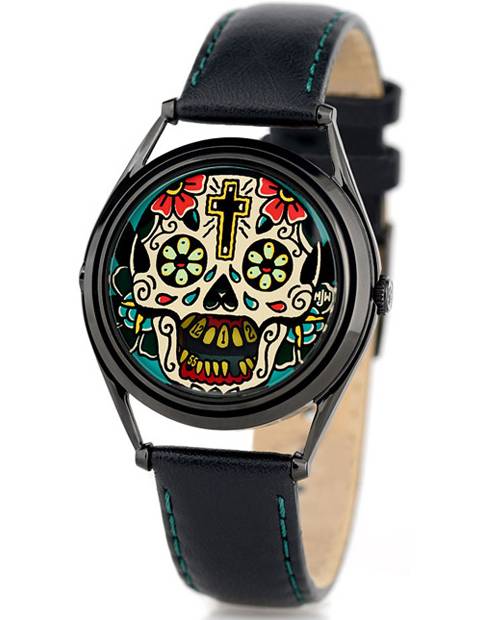 In this design the Skulls teeth are used to indicate the time.
The upper jaw shows the hours and the lower the minutes.
The watch design features artwork specially commisioned by British Tattoo Artist Adrian Willard.
Willard was inspired by the Mexican Day of the Dead festival which has become a popular motif with tattoo artists over the years.
Price $225
Visit Mr Jones for more info
Peter Speake Marin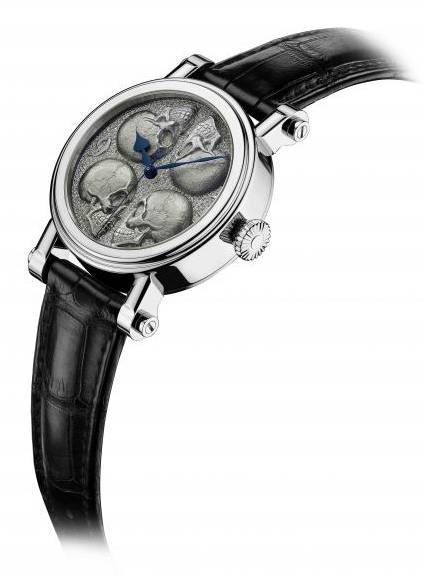 Independent watchmaker Peter Speake Marin created this skull themed design which was launched as a limited series of 20 timepieces.
A special customized watch request from a client prompted Speake-Marin to design the "Skulls Concept" watch.
The customer eventually decided on a different design however Speake-Marin decided to pursue the design further.
Powered by the automatic SM2 caliber with hours, minutes, and central sweep second.
Visit Peter Speake Marin for more info.
666 Skull I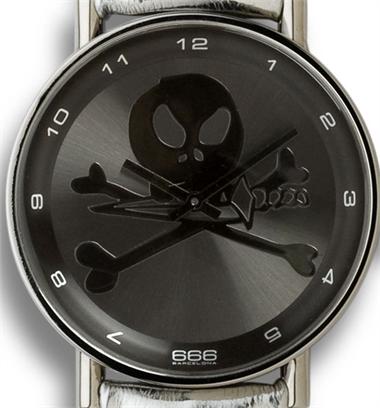 From Spanish watch company 666 these watches feature a more pirate oriented skull design and come on shiny silver leather straps.
Stainless steel case and powered by a quratz movement.
retails around $130
Visit 666 for more info.
"Memento Mori" watch by Fiona Kruger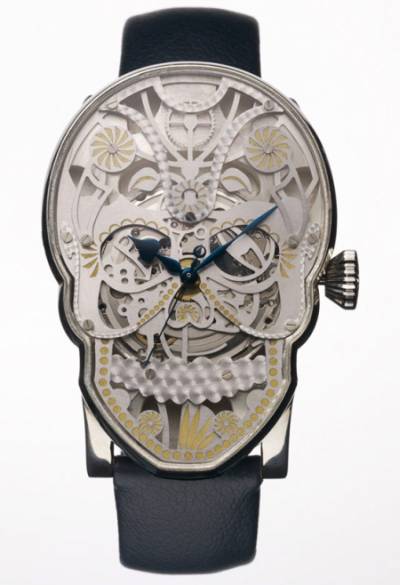 The "Memento Mori" watch by Fiona Kruger is a one off design created when she was studying at University of art and design Lausanne in Switzerland.
Inspired by the 17th century skull watch of Mary Queen of Scotts, this version uses a Swiss ETA 2824-2 automatic movement.
You can read the full post that I wrote on this watch here