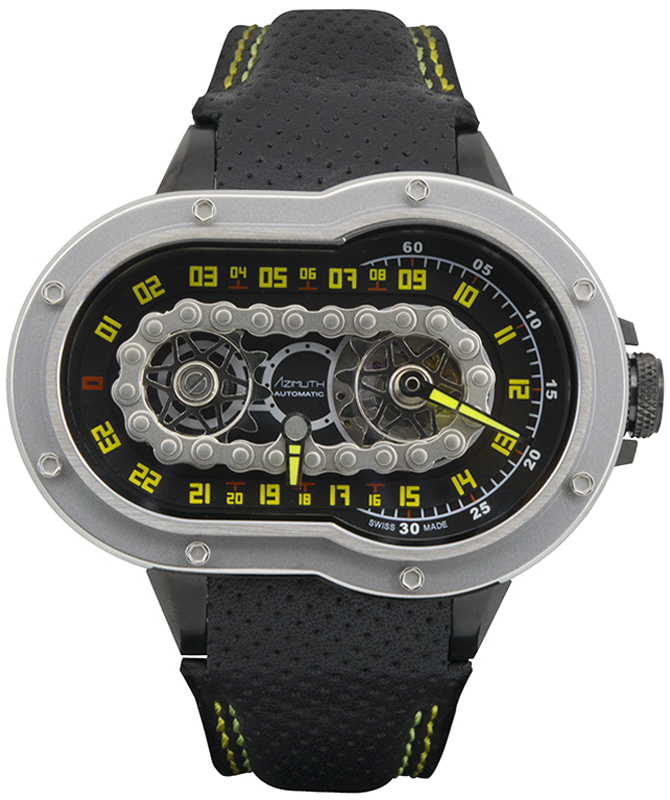 "We are fans of the 1960s movie Easy Rider, starring Jack Nicholson and Peter Fonda. I remember watching the film and getting inspired by its message of fearlessness and freedom, and we wanted to convey this through the SP-1 Crazy Rider," says the creator of Azimuth.
Taking inspiration from wide, endless highways and the intrepid travellers who dare venture beyond well-trodden paths, progressive watch company Azimuth premieres it latest avant-garde creation, the SP-1 Crazy Rider.
Off-kilter creations are a signature of Azimuth's SP-1 collection, and the SP-1 Crazy Rider does not disappoint.
The first thing that strikes you about the watch is its unusual case. Constructed to resemble a motorcycle engine, the case's asymmetrical, infinity symbol-shaped profile sets the tone for the rest of the timepiece.
Fitted with a porthole-style bezel with exposed screws, the SP-1 Crazy Rider invites you to peer into its inner workings, akin to looking deep at the cross-section of an engine. A miniature chain circles the center of the dial, aided by open-worked wheels at both ends, this time evoking the look of a motorcycle's sprocket brake drive system.
The ingenious chain transmission design drives the hour and minute display (as you can see from the video below). The shorter hour hand traverses along the entire dial, indicating time along a true 24-hour scale. Meantime, the minute hand rotates from a fixed position at right end of the wheel.
The SP-1 Crazy Rider's high-octane appeal extends to the back of the case. Flip the watch over and one gets an insight to how Azimuth has re-engineered the automatic movement to address the watch's automotive inspiration. Just as it with the front of the watch, the open case back shows an artfully decorated movement meant to resemble an engine block.
Paired with leather strap featuring contrast stitching that enhances the watch's sportiness, the SP-1 Crazy Rider is available in small series each in black PVD or brown PVD coated mid steel case.
The Azimuth SP-1 Crazy Rider Watch comes in either a brown or black PVD-coated case on a brown or black leather strap featuring bold, colorful stitching to add to the palette. Pricing is CHF 5,250
SP-1 Crazy Rider Technical Specifications:
Case: PVD-coated stainless steel mid case. Stainless steel bezel and caseback
Dimensions: 55mm x 38mm x 16mm
Feature: True 24-hour hour display with minute hand
Movement: In-house modified automatic movement
Strap: Leather strap with stitching
Water resistance: 3 ATM (30m)