While they may not be as well made as more expensive models they usually come with a decent Japanese quartz movement that's accurate and reliable and they can make fun gifts or even additions to your own collection of watches. For a bigger selection of unusual watches for all budgets visit the unique watches category.
Grenade Watch
This watch is 'da bomb', literally. With its explosive looks its sure to be a blast to wear and your friends will think its dynamite, naturally airport security will really appreciate it too.
Its available in Army Green or Matte Black finishes with either a regular canvas or wide leather and canvas wristband and is water resistant to 330ft.
Price: $38 Source: Link



Dali watch
Dali is often associated with timepieces because of his surrealist painting "The Persistence of Memory" which introduced the famous image of the soft melting pocket watch.
Its good of Dali to sport an outrageously eccentric tache instead of a goatee which would have made telling the time much trickier on this watch; the question is does this tell the surreal time or not?
Price: $36 Source: Link

Prime Numbers Watch
For those that like a good sum now and then this watch may tweak your consumer or possibly geek gland.
This unusual watch will confuse and intrigue your friends as well as people inquiring the time of day.
Its prime time all the time when you wear this watch.
Price:$36 Source:Link

Basketball Watch
These unusual watches may make you feel like dribbling, that is if you're a basketball fan.
The basketball watch could have been quite cheesy but has avoided that by keeping it simple.
It features a seiko quartz movement, Italian leather band and the option to have the face personalized.
Good gift for the Basketball enthusiast.
Price:$45 Source:Link

Chaplin Watch
Being a big fan of the Chaplin film "Modern Times" I really love the look of this watch.
The watch draws inspiration from a scene in that film where Charlie is stuck inside the industrial machinery of the factory he's working in.
The depiction of the gears and cogs from that machine complement the watch design nicely too and you wont look like a "Tramp" wearing this one.
Price:$36 Source:Link


Whatever Watch
Tired of being pushed around by time? Its time to get up, its time to do this, time to do that…. Well maybe its time to say "whatever!"
If so then this is the watch for you! Instead of the usual ordered watch face, the numbers have been indifferently disregarded into a jumble at the bottom of the face as though having been chucked in a blender.
Dont be pushed around anymore, show father time who's the real boss!
Price:$20 Source:Link


Square Root Watch
This watch may not be smarter than your average watch but it requires the wearer to think a little more, since each hour markers are given in square root form that translate into whole numbers.
For example the square root of 9 is 3, the square root of 121 is 11 and so on.
The case is made from brass and silver plated with a stainless steel back housing a quartz movement and fitted with a leather strap.
Could be the perfect gift for your math teacher friend.
Price:$20 Source:Link
Relativity Watch
This watch is deep, its messing with my mind. Theres a philosophy behind this watch thats stating that if all time is relative then a watch that gives the time as absolute, has no meaning. Time is an abstract concept.
Ok I may be over-reaching and I needed to fill up the space – the numbers probably rotate just because it looks cool.
Price:$35 Source:Link

Language watch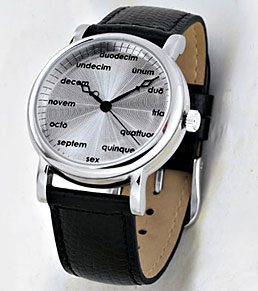 Learn how to read the time in another language with this watch and lend yourself a worldly air in the process.
Instead of numbers these unusual watches have hour markers using words which can be specified in either Chinese, French, Gaelic, German, Italian, Japanese, Spanish, Polish, or Latin (shown).
The case is made from brass and silver plated with a stainless steel back housing a quartz movement
Price:$30 Source:Link

Backwards Watch
Something isnt quite right here..
The face of this unusual watch whimsically reverses the hour markers.
Im sure we have all at some point wanted time to go backwards, well with this watch it does, even the hands move backwards.
It might help standing on your head whilst reading the time in a mirror when using this watch or you might cross eyed!
Price:$20 Source:Link