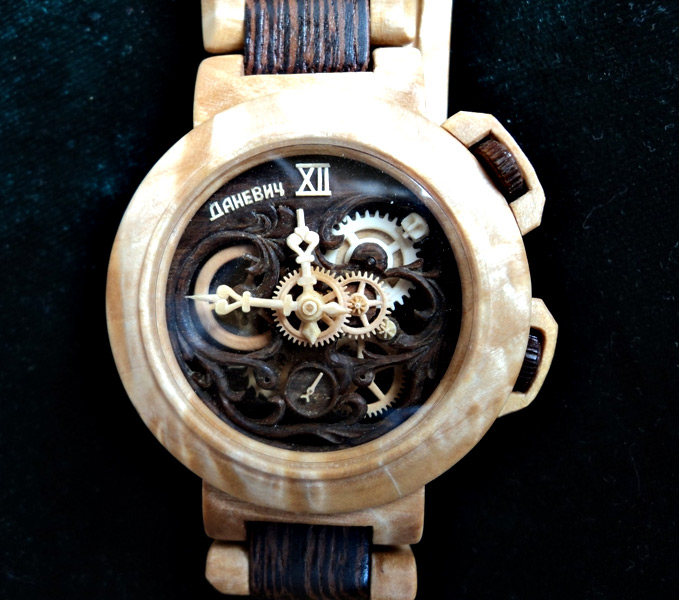 Working in Kiev, Ukraine watchmaker Valerii Danevych has been perfecting his miniature joinery skills since he was a child- during his school days he made a 3cm guitar which used hair for strings.
Descended from a family of cabinet makers he didnt find traditional wooden joinery gave him satisfaction and was ambitious to tackle more complex wooden structures.  In 2005 with this in mind he dedicated himself to creating wooden timepieces or perhaps you could say "wood horology".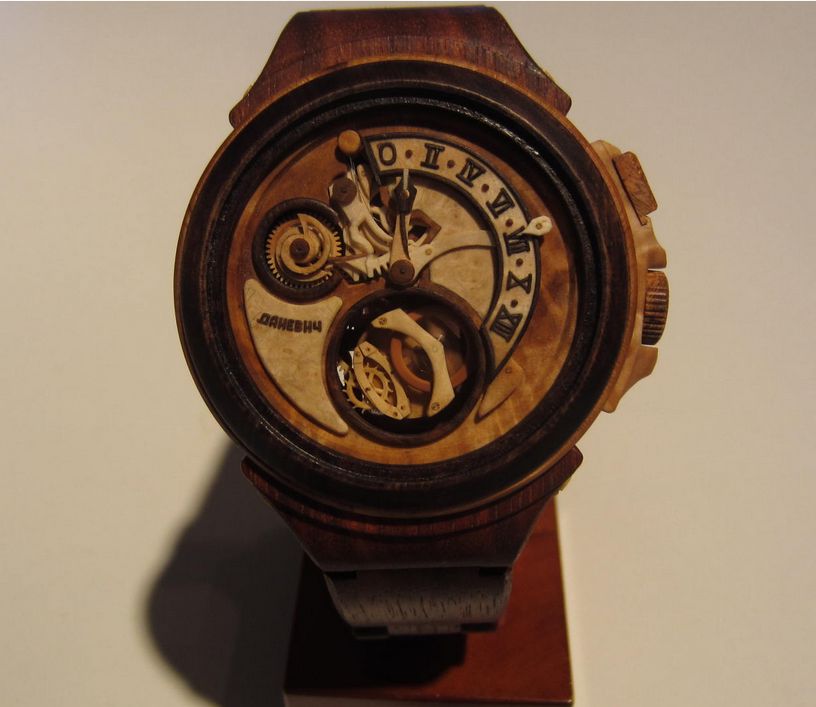 With no training as a watchmaker Danevych produces wooden wristwatches, pocket watches and clocks with complex movements made entirely from wood except for the metal hairspring. He has even mastered a wooden flying tourbillon in his latest movement that also features a retrograde indication and took seven months to create.  A tourbillon is a difficult feat of engineering even with traditional watch materials and technology, let alone wood.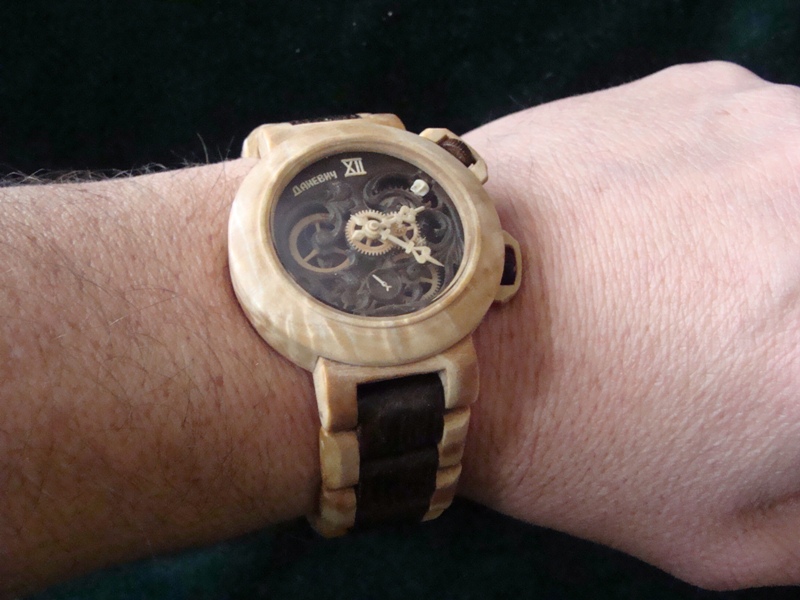 He mostly uses Birch wood due to its strength and resistance to wear but also some more exotic wood such as juniper and bamboo, the different types  giving the timepieces added textural beauty to them. All his watches are functional and some even have power reserves of 20 hours, they are typically accurate to approximately +/- 5 minutes a day.
In 2012 in recognition of his impressive wooden watch contributions he was inducted into the Horological Academy of Independent Creators (AHCI).
You can read about and see more of Valerii Danevych's amazing wooden timepieces at his website.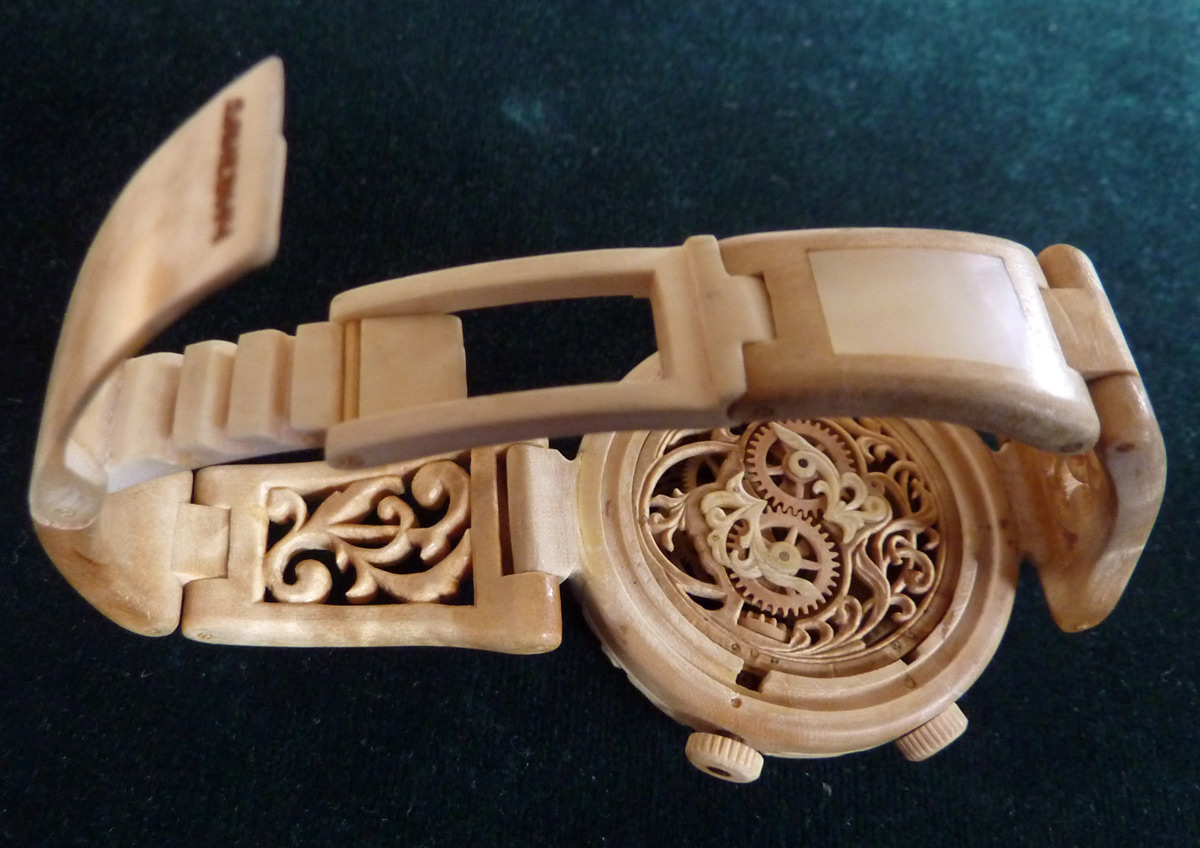 Specifications for Watch model above
Planning/Construction:             Handmade to order in the period from March to July 2011, total manufacturing time of 4 months
Total number of parts:              141 (without separate attachments)
Number of movement parts:     70 (3 hands additionally)
Power reserve:                          24h +/- 2h
Accuracy:                                   5-8 min within 24h
Materials:                                   canker of birch, juniper from Crimea region, guaiacum from
                                                   Australia, bamboo, Wenge from Africa, mammoth's tusk,
                                                   mainspring and hairspring from metal, view disc of glass
Case diameter:                           41 mm
Case height:                               14 mm
Movement diameter:                 30 mm
Movement height:                      10 mm (with motion arbor)
Skeletonized and decorated screw-less wooden movement with balance wheel and escape from birch-canker, decentralized small second hand at six o'clock, pressed back top with separate opening lever.
Smallest components are a wooden 6-tooth-pinion of 1.5 mm diameter with 1.2 mm height and a fixing pin (0.2 mm diameter with head 0.5 mm) from birch-canker for a pinion.
Separated shifting (1 crown for setting, 1 crown for winding).
Expanding bracelet of different wood and wooden hinges with pins from bamboo of 1.5 mm diameter and adjustable wooden shackle lock.
Wooden folding case with velvet inside and wooden hinges, bracelet-additional part.
Incidentally wooden watchmaking has a heritage in this region, the Bronnikov family from Vjatka, Russia specialized in the making of all-wood watches as can be seen in the example below from circa 1865.