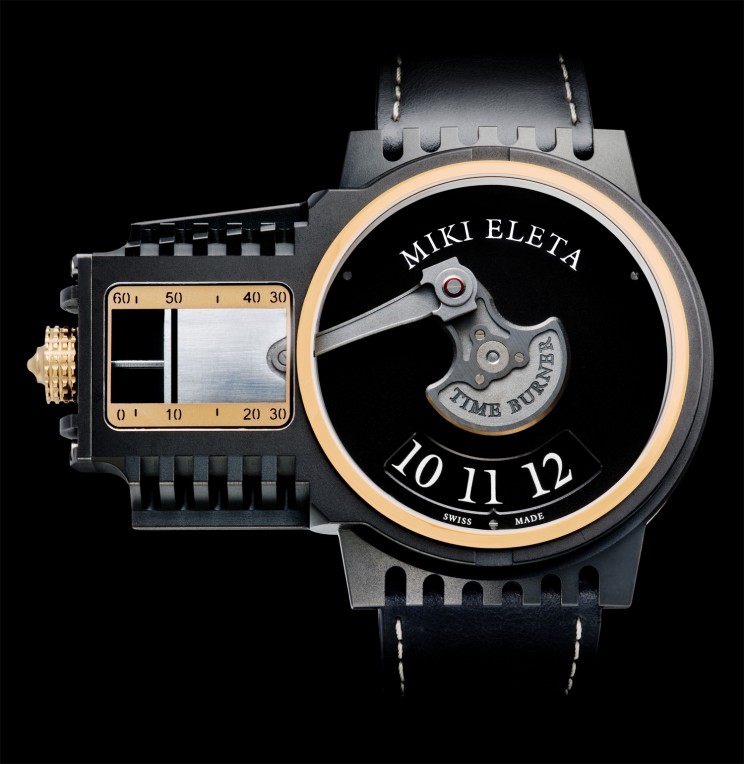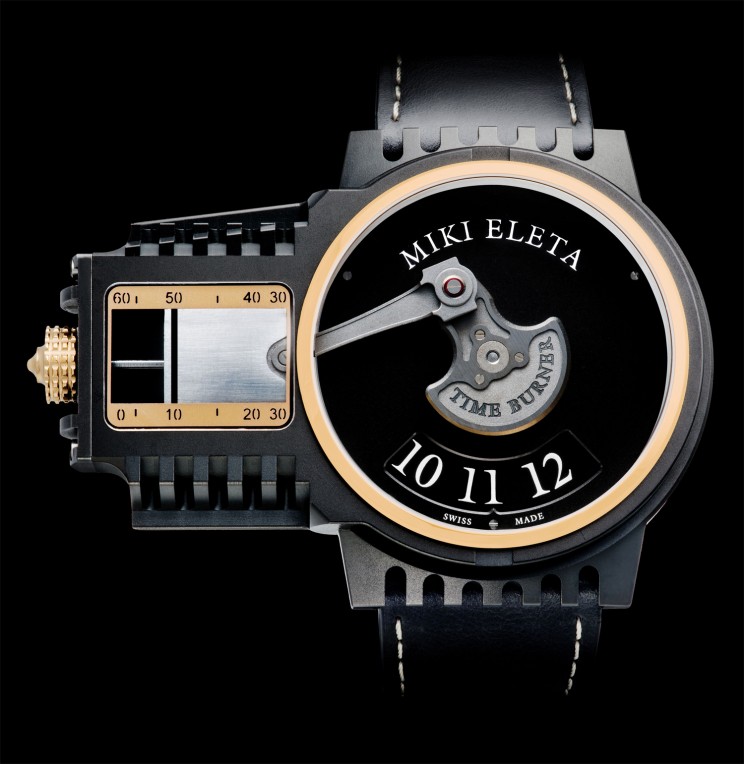 The Timeburner is an unusual watch that is inspired by Miki Eleta's passion for the earliest internal combustion engines and is designed as a tribute to them.
The celebrated master timepiece maker and kinetic artist based in Switzerland whose dream is to "make unimaginable mechanical art a reality" collaborated with independent watch maker Marc Jenni to create the Timeburner.
Hours are displayed at the bottom of the dial through an aperture, nothing too out of the ordinary however the method for displaying minutes is where it gets more unusual, using a piston at the nine o'clock position, moving in and out along the straight measure to the left of the dial.
"Just like an engine transforms chemical energy (petrol) into mechanical energy (movement); TIMEBURNER converts the owner's ignition and winding of the spark plug (crown) into mechanical movement and drives the piston along a non-linear time scale. This piston replaces the hands in the role of telling the time."
The TIMEBURNER will be offered in three different versions: Silverlight ME1, Chrome-Rider ME2 and All-Black ME3. Each model is limited to 99 pieces; and each piece offers the possibility of a personalised licence plate.
More information can be had at the Timeburner website
Case: titanium with 3 sapphire crystals
Bezel and crown: untreated bronze
Finishing: bead blasted
Dimensions: 48mm wide
Water resistance: 3 ATM
Licence plate: uniquely numbered
INTERNAL COMBUSTION ENGINE
Winding: manual, bidirectional
Functions: hour and minutes
Movement: Unitas cal. 6497-1 modified by Marc Jenni
Finishing: ground surface with bead blasted cut-outs and
decorations
Coating: Rhodium plated
Piston: Aluminium with black indication line
Rod & crankshaft: Rhodium plated coating on bead blasted
brass with 1 jewel
Power reserve: 46 hours
Jewels: 18
Frequency: 18'000 v/h
ME1 : Silver plated           ME2 & ME3 : Black chrome plated
ME1 : Brown buffalo           ME2 & ME3 : Black buffalo