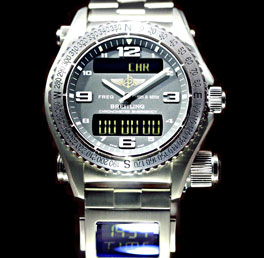 Emergency Transmissions
Mission gone awry and stranded in enemy territory and need to be rescued? Or have you been captured and need to alert HQ?
Then the Breitling Emergency is what you need. It features a built-in miniaturized transmitter broadcasting on the 121.5 MHz aircraft emergency frequency with a range of about 100 miles.
To activate it remove the protective cap and fully extend the antenna, the transmitter will broadcast for 48 hours providing a signal that rescuers can home in on.
Be warned, a $15,000 fine is imposed by the FAA
for activating it in a non-emergency situation!
In 2003 two British pilots were rescued in the Antarctica after their Helicopter crash landed and they activated their Breitling Emergency watches.
Company Website: Link