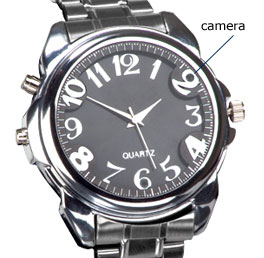 Although very typical in appearance this watch has a concealed camera with its lens hidden within the 2 O'clock marker making it ideal for secret surveillance.
With its 2GB of storage it can store 2 hours of video in avi format with a resolution of 352 x 288 pixels.
A Swiss quartz movement is housed in a Stainless Steel case equipped with USB and capable of working with either Window, Mac or Linux.
The camera is activated using the button on the left side of the case, with a small power on indicator near the 6 marker and the microphone near the 5 marker.
Product: Link
Price: $160