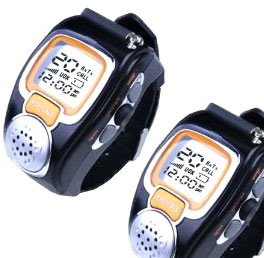 Walkie Talkie Watches
Walkie Talkie watches are an ideal way of secretly communicating with fellow spies.
A walkie talkie watch is also perfect for areas that fall outside cell phone range. This makes them an ideal accessory for camping trips and wilderness treks. The benefit is that instead of lugging around an actual walkie talkie, you can have it conveniently strapped to your wrist.
They typically have a range of up to 2 miles, use rechargeable Lithium batteries and come with earphones
Models like the Freetalkie XFD-008 do also come with ISO 9001 certification. These watches were used by the Norwegian team during the Winter Olympics.
*Care should be taken when looking to purchase Walkie Talkie watches since there seem to be many of inferior quality on the market.
Price:$35~