Spikenzie Labs have released a new version of their Solder:Time micro-controller DIY watch.
The Solder Time 2 like the original is a watch for people who like to build their own (an assembled version is also available),  the new version features various upgrades and is even more hackable than the original.
It uses the the very popular ATmega328P micro-controller and the same Arduino™ IDE software that is used for a regular Arduino can be used to reprogram the watch.
The new version has an upgraded display with a set of four 5×7 LED matrix modules giving you control of a total of 140 LED's. This new LED matrix provides you with standard information such as time and date but also can be used to display words, scrolling messages, graphics, special characters …and limitless possibilities.
For the alarm function the STII comes with a piezo buzzer which can also be used to add sounds to custom programming and games.
The kit is very easy to assemble but you will need basic soldering tools such as an iron, solder, and diagonal cutters.
The watch measures 62mm in diameter and comes on a Velcro strap.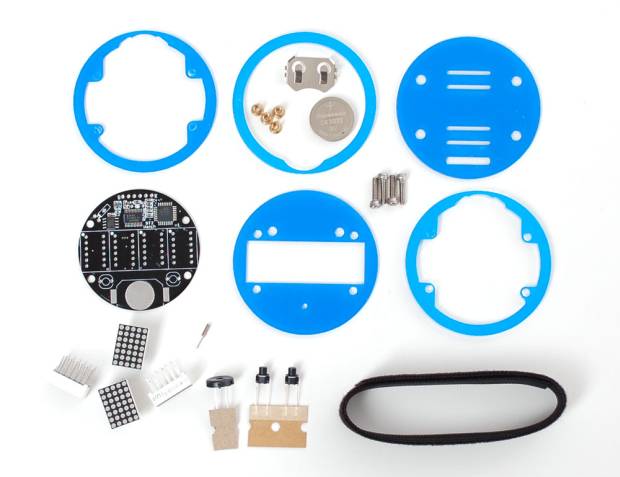 Also available assembled for $65
The Solder Time 2 Kit includes: Laser cut acrylic casing with four screws. Solder:Time PCB with all of the electronics. Easy to use Velcro type wrist band (long enough for huge wrists, trim-able for smaller ones) and a CR2032 Battery.
Instructions for this DIY watch can be found at Spikenzie Labs