The latest Schaumburg watch is a moonphase watch which features up to the minute accuracy by way of a moon adjustment button that allows you to minutely adjust the shadow of the earth above the moon.
Representing the moon at a size of 13.4mm it is considered to be the worlds largest in an automatic moon-phase chronometer.
The Grand Perpetual Moon Meteorite watch (pictured below) uses fragments from the asteroid belt between Mars and Jupiter so that "every watch is a unique piece with its own galactic history".
Unlike many moon-phase watches the moon itself doesn't move but a simulated earth's shadow passes across it by way of a semi-transparent disc. The shadow approaches from either the left or right depending on whether it is the northern or southern hemisphere.
Using patented luminescent materials it realistically depicts the moon cycles of the northern and southern hemispheres with a divergence of only one day in every 122.5 years. To represent the moon's cycle so accurately required a complex movement and Schaumburg joined forces with renowned Astronomical Watch maker Martin Braun to create the watch's movement.
Specifications for this, their latest, the "Moon collection" are below.
More information can be found at their website.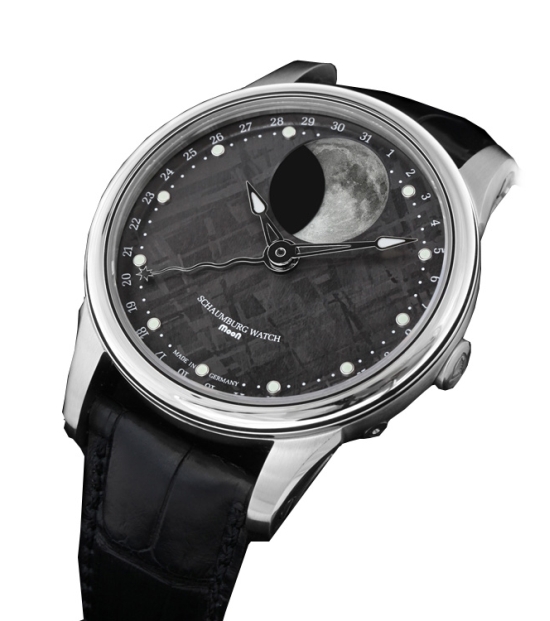 Specifications
ref. moon I
case: steel, diameter 43 mm, height 12,4 mm, 5 atm, sapphire glass
movement: manufacture caliber sw-11, automatic, swiss made
functions: hour, minute, date, moon phase
band: 22 mm, leather, folding clasp
ref. moon II
case: steel pvd, diameter 43 mm, height 12,4 mm, 5 atm, sapphire glass
movement: manufacture caliber sw-11, automatic, swiss made
functions: hour, minute, date, moon phase
band: 22 mm, leather, folding clasp
ref. moon meteorite
case: steel, diameter 43 mm, height 12,4 mm, 5 atm, sapphire glass
movement: manufacture caliber sw-11, automatic, swiss made
functions: hour, minute, date, moon phase
dial: genuine meteorite stone
band: 22 mm, leather, folding clasp
ref. moon galaxy & galaxy signs of zodiac
case: steel, diameter 43 mm, height 12,4 mm, 5 atm, sapphire glass
movement: manufacture caliber sw-11, automatic, swiss made
functions: hour, minute, date, moon phase
dial: gold stone
band: 22 mm, leather, folding clasp
ref. moon landscape hand made
case: steel, diameter 43 mm, height 12,4 mm, 5 atm, sapphire glass
movement: manufacture caliber sw-11, automatic, swiss made
functions: hour, minute, date, moon phase
dial: 925/- sterling silver (hand made)
band: 22 mm, leather, folding clasp