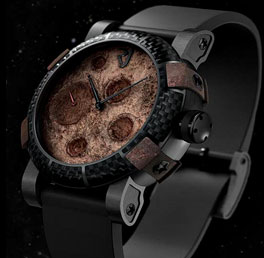 Romain Jerome caused some controvercy in 2007 with the release of their Titanic DNA series of watches which used steel and coal from the ill fated ocean liner, some feeling the watches were in poor taste. However the watches proved very popular and forced Romain Jerome to release the next in their "DNA of Famous Legends" series earlier than anticipated.
For the next series Romain Jerome has changed theme from the depths of the ocean to the stratospheric heights of the moon for its follow up watch, the Moon Dust DNA.
It incorporates moon dust taken from a rock brought back from the first moon mission in 1969, the case uses steel from the Apollo 11 spacecraft and the strap is made from spacesuit fibers. In a tribute to the first moon landing the watch is limited to 1969 pieces.
The Romain Jerome Moon Dust DNA collection will start at USD 15,000 and run to USD 500,000.
Source: Romain Jerome