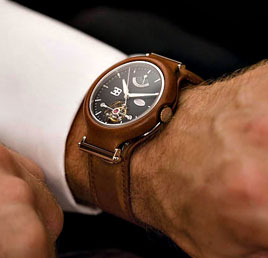 Parmigiani teamed up with Bugatti to create a watch for their 16C Galibier car and the Parmigiani Bugatti Tourbillon Watch was the result. Its a convertible watch designed to be four timepieces in one.
The 16C is a four seat luxury sedan which shares the W16 8.0L engine of the Bugatti Veyron, but with two superchargers instead of four turbochargers for improved torque. Its still in prototype stage and a version proper is expected to reach the market in 2013.
The Parmigiani Bugatti Tourbillon can be used not just as a wristwatch but can also be transformed into a clock for mounting on the 16C's dashboard as well as a pocket watch and a table clock.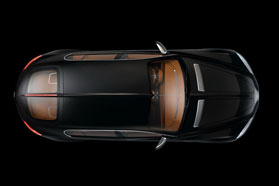 The engineers at Bugatti developed special dashboard mounts for the watch in two places so that it became a clock as part of the Bugattis instrument panel. The central mount features a specially retractable cradle that pivots upwards 180° once the engine starts, thereby giving the owner the option of hiding the clock beneath the dashboard.
The watch is automatically wound when it placed inside its presentation case to fo transform into the table clock version.
For further information on the Parmigiani Bugatti Tourbillon visit the Parmigiani and Bugatti websites.