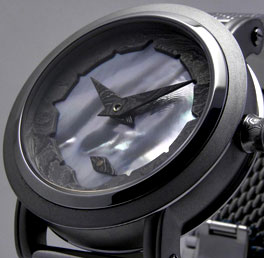 Swedish watch brand Gustafsson & Sjögren is a partnership between 'bladesmith' Johan Gustafsson and watchmaker Patrik Sjögren and they aim to "provide truly unique watches with inspiration from the cold north of Scandinavia."
They use hand forged Damascus steel in several parts including the dial, crown and for the automatic watches, the rotor. This gives them a distinct look and each watch is one of a kind limited edition.
They also offer customised versions where you can choose Damascus steel patterns and colors.
Price:$6-8000
Source:Gustafsson & Sjögren