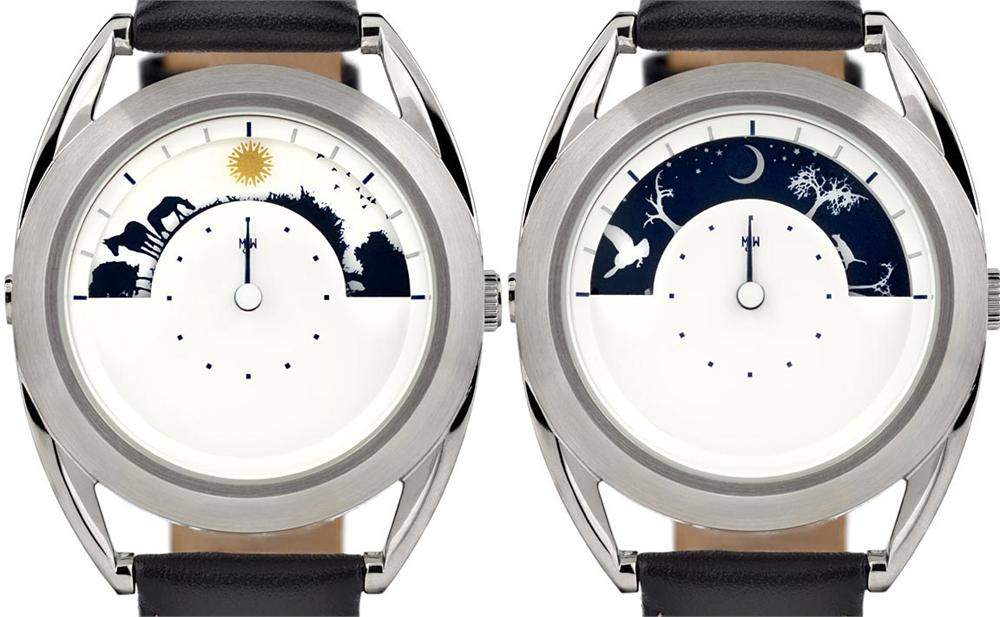 British watch brand Mr Jones are known for their unusual watch designs, their latest is the "Sun and Moon" watch which features an unconventional way to indicate the time.
The Mr Jones Sun and Moon watch doesnt feature a dial in the conventional sense, instead it uses a semi circular aperture through which symbols are displayed.
The sun will appear bottom left on the dial from 6am and the moon bottom right from midnight. The other images are representations of nature such as birds, trees and other animals.
A small hand below this indicates the time in minutes.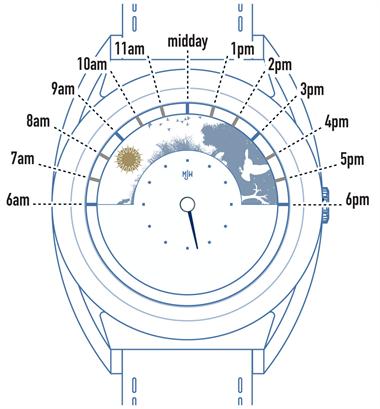 The dial is divided into day and night by the image of the sun and moon, white images are used on a black background for night and black on a white background for day indicators.
Its a very interesting and even whimsical approach to timekeeping. I reccommend looking at the images of the watch to help get a better understanding of its design and how it functions.
The design is slightly reminiscent of some jump hand watches with its use of an aperture at the top and also the use of images for the dial reminds me of the alethiometer from the Golden Compass, pictured below.
The Mr Jones Sun and Moon watch uses a Swiss Ronda movement 515-24H housed in a round stainless steel case and water resistant to 50 meters.
An individually numbered edition of 100, the Sun and Moon watch comes with a certificate and in a gift box decorated by artist Fanny Shorter.
It will be available in December this year and priced at 175 Euros.