The Hoptroff No. 16 Atomic Wrist watch.
After inventing the first Atomic Pocket Watch, the Hoptroff No 10 (pictured below) the company has now released their first Atomic Wrist watch, the Hoptroff No. 16.
Accurate to 1.5 seconds each thousand years it jointly shares the accolade of most accurate wristwatch with the first Atomic powered wrist watch released late last year, the Bathys Cesium 133 Atomic Wrist Watch.
Hoptroff believes that Watches are "pieces of living jewelery – they should entertain and inform. " As a result Hoptroff watches often have unusual functions such pointing the direction to Mecca, or real-time share prices.
Unlike quartz watches that are sometimes updated by the atomic clock the Hoptroff No. 16 directly displays the atomic time.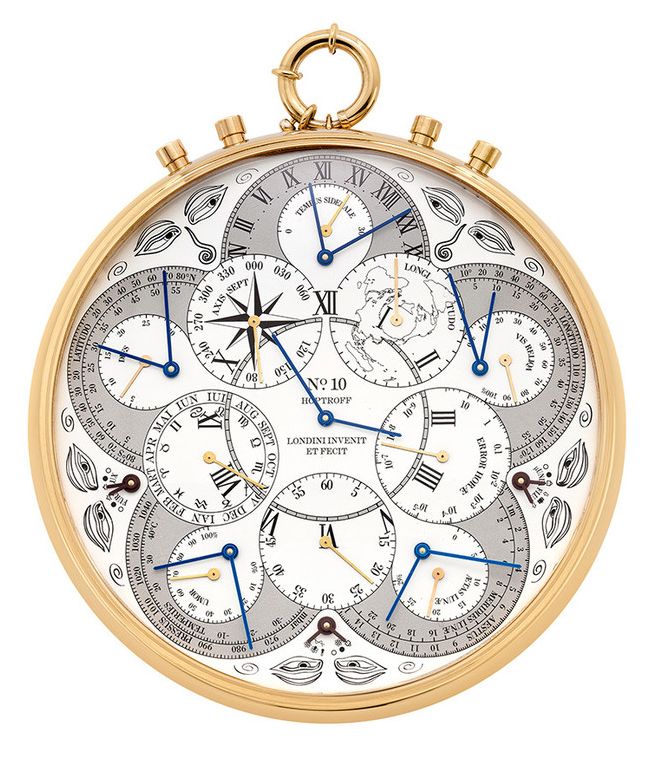 Contrasting with its ultra modern technical specifications thethe Hoptroff No. 16 has a very traditional, classical facade and its design has even been influenced by English watchmaker George Daniels. Housing all this technology has given the watch rather large dimensions, measuring 83.7mm wide 43.4mm tall, and 18.7mm thick it doesn't have a subtle wrist presence but would certainly get you noticed. The shape of the watch is intended to recall the figure eight infinity loop and has some stylized faces adjoining the centre of the watch.
The the Hoptroff No. 16 offers two power modes, in regular full power mode the watch is accurate to 1.5 seconds in 1000 years, while in low power mode it is accurate to a 'mere' 10 seconds each 1000 years. According to Hoptroff, in low power mode the battery will last 3 months — in high power roughly one week.
As to the dials, the right dial indicates the current time with below is a seconds indicator, other dials include a sidereal time indicator that is adjacent to the main time, and an equation of time indicator at the top of the right dial.
The left dial includes information such as the date, phase of the moon, power reserve of the battery, and the sun rise and sun set times.
The Hoptroff No. 16  has Bluetooth compatibility so it can be set with your smartphone via gps, once that's done you can rely on the fact that your watch will never lose a second during your lifetime.
The Hoptroff No. 16 is priced at  £15000 + tax  (about $24,600) in 18kt Gold and  £8150 + tax (about $13,350) in Britannia Silver.
Find more information at the Hoptroff site