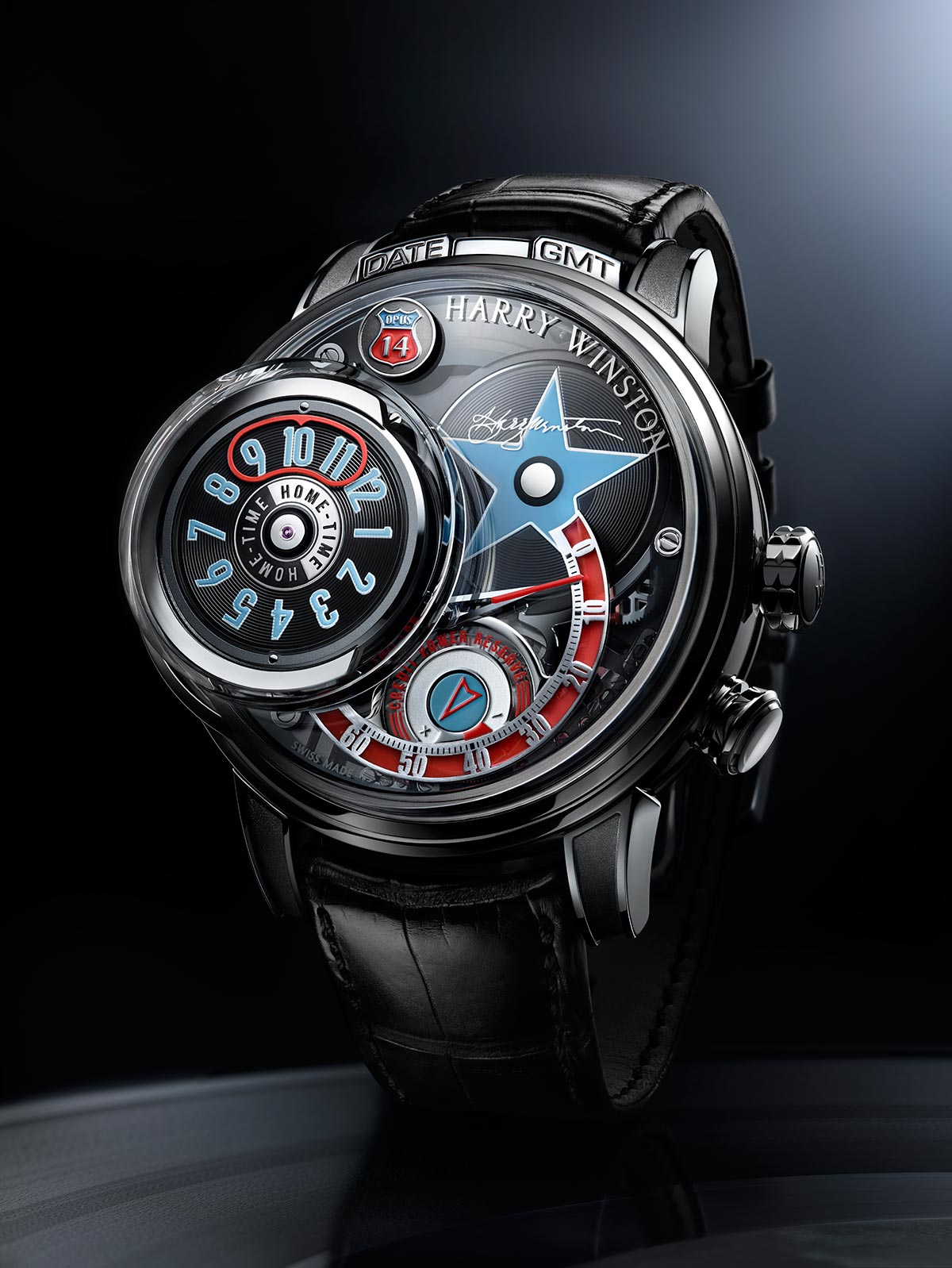 The Opus series was first initiated by Maximilian Büsser in the early 2000s, with the aim of showcasing independent watchmakers and enhancing the watchmaking reputation of New York-based jeweler Harry Winston. For the first Opus, Büsser teamed up with François-Paul Journe, leading to the creation of unique wristwatches. This collaboration between a prominent independent watchmaker and Harry Winston became a yearly tradition, inspiring the name "Opus" – a nod to the California winery Opus One, founded by Chateau Mouton Rothschild and Robert Mondavi. Throughout the years, the Opus series has featured the work of some of the most talented watchmakers in the industry,
The Opus collection has become known for its unique, avant-garde designs and innovative mechanical movements.
Harry Winston Opus watch designs push the boundaries of what is possible in watchmaking, they feature complex, multi-layered dials with intricate displays of time-keeping functions, such as jumping hours and retrograde minutes. The movements themselves are works of art, with intricate mechanical components that are visible through the watch's transparent caseback.
The brand worked with some of the world's most talented independent watchmakers to create each Opus watch. This resulted in truly unique and innovative designs, produced in limited editions, making each watch a truly rare and special piece.
Each entry comes with a video of the Opus edition watch since to really appreciate these unusual watches they need to be seen in motion.

2001 Opus 1 — with François-Paul Journe
2002 Opus 2 — with Antoine Preziuso
2003 Opus 3 — with Vianney Halter
2004 Opus 4 — with Christophe Claret
2005 Opus 5 — with Felix Baumgatner
2006 Opus 6 — with Greubel & Forsey
2007 Opus 7 — with Andreas Strehler
2008 Opus 8 — with Frédéric Garinaud
2009 Opus 9 — with Jean-Marc Wiederrecht
2010 Opus 10 — with Jean-François Mojon
2011 Opus 11 — with Denis Giguet
2012 Opus 12 — with Emmanuel Bouchet
2013 Opus 13 — with Ludovic Ballouard

2015 Opus 14 — with Franck Orny and Johnny Girardin

The Opus 1
The start of the Harry Winston Opus Watches collection in 2001 was a collaboration with F.P.Journe and featured two time zones and a new version of F.P Journes resonance chronometer.
Created in 2001, the Opus 1 was the first in a series of limited-edition watches designed in collaboration between Harry Winston and the world's most renowned watchmakers, in this case F.P.Journe .
The Opus 1 features a mesmerizing, multi-layered dial that showcases the time through a series of discs that rotate to reveal the hour and minute markers (see video below). The watch also features a moon phase indicator, a power reserve indicator, and a day/night indicator, all of which add to the complexity of the timepiece. The case of the Opus 1 is crafted from high-quality materials such as titanium and platinum, making it both durable and luxurious.
In terms of its mechanical movement, the Opus 1 is powered by an automatic winding system. The movement is housed within a hand-finished 46mm case and is protected by a sapphire crystal exhibition caseback, allowing the wearer to admire the inner workings of the timepiece.
DEVELOPED WITH FRANCOIS PAUL JOURNE, MASTER-HOROLOGIST
Three limited editions of six, each unique.
Three models with three exceptional movements.
A masculine jewel of rare beauty, the Opus One 5 Day Automatic operates at 21,600 vibrations per hour.
6 pieces 5 day automatic: F.P. Journe 5 day automatic chronometer. Free-sprung balance, four adjusting weights, in-line lever escapement, 15-tooth escape-wheel.
Reference: OPUAHM38PP004
The Opus One Resonance Chronometer (see picture) is pure mechanical extravagance with two time zones and a new version of François-Paul Journe's resonance chronometer.
6 pieces Resonance Chronometer: F.P. Journe twin-movement resonance-system chronometer. 38mm round case made of 950PT platinum
Reference: OPUMTZ38PP004
Lastly, the Opus One Tourbillon showcases the most respected watchmaking complication in a setting that combines innovation, technology and tradition.
6 pieces Tourbillon: F.P. Journe one-minute tourbillon movement with constant-force remontoir. Remontoir rearmed every second. F.P. Journe four-armed balances with adjusting weights.
The Opus 2
Following the success of the Opus 1, the Opus 2 was created to continue pushing the boundaries of what was possible in watchmaking, combining innovation and exceptional craftsmanship. This time in collaboration with Antoine Prezuiso.
Like its predecessor, the Opus 2 features a highly complex and intricate mechanical movement, powered by an automatic winding system. The watch features a multi-layered dial, which showcases the time through a series of rotating discs that reveal the hour and minute markers. The Opus 2 also features a a tourbillon and a Retrograde Perpetual Calendar, moon phase indicator adding to the complexity of the timepiece.

DEVELOPED WITH ANTOINE PREZUISO
Two limited editions of 11 and one unique diamond set piece per movement.
Two watches, two tributes to the intrinsic beauty of the tourbillon mechanism.
The Opus Two Tourbillon with Retrograde Perpetual Calendar has the old-time charm of watches that do not reveal all at first glance. On the dial side, a tourbillon is supported by a delicate architecture of exposed bridges. On the back, another marvel is hidden behind a secret cover: Harry Winston's famous patented retrograde perpetual calendar.
The second Opus Two is a tourbillon with a carriage that delicately stands out against diamond-studded openwork decoration.The case is set with baguette-cut diamonds.
38mm round case made of 950PT platinum
Reference: OPUMTO38PP008
Here Antoine Prezuiso discusses the watches.
The Opus 3
DEVELOPED WITH VIANNEY HALTER
Limited edition of 55 pieces.
The Opus 3 takes the concept to new heights never before explored in Haute Horlogerie. While its design turned conventions upside down, its mechanism pushed the limits of watchmaking as no watch had ever done before.
On the rectangular gold case, six porthole openings each display a colored number: blue for the hours, which are read in the upper openings on the left and right; black for the minutes, in the lower openings on the left and right; and red for the date, which is displayed vertically in the centre windows. The display relies on the instant jumping of all six indicators: a one-of-a-kind technical feat.
Movement: manually wound mechanical movement in German silver with full digit display and no hands, by Vianney Halter.
Power reserve of 40 hours.
Mechanism with 2 trains and twin barrels (21'600 v/h). 53 jewels. Digit display by means of ten discs incorporated into the bottom plate. Horizontal winding crown with 4 winding and setting positions: date (4th notch), hour (3rd notch), minutes (2nd notch) and winding (1st notch). Countdown of the final 4 seconds before the minute jumps.
Shaped case 36.00 x 52.50 and 13.70mm high made of rose gold or 950PT platinum.
Reference: OPUMHD36RR001
The Opus 4
DEVELOPED WITH CHRISTOPHE CLARET
Limited edition of 20 pieces.
While at first glance the Opus 4 seems more traditional with its Premier inspired case, it is an equally exceptional watch. It is completely reversible: one face is technical, with a tourbillon and a minute repeater using a cathedral-type chime; the other is romantic with a large, delicately engraved moon and a date display on the dial perimeter.
Without being overstated, the Opus 4 proclaims the virtuosity of one of the last Swiss chiming watch specialists. The Christophe Claret-designed movement has 423 parts, including 40 jewels.
Movement: manually wound mechanical tourbillon, repeating on the hours, quarters and minutes on cathedral gongs by C.Claret.
53-hour power reserve.
Frequency: 18'000v/h.
Time indications on back-to-back dials with reversed hands. Case turning on the lugs. Large moon-phase display and date.
44mm round case in 950PT platinum.
Reference: OPUMTR44PP001
<!––nextpage––>
The Opus 5
DEVELOPED WITH FELIX BAUMGARTNER
Limited edition of 100 pieces
Two world firsts in one charismatic watch: an original complication and the hour display. The Opus 5 could be nothing else but dazzling.
First, because of its satellite hour display consisting of three blocks, each with four numbers, that are arranged like satellites in a three-dimensional rotating system and tell the hour in turn as they rotate on two axes ; and second, because of the service indicator on the back of the watch, graduated from 0 to 5 years, which lets the wearer know when it is time to take the watch in for maintenance.
Movement: F. Baumgartner mechanical off-centered movement with satellite hour display and retrograde minute hand moving over a 120° counter
Power-reserve indicator (120 hours), Day and night indication
Dial: Three small blocks arranged like satellites within a three-dimensional system. Since each block carries four numerals, two rotational axes are required to display all 12 hours: the first central axis enables each hour numeral to "move past" the minute counter while driving the retrograde hand gliding over a 120° graduated scale; while the second reveals the four numerals in accordance with first rotation.
50mm round case made of rose gold or 950 PT platinum.
Reference: OPUMHM50PP001
The Opus 6
DEVELOPED WITH GREUBEL FORSEY
Limited edition of 6 pieces
But, because it is an Opus, it is a tourbillon that makes its own contribution to accuracy – a majestic tourbillon, visually freed from its carriage and the gears, accompanied by two windows for the hours and minutes.
Opus 6 boasts two technical achievements. The first is concealed in the very shape of the module, which is inclined at 30° to allow the balance wheel to oscillate constantly in all planes. The second is that the designers succeeded in making the gears invisible, by placing them off-centered beneath the bridge that masks the entire right side of the dial. The result, with its absolute purity, is magical.
Movement: manually wound mechanical tourbillon developed with Greubel Forsey, movement with 288 components (2 tourbillon cages with a total of 128 components)
Power reserve – 72 hours
Hours and minutes indication by co-axial discs at 3 o'clock. Small seconds indication by disc at 11 o'clock.
44mm round case in white gold with shaped convex sapphire glasses.
Reference: OPUMTO44WW001
The Opus 7

DEVELOPED WITH ANDREAS STREHLER
Limited edition of 50 pieces
A marvel of movement in the shape of a butterfly, inspired by Art Nouveau.
The sculpted bridge, which is extraordinarily light and literally fills the space, offers an ingenious and playful alternative display. There are no hands for the hours, minutes or power reserve, but instead a disk that turns when activated by the crown. Pressing once aligns the hour number with the wheel's triangular indicator positioned at 10 o'clock. Pressing a second time aligns the minute number with the indicator. Pressing a third time displays the power reserve.
Movement: manually wound mechanical movement by Andreas Strehler.
Alternating display of hours, minutes and power reserve by pushing crown.
1st push: hours, 2nd push: minutes, 3rd push: power reserve.
Power reserve: 60 Hours.
Frequency: 18,000 v/h.
Jewels: 34 jewels
45mm round case in white gold.
Reference: OPUMHM45WW001
Opus 8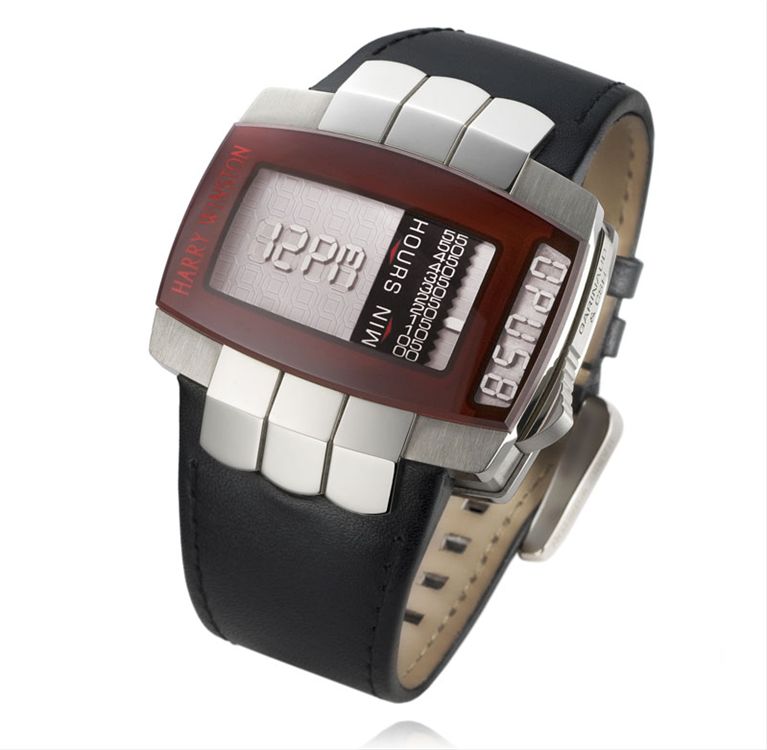 DEVELOPED WITH FREDERIC GARINAUD & CSH
Limited edition of 50 pieces.
Opus 8 embodies the art of digital emotion. The case, clearly inspired by the 1970s, contains a manually-wound mechanical movement with a digital display of the hours and minutes – visually, at least; the reality is much more complicated.
The novel numbers appear only on demand, when a slide on the right side of the watch is activated. Inspired by the board of pins that reproduces any shape pressed onto it – a hand, face, etc.- the mechanism links all of the functions together: the minute drives the hour, which in turn drives the AM/PM, so that everything can be displayed on demand.
Movement: Mechanical, elliptical, with mechanical digital display module, manual winding
Functions:
On the face: Digital display indicated by segments: hour (AM/PM) and minutes (every 5) .
On the back: Digital display indicated by discs: hour (AM/PM) and minutes (every 5).
Power reserve also indicated on the back of the watch.
Display: Hours, minutes (every 5 minutes), AM/PM.
Frequency: 3 Hz
Jewels: 44
Components: 437
Segments: 138
Power Reserve: 48 hours.
45.8 x 33.5mm case in white gold
Reference: OPUMDH46WW001
Opus 9
DEVELOPED IN PARTNERSHIP WITH JEAN-MARC WIEDERRECHT & ERIC GIROUD
Limited edition of 100 pieces
Utilizing diamonds as the functional element of telling time, Opus 9 celebrates the core of Harry Winston heritage, while pushing the boundaries of timepiece design. Replacing the traditional watch hands and cyclical dial, time is displayed by two parallel diamond chains for hours and minutes. There are no hands; instead, a linear display uses two vivid almandine garnets as the indicators.
In 2009, Opus 9 was awarded the prize for Best Design Watch prize by the Jury of the Grand Prix d'Horlogerie de Genève.
Case: 18K white gold, dimensions 56 mm x 48 mm, sapphire crystal case-back
Dial: 66 baguette-cut diamond chain (2.15 carats) indicating on the left side the hours, and on the right side the minutes with almandin garnet (0.22 carats)
Movement: mechanical with automatic winding using a baguette diamond chain system, 28 jewels, 28,800 vibrations per hour, 72-hour power-reserve
Functions: Linear display of hours and minutes
Strap: black alligator, 18K white gold ardillon buckle
Reference: OPUAHM56WW001
Opus 10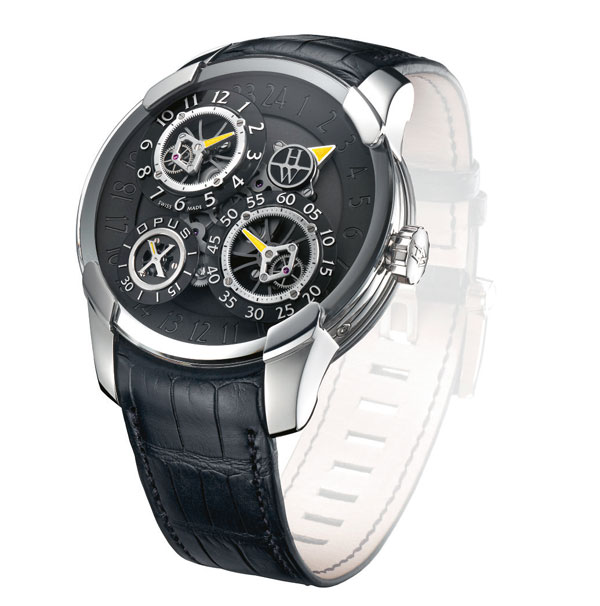 DEVELOPED WITH JEAN-FRANCOIS MOJON ê

Limited edition of 100 pieces.
Time comes in a new shape, through the clever architecture of the case and the time display; and an unusual movement effect, achieved through the 24-hour rotation of a platform supporting the time displays. The hours, minutes and seconds display is broken down into three modules which maintain the same orientation regardless of the platform's position. The revolving effect is accentuated even more by the fact that the oblique axes of the displays conform perfectly to the curve of the crystal.
The manually-wound mechanical movement, completely new and original, was developed on a planetary gear train consisting of a sun gear, a planet gear and a frame. In addition to the hours, minutes and seconds, it displays a second 24-hour time zone around the edge of the platform and a linear power reserve on the back of the case.
Movement: mechanical movement with manual winding
Functions: Display of time by modules for hours, minutes and seconds mounted on a platform. Continuous movement of the platform rotates in twenty-four hours. Twenty-four hour second time zone indicated in the periphery. Linear power reserve indicator on the case back.
Power Reserve: 72 hours
46 mm case in white gold
Reference: OPUMTZ46WW001
Opus 11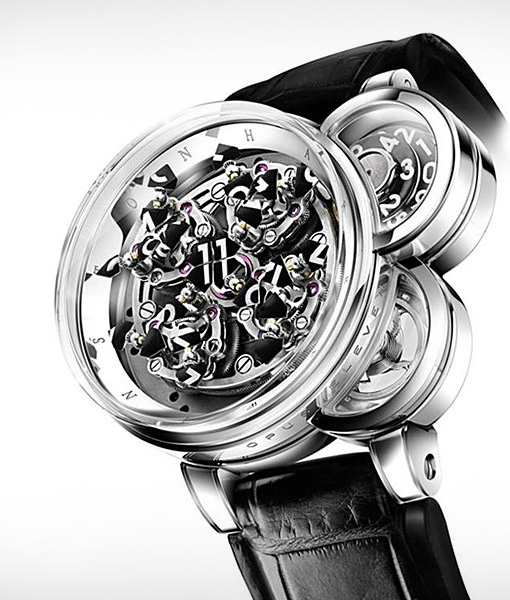 DEVELOPED WITH DENIS GIGUET
Limited edition of 111 watches

Opus Eleven makes news with a technology and architecture that have never been seen before. Ingenious mechanisms give the watch a rare character –  an explosive temperament that makes a sport of time. In addition to its role as an instrument, Opus Eleven creates an engineering puzzle that resolves itself on the hour.
An extremely complex case stages the show. The three overlapping cylinders on three levels are configured to deconstruct time. The main circle is the hour's domain, flanked by two pavilions. One shows the minutes on a jumping disk for the tens and a running disk for the units. The other, slightly lower, displays the regular beat of a big titanium balance-wheel.
Anarchy takes hold of the hours indication beneath the sapphire-crystal dome every 60 minutes. The numeral of the hour, assembled in the center of the circle, explodes into chaos before instantly reassembling as the new hour. It then remains still until the next disintegration. Instead of a hand, 24 placards revolve and rotate on a complicated system of gears mounted on an epicycloidal gear-train.
Movement:
Mechanical movement with manual winding.
24 conical pinions
155 jewels
566 components
Functions:
Hour display by means of an original system made up of 24 pallets, with a rotation speed regulation and management system
Digital display of minutes by 2 disks, a jumping disk for the tens and a running disk for the units
Traditional fine watchmaking finishes
Case in white gold
Power Reserve: 48 hours.
Reference: OPUMHM54WW001
Opus 12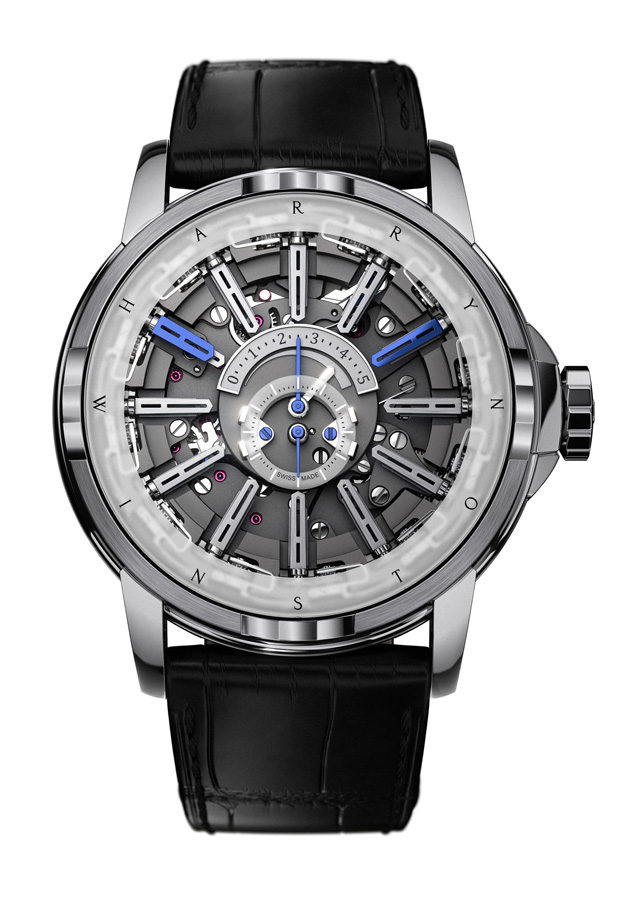 DEVELOPED WITH EMMANUEL BOUCHET
Limited edition of 120 pieces
Opus 12 defies the conventional rules of watchmaking, giving birth to the most improbable
mechanical concept. This exceptional timepiece deliberately overturns the perception of time by drawing its inspiration from the Copernican revolution.
In most watches the evolution of time is imperceptible. Opus 12, on the other hand, goes into action in a remarkable way, its hands changing the guard every five minutes. At each change of the hour, the movement executes a very elaborate drill exercise by the successive rotation of the hands. Below the retrograde indication, a floating small seconds hand graduated on a translucent ring passes above a power-reserve indicator.
Movement:
Mechanical movement with manual winding.
607 parts, 80 jewels and 2 barrels, 24 hands
Power Reserve: 32 hours
Functions:
Hour and 1/12th of an hour (five-minutes) displays via a rotating, double-hand system
Animation of the 12 hour hands at each change of hour
Animation of the minutes hands every five minutes
Retrograde five-minute display, power-reserve indicator and small seconds
Material: case in white gold
Diameter: 46mm
Reference: OPUMHM46WW001

Opus 13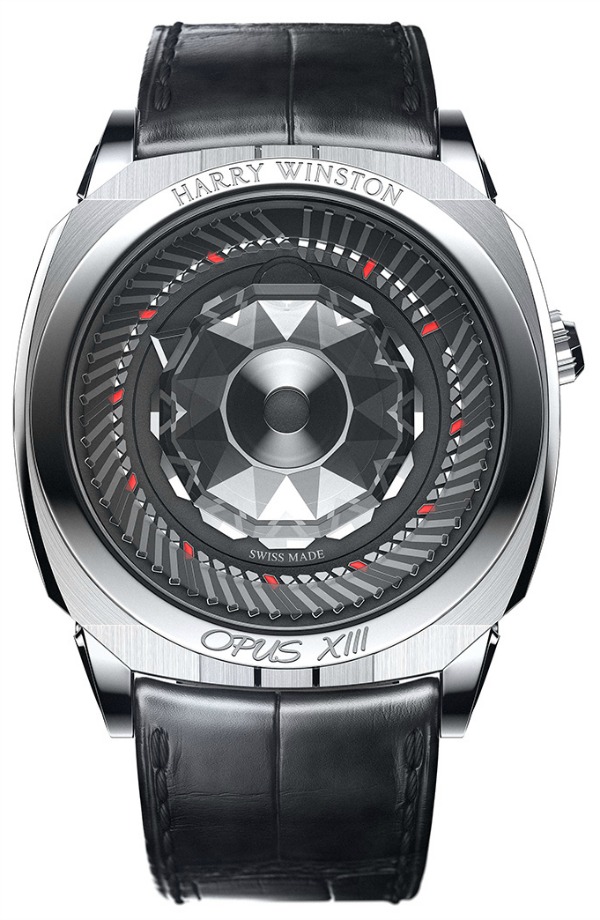 DEVELOPED WITH LUDOVIC BALLOUARD
Limited Edition of 130 pieces
Opus XIII once again defies the conventional rules of watchmaking.   Fifty-nine pivoting minutes hands, eleven rotating triangles for the hours,  and a sliding trapdoor perform a magic show where minutes and hours appear or vanish instantly — and, of course, tell the time.
Case:    18K white gold, "Harry Winston" engraved on the bezel at 12 o'clock, "Opus XIII" engraved on the bezel at 6 o'clock, sapphire-crystal display back
Case dimensions:    Diameter: 44.25 mm  Height: 13.6 mm
Dial:    Faceted sapphire-crystal dome
Polished, rhodium-plated minute and five minute hands.  Minute hands with black and white transfer.  Five minute hands with black and red transfer
Polished, rhodium-plated, triangular shaped hour hands
Smoked sapphire-crystal over the minute hands
Bevelled well with "HW" logo
Movement:   mechanical, manual-winding, 364 components, 242 jewels, 21,600 vibrations per hour, 35 hours power reserve
Function :    Hours display via eleven, 180-degree rotating hands (one hand rotating each hour except at 12h/24h), minutes display with fifty-nine, 40-degree rotating hands, "HW" logo revealed at the center of the dial at noon and midnight
Material :    18K white gold, polished bezel and lugs, satin-brushed case band
Water Resistance:    30 meters
Strap:   Hand-sewn black alligator leather; 18K white gold folding buckle
Reference:   OPUMHM44WW001
Opus 14
DEVELOPED with FRANCK ORNY and JOHNNY GIRARDIN
Limited Edition of 50 pieces
Devised by Johnny Girardin and Franck Orny of boutique firm Telos Watch, the Opus 14 was inspired by a jukebox, featuring a stack of vinyl records and an arm to play the selected record. "We like concepts related to daily life," said Orny, adding that their aim was to create a complication that the wearer can interact with. It is powered by a movement comprised of over 1000 components.
I wrote amore in depth article about the Harry Winston Opus 14 here
Case:    18K white gold
Case dimensions:    Diameter:  54.7 mm  Height: 21.9 mm
Dial:   sapphire crystal cut from a single block, vinyl-style finishes, luminescent home time hours
Movement:  Caliber: HW4601
Functions :  
Home time by disc, retrograde minutes, animation power reserve by disc, movement power reserve by disc, calendar by disc (on demand), GMT by disc (on demand), HW aesthetic disc (on demand)
Water Resistance:    3 Bar
Strap:   Hand-sewn black alligator leather; 18K white gold folding buckle
Reference:   OPUMHM55WW001