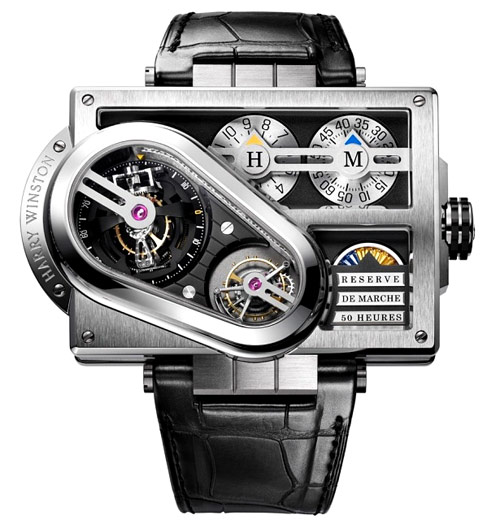 "Gravity cannot be held responsible for people falling in love." said Einstein.
It could, however be the cause of your attraction to the Harry Winston Histoire de Tourbillon
Its visual spectacle is all about gravity.
An arsenal of Three tourbillons combat the adverse gravitational effects on time with this the third in Harry Winston's series focusing on the tourbillon.
Each has been offset by intervals of 36, 40 and 120 seconds in order to create the most accurate regulation of the movement.
Its two predecessors were large watches and No.3 is even more so with dimensions of 65.9mm x 45.9mm, a substantial case no doubt needed to accommodate the array of tourbillons.
Functionally, time is shown using two discs and sapphires that go from dark to light coloured indicate the power reserve and add a touch of glamor.
Limited to 20 pieces the Harry Winston Histoire de Tourbillon  will probably be priced in a similar range to the preceding models which were in the $700k area.