Just launched in Geneva the
Christophe Claret Aveticum
features a "Mirascope" (a new magnifying technique) to create a holographic effect at the centre of the dial.
As one can imagine from the name, the inspiration is Roman. Aventicum is the name of the Swiss city known today as Avenches . Christophe Claret himself collaborated with the recovery of the remains found there , and his idea to launch this watch is for raising money to continue this archaeological work.
The greatest treasure of the ancient Roman city is a gold bust of Marcus Aurelius, discovered in mint condition in a pipe. That is the main reason for this watch featuring the bust. The bust of the Emperor appears with a height of only 3 mm in the center of the dial. Christophe Claret set out to devise a container that would make it visible enough despite the small size needed for display on the dial.
This was achieved through the use of a set of convex mirrors placed one on top of another to create the effect – specifically what is called a Mirascope (a new magnifying technique) . This is like a hologram in effect so that when we look at the dome, the bust seems to float in the air above the dome of the dial, always visible to the observer from anywhere.
It's like having a hologram on the wrist, and 3-dimensional filming techniques were utilized to reveal the tiniest details of the artifact and re-create a 3 mm-high solid gold reproduction of Marcus Aurelius' bust using micro-engraving techniques.
The dome is decorated with a classic geometric design in Roman decoration, which also lowers the feeling of height of the domed dial, it measures 44 x 52.11 mm with a thickness of 18.49 mm.
The Christophe Claret Aveticum is not exactly the most legible watches, but I guess that was not the main concern of its creator.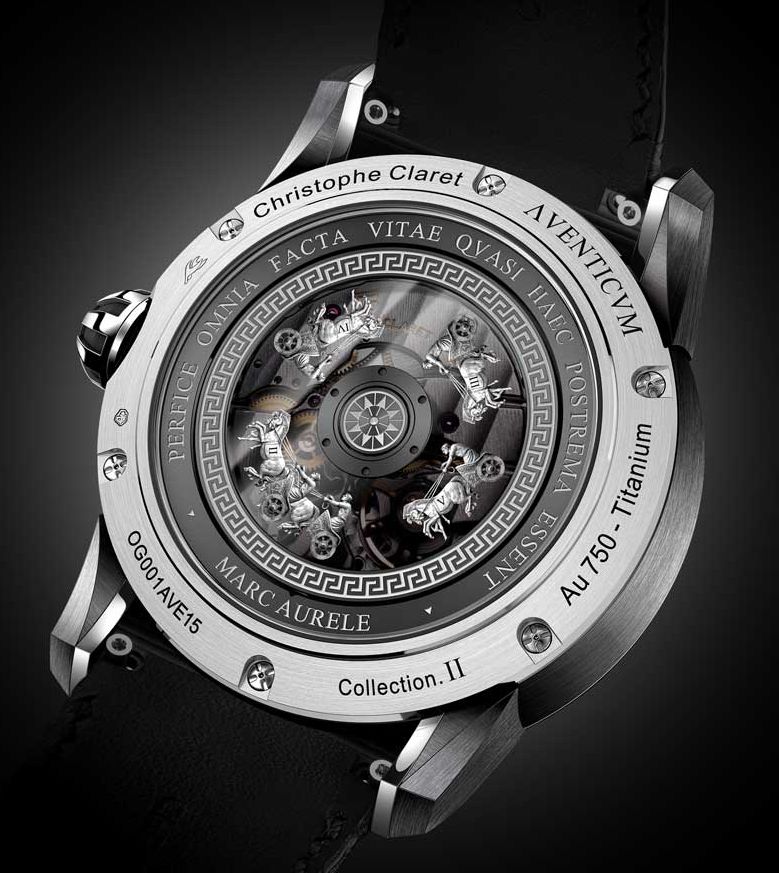 The watch is automatic, and on the reverse can see the sapphire rotor, on which are drawn chariots in a metallic tone. The sapphire crystal back is framed by a judgment of Marcus Aurelius himself: "Perform all acts of your life as if it were the last".
The watch comes with pink gold and white gold limited edition of 68 pieces for the rose gold, with a price of 49,000 Swiss francs + IVA and 38 units and 53,000 Swiss francs plus VAT for white gold.
More information at Christophe Claret