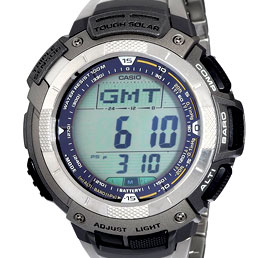 Altimeter/Barometer/Digital Compass Watch
A gadget watch for those people who enjoy hiking and mountain climbing, the Casio Pathfinder (PAG80T-7V) is loaded with digital functions to help with those outdoor adventures.
In order to avoid oncoming storms you have a barometer function with atmospheric pressure tendency/differential graphics, and, so you wont miss the summit, it can sound an alarm when you reach a specified altitude. The altimeter has 5-meter measurements from -700 to 10,000 meters.
To aid in navigation there's a digital compass with 16 points of measurement displayed on the dial face. The other main feature is its thermometer which is helpful for measuring skin temperature to gauge overall body temperature and if you remove the watch from your wrist you can also use it to measure atmospheric temperature.
It also comes loaded with other time keeping functions, including:
1/100 second stopwatch with 10-hour capacity and elapsed/split time modes and 1st-2nd place times
5 daily alarms
Countdown timer with 60-minute range
Auto Calendar (pre-programmed until the year 2099)
World Time: 29 times zones (30 cities), city code display, daylight saving on/off
Website: Link
Price: $190