Timekeeper Chronometrie is a fairly new watch company based in Asslar, Germany.
The unique details of Timekeeper watches make them very collectible. A large proportion of their watchmaking production is centered around using movements that are "historically unique" and often dating back to the early days of European watch-making, these are rehoused in newly manufactured cases. Their current horological focal point though is the impending release of a new model, Serie 00 – featuring their first in-house movement.
Ultralight Time Instrument
Model Serie 00 is described by CEO Torsten Nagengast as the "first complete light metal watch in germany", it is currently in the 'fine adjustment' phase and due for release soon. It combines modern day innovative materials with traditional watchmaking expertise.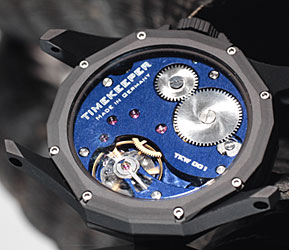 Built using lightweight metals and carbon fibre it weighs only 58 grams, about half the weight of an equivalent sized, hand wound IWC watch for example. The 17 jewel movement, like the case is constructed from a special hardened Aluminium, the bezel from Titanium. It features a rubber and leather strap and a 56hr power reserve.
More information on the Serie 00 model here
Collectors Pieces
Timekeeper also focusses on the production of its watches that use movements which are "reborn" and housed in high quality cases to create a collectors-piece. By taking new old stock movements and rehousing them in newly manufactured cases Timekeeper creates unique watches that are exclusive and collectible.
This process often requires that the movements are re-measured since the original drawings have often been lost. It also necessitates that the movement is disassembled and revised. Each case is produced exclusively for each movement and limited to from 50 to 300 watches.
Here is an example of a chronograph model using a Landeron248 movement from 1960.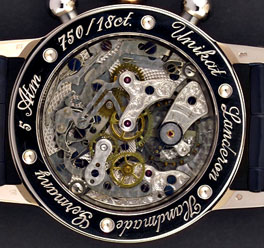 Special expertise is required for the production of watches using these movements some of which date back to the late 18th century or earlier. Special winding mechanisms complicate the process, and unique parts must be adjusted individually. The movements are completely disassembled, cleaned and sometimes decoration added.
Modern state of the art ETA mechanical and sometimes Quartz movements are also used, depending on the watch and/or the customers wishes.
For more information visit the Timekeeper Chronometrie website